Cecil, a beloved and famous Zimbabwean lion, blew up the Internet this week.
The news: Cecil had been killed July 1 in a national park by Walter Palmer, a 55-year-old Minnesota dentist. (The latest: U.S. officials want to question MN dentist in Cecil the lion killing)
Palmer has made hunting big game animals — lions, rhinocerous, elephants — his hobby and pursuit, in America and abroad. In 2008, Palmer made false statements to a U.S. Fish and Wildlife Service agent after he killed a black bear in Wisconsin.
"I don't have a golf game," he told the New York Times in 2009.
Who was Cecil the Lion and what makes this such a big deal?
Cecil, known for his distinctive black mane and typically cool attitude toward humans, was 13 years old and lived in Zimbabwe's Hwange National Park. He had been studied since 2008 by scientists from Oxford University as part of a research project and was fitted with a GPS collar.
Zimbabwean Brent Stapelkamp, a researcher with Oxford University's lion project, took the last photo of Cecil a month ago.
"You could get to two or three photographs of him, without him moving, and he was used to safari vehicles. He was a total lion experience," Stapelkamp told The Telegraph which first named Palmer in Cecil's death.
The lion was named for British imperialist Cecil Rhodes, the controversial founder of modern-day Zimbabwe.
Cecil's death left six lionesses and several cubs in his pride. When the leader is removed from a pack, other male lions often attempt to expand their territories to force out rival prides.
"What's going to happen is that these cubs are going to be killed once the next macho male comes in and takes over the pride," Johnny Rodrigues, chairman of the Zimbabwe Conservation Task Force told The Globe and Mail. "It's a disaster. It really is."
"His brother Jericho is here, but he's not as beautiful," he added. "It's just a pity, a loss."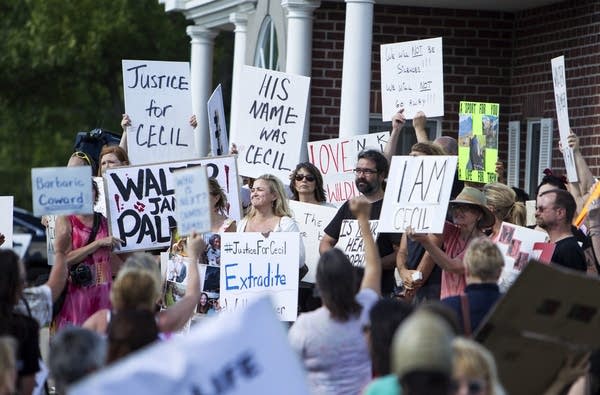 How did it happen?
Zimbabwean authorities said Palmer and another man lured Cecil out of Hwange National Park by tying a dead animal to their vehicle and driving just outside the park.
https://www.google.com/maps/place/Hwange+National+Park/@-16.4825574,27.1216667,4z/data=!4m2!3m1!1s0x0:0x2c8ed450678b04df
Zimbabwe Conservation Task Force officials said in a Facebook post that Palmer wounded Cecil with a bow and arrow and tracked him for 40 hours. He allegedly paid $50,000 after shooting the lion.
Authorities said Cecil was skinned and beheaded.
"I had no idea that the lion I took was a known, local favorite, was collared and part of a study until the end of the hunt," Palmer said in the statement Tuesday.
Soon after the news of Palmer's connection to the lion's death hit the Internet, social media exploded. Users posted a torrent of blistering comments on the Yelp page for Palmer's dental practice. The practice's website went offline and thousands of people signed online petitions against Palmer. The uproar made its way to late-night shows and international TV.
Big game as business
The practice of big game hunting on the African continent is not new. Many African countries have battled to preserve and conserve endangered animals. In fact, as the world was mourning the death of Cecil, poachers killed five elephants in a park in Kenya on Monday.
Nonetheless, game hunting in Africa is also a big business.
In South Africa, hunting brings in more than $600 million into the economy each year, according to the BBC. Hunting safaris in other African countries such as Botswana, Namibia, South Africa, Zambia and Zimbabwe help fund conservation efforts.
In Zimbabwe, trophy hunting contributes 0.29 percent, or about $39 million in American dollars, to the country's gross domestic product, according to the BBC. Seventeen percent of Zimbabwe's land — a space about the size of Wisconsin — is used for trophy hunting.
Earlier this month, Zimbabwe's first lady, Grace Mugabe, was accused of displacing farm workers by moving 100 zebras onto a farm and turning it into a game park, according to Voice of America. The cost of the effort was estimated at $10 million.
How does big game hunting work?
Enforcing the regulation of hunting varies from country to country. Trophy hunting is legal in several African countries including Zimbabwe, South Africa and Tanzania. Proponents of trophy hunting argue the practice prevents habitat loss and generates revenue for the economy.
"The land [used for hunting] would be used for farming and this would accelerate the loss of wildlife. We don't like trophy hunting but it slows the rapid decline of populations. It is a necessary evil," Guy Balme, director of the leopard program in Africa for Panthera, a US-based conservation group, told the Guardian.
Hunting wildlife animals in Africa isn't cheap.
Luxury Hunts, which operates in Zimbabwe, South Africa and Tanzania, charges $49,000 for a 10-day safari to hunt lions. African Sky Hunting, another group that provides professional hunting, charges $35,145 for elephant hunts.
And in South Africa, the game hunting industry employs 70,000 people, attracting 9,000 trophy hunters every year. Ninety percent of those people come from the United States, according to the Voice of America.