Community grieves after family of 5 found dead
Updated 11:51 a.m. | Posted 9:31 a.m.
Grief counselors were available to help students at Minnetonka High School on Friday, a day after an apparent murder-suicide left a family of five from Greenwood dead.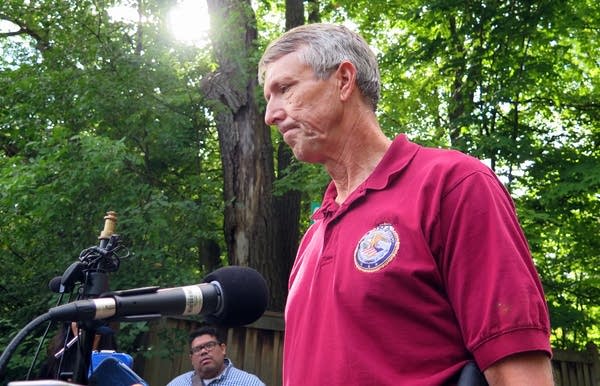 The victims are Brian Short, Karen Short, and their three teen children: Cole, Brooklyn and Madison, according to a family member. Property records indicate that Brian Short and his wife owned the home where police found the bodies since 2011.
Grow the Future of Public Media
MPR News is Member supported public media. Show your support today, donate, and ensure access to local news and in-depth conversations for everyone.
South Lake Minnetonka Interim Police Chief Mike Siitari said someone who worked with one of the victims called police to the home along Lake Minnetonka Thursday after the children missed two days of school.
Police radio traffic, captured by a scanner, indicated officers found the victims at various locations around the house. Siitari described the incident as a "murder-suicide," but police haven't yet said how the family was killed or which member of the family apparently committed suicide.
"There's no words to describe it," Siitari said of the crime scene. "I've been a cop for 32 years. An event like this, with an entire family, it's a tragedy."
Police said there appears to be no threat or danger to the community. The Hennepin County Sheriff's Office is helping to process what they're calling a "complex crime scene," which could take several days.
Neighbor Bob Mortenson said he was shocked Thursday to see police and sheriff's deputies swarming his street, with TV news helicopters overhead.
"It's just terrible, children involved especially," Mortenson said. "It's never happened in this neighborhood."
Greenwood Mayor Deb Kind described the town as a quiet and beautiful place, where residents express pride over their yearly Independence Day parade. Kind said the town of less than 700 residents was shaken by the deaths.
"I said to a woman this morning that it's just very helpful to talk about it, it's cathartic to talk about it," Kind said. "That's about all we can do, and pray for the extended family and students and staff at the high school — all three kids were students at Minnetonka High School."
Minnetonka High School principal Jeffrey Erickson addressed a letter to students and their families Thursday evening about the incident. He said walk-in and small-group counselors would be available for students at school on Friday.
"It is very important that we refrain from speculation or rumor," Erickson wrote. "Remind teens that no one knows what happened exactly or why, and we may never know."
The atmosphere at the high school on Friday was somber, said Minnetonka Public Schools spokesperson Janet Swiecichowski. She said some students were still processing the teens' deaths, while others coped with profound sadness.
"Certainly our community needs to come together to grieve," Swiecichowski said. "Over the coming days, I'm sure there will be other things that bring our community together to help heal, help honor the victims and move forward."
Shannon Krenik was a close friend of Cole Short, who was just beginning his senior year at Minnetonka High School. She last saw Cole a few weeks ago, right before she started school at Normandale Community College. "He seemed calm like normal, like always," Krenik said. "His mom talked to me about college. And then we went down stairs and watched a movie, or watched TV. He seemed fine."
According to state records, Brian Short was a registered nurse in Minnesota for nearly 17 years — from 1995 until his license expired in 2012. He was founder of allnurses.com, a professional networking site.
On Thursday, administrators at the website posted a message about the killings, and vowed that the site's "legacy will continue."
"No matter what the details are, the results are still the same," the message on the site said, "a very tragic loss for the extended families, friends, co-workers, and this nursing community."