Photos: Emotional candlelight vigil rallies protesters
Demonstrators in front of the Minneapolis police department's Fourth Precinct held a vigil late Friday afternoon, as leaders from the national NAACP joined the group's nearly weeklong efforts.
Prayers, poetry, speeches and song carried the roughly hourlong service, as the gathered crowd held candles and peppered the speakers with applause and encouragement.
Minneapolis NAACP president Nekima Levy-Pounds called it "the most beautiful gathering I've ever seen in my life."
Gallery
18 of 18
1 of 18
2 of 18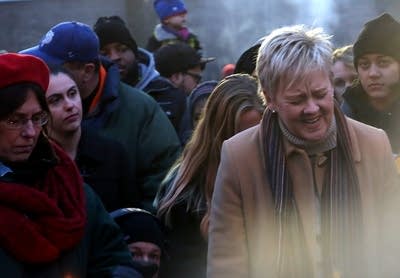 Gain a Better Understanding of Today
MPR News is not just a listener supported source of information, it's a resource where listeners are supported. We take you beyond the headlines to the world we share in Minnesota. Become a sustainer today to fuel MPR News all year long.