Crash that killed 2 Lakeville teens started with 'Nerf wars'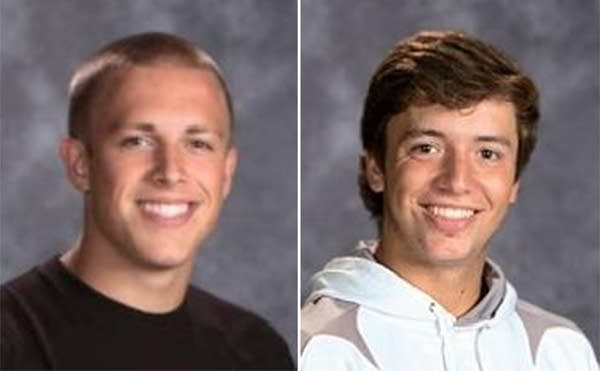 Dakota County authorities and the Minnesota State Patrol say it's too early to know exactly what caused Alex Hughes' pickup truck to fishtail twice across a two-lane road south of Lakeville High School, then roll over in the ditch and kill two young men. But they said Friday that only one of the four people in the truck was wearing a seat belt.
The crash last week started with a game popular with high school kids — public battles with foam dart guns, known as "Nerf wars."
"This incident was a result of the Nerf war game that was initiated at the school and winding up a short time later out on 225th Street. We know that by witness statements, and by a couple of Nerf guns that we did find and recover at the scene," said Jim Rogers, who heads investigations for the Dakota County sheriff's office.
Rogers spoke in Hastings this morning, as officials talked about what happened last week. 17-year-old Jake Flynn and 18-year-old Johnny Price were killed. The driver was airlifted to Minneapolis and remains hospitalized. Only one of the teens walked away.
Sheriff Tim Leslie says it's too early to say what actually caused the crash, although a battle with toy guns is what put the four young men into the truck together.
"I think the natural progression here would be for people to jump to the conclusion that this is a distracted driving environment," Leslie said. "We have not been able to talk to the driver. Alex Hughes is remaining in critical condition in a hospital and in recovery. It would be unfair for us to draw a conclusion, without having an opportunity to talk to him."
Authorities say it appears none of the boys were riding in the bed of the truck when it flipped, contrary to rumors, but three of the high school students were not wearing seat belts.
"Unfortunately, teens have a tendency to wear their seatbelts less often than other driving populations, partially because they feel invincible," said Gordy Pehrson, the Department of Public Safety's young drivers program coordinator.
The Lakeville crash also shared another often fatal risk factor — lots of kids in a vehicle. Pehrson says young male drivers in particular are subject to distraction by their male passengers.
Leslie, the Lakeville sheriff, said it could be months before the investigation into the incident and reconstruction of the crash is complete and any speculation on criminal charges is premature. But he urged others in the meantime to think about more routine hazards than Nerf wars.
"I'll say three important things today: Seat belts, seat belts, seat belts."
'Nerf wars' has raised alarm before
Police in Duluth say they've written at least three citations to drivers playing the game, including a pair for running red traffic lights on a major thoroughfare. Ron Tinsley, Duluth police information officer, says the vehicle occupants in one instance had their Nerf guns on them when they were pulled over.
The police chief in nearby Hermantown, Jim Crace, says vehicles involved in the game have damaged public property and some players have even described car chases as part of the game. He says the addition of cash rewards for winning teams seems to have added to the risky behavior.
"A relatively benign game that should be played in a back yard or in a park or field or something has become ultra competitive because there's money on the line," he said.
Your support matters.
You make MPR News possible. Individual donations are behind the clarity in coverage from our reporters across the state, stories that connect us, and conversations that provide perspectives. Help ensure MPR remains a resource that brings Minnesotans together.