For these fans, 'Star Wars' a force that binds family together
May the family be with you.
"Star Wars: The Force Awakens," the most anticipated movie of the year, finally lands in theaters Friday. It's the seventh film in the "Star Wars" saga and the first to reunite the cast from the original trilogy on the big screen since 1983's "Return of the Jedi."
For many fans, the film series is a family affair — original "Star Wars" kids are introducing their children to the story like they were years ago, it's brought family members closer together and has even spawned a podcast between one dad and his young children.
Grow the Future of Public Media
MPR's budget year comes to a close on June 30. Help us close the gap by becoming a Sustainer today. When you make a recurring monthly gift, your gift will be matched by the MPR Member Fund for a whole year!
A podcast is born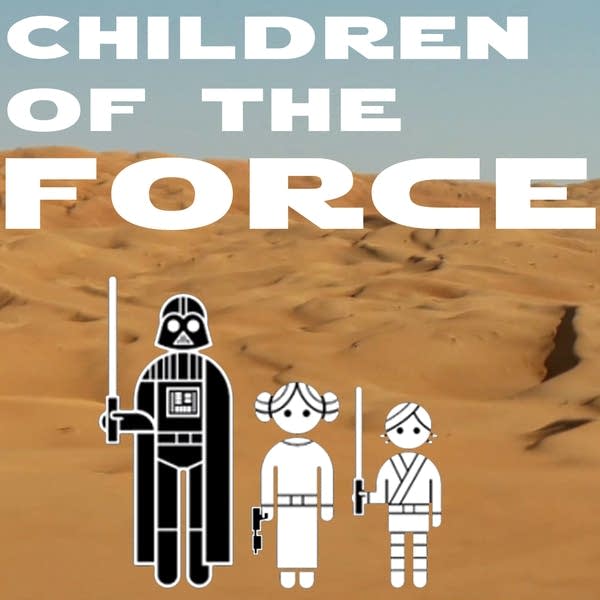 A few months ago in a galaxy called St. Paul, Al Nowatzki and his two children decided to launch "Children of the Force," a podcast dedicated to all things "Star Wars."
Anna, 9, and Liam, 6, may be young but they're already seasoned fans — Anna started watching the movies when she was 3, and they've each donned a Yoda costume throughout the years.
The siblings also have strong opinions about the "Star Wars" universe beyond "My favorite character is Princess Leia" — and they aren't shy about sharing their thoughts on the podcast.
That was one of the reasons why Nowatzki created "Children of the Force."
"I listen to quite a bit of ("Star Wars") podcasts and there are so many different perspectives out there. I think that 'Star Wars' — it's not just for kids but it's definitely for kids. ... I just felt like the kid perspective was something that wasn't out there and I thought people would really appreciate hearing it," he said.
The podcast is no passing fancy. Since its debut in February, they've recorded about 30 episodes, with many more in the works. In fact, they'll probably be recording while they wait in line for the movie on opening night.
Nowatzki, who believes "Star Wars" is best when shared with family, said his children's enthusiasm for the saga has actually made him a bigger fan.
"It's partially their love that has fueled my love of it," he said.
https://soundcloud.com/mprnews/in-his-words-al-nowatzki-on-enjoying-star-wars-as-a-family
'Like looking in a mirror'
Damian Woelfel, of Seaforth, Minn., was 5 years old when his father took him to see "The Empire Strikes Back."
"To this day, it is one of the most powerful memories that I have from my childhood," Woelfel said.
Now Woelfel gets to do the same with his son Duncan — also 5 — with "The Force Awakens."
In fact, three generations of the family have made plans to see the new movie over the holidays.
"There are very few things that we all agree on that we all have a similar passion for and this is one of them," he said.
"It is spellbinding to see my 5-year-old boy discuss Luke Skywalker or Darth Vader or Boba Fett with his grandfather, and grandfather does not have to 'pretend' that he knows what he's talking about," Woelfel said. "These days there doesn't seem to be many issues or topics that can bridge this type of gap."
https://soundcloud.com/mprnews/n-his-words-damian-woelfel-describes-seeing-his-son-interact-with-grandpa
A shared feminist moment
When the original films were re-released, Amy Fox's aunt took Fox's brother to see "A New Hope."
Fox said she was disappointed and asked her aunt, Cathy McGough, about why she didn't think to take a girl to see the movie.
"She must have realized she overlooked the person who was more interested," she said.
So McGough bought tickets for back-to-back-to-back screenings in Roseville.
"I felt so special because she had listened to me when I said not just boys would like that, girls would like that, too," she said.
https://soundcloud.com/mprnews/amy-fox-describes-a-shared-feminist-moment-with-her-aunt
"Star Wars" also brought two of the most important people into Fox's life.
After she saw the three films on the big screen, she said she was "enthralled and desperately wanted to talk about it but didn't know who to turn to" until she became friends with a girl named Meg Campbell.
They became close friends and eventually saw all three prequels together at midnight showings — a tradition that will continue with 'The Force Awakens.' Campbell is flying in from California to see the film with Fox for her birthday on opening day. Joining them will be Fox's husband, her brother (with whom she used to act out imaginary "Star Wars" adventures) and her sister-in-law.
"Star Wars" also helped Fox break the ice with her husband when they met in college.
"I felt comfortable talking about it," she said. "I could forget feeling nervous and uncomfortable.
"It was one of our first conversations and it's something we still talk about."