With job offer in limbo, Mpls. schools superintendent pick fights back
The Minneapolis School Board's top pick for superintendent is in town answering questions from parents and other community members, three weeks after the board suspended contract negotiations with him.
Members voted to hire Sergio Paez in early December, but that same week the Boston-based Disability Law Center issued a report alleging widespread physical abuse of special needs students at a school in Paez's old district.
It said students at Peck School in Holyoke, Mass., — many already suffering from severe emotional problems — were thrown against walls and onto floors, illegally pinned down and restrained, and locked in dark closets.
Paez was superintendent in Holyoke for two years, including during the time the alleged incidents took place. He quit last summer as the state seized control of the Massachusetts district. The takeover was the result of many years of poor academic performance, not the abuse allegations.
But with a Massachusetts district attorney conducting a criminal investigation in Holyoke, Minneapolis school board members voted last month to suspend contract negotiations with Paez.
Now he's in an odd position, fighting to keep a job he may not get. Tuesday night, Paez held the first of two "coffee hours" for the public. At the Avenue Eatery in north Minneapolis he admitted his own investigation of the abuse allegations was inadequate.
"At the end of the day I tell you that as a superintendent, regardless of the investigations, my role is to continue saying it wasn't enough," he said. "We haven't done enough for families, and we will continue to work with families, and in Minneapolis the same way."
Paez said he's cooperating fully with the investigation in Massachusetts, and pledged he'd be transparent with the public. To that end, Paez answered questions from parents and community members for more than an hour.
Of the dozen or so people in attendance, no one asked about the problems at Peck school. Most asked about the perpetually vexing problems of urban education, including boosting parental involvement and closing the achievement gap between white children and students of color.
"We have to have a plan that is comprehensive about eliminating the gaps, diminishing the gaps as we go, but it has to be a very complex process," Paez said.
John Martin, who has three children in Minneapolis Public Schools, said he was happy to see Paez reaching out to the community. Martin said he hopes Paez will start as Minneapolis superintendent soon, and the school board should not hold him responsible for all of Holyoke's problems.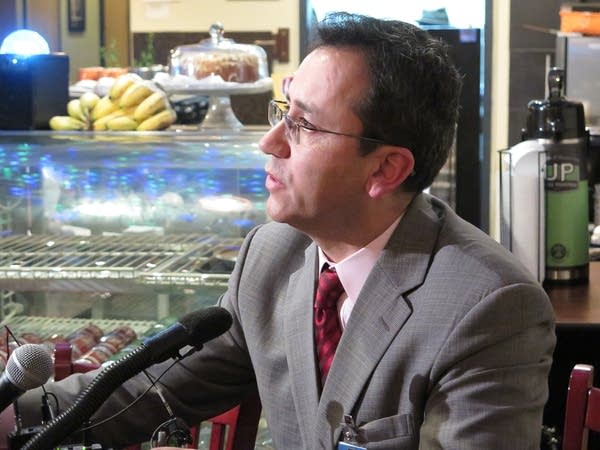 "The pot can't talk about the skillet, because in Minneapolis, we had some superintendents that didn't do too good," he said. "So therefore, let's not look at the bad that he's done, look at the good that he's done. He beat out the other two candidates, so he must be doing something right."
Nevertheless, the question of whether Paez has a future with the Minneapolis Public Schools is far from settled. Board member Josh Reimnitz, who did not vote for Paez, wouldn't say if the board should restart the search. But Reimnitz said he's hopeful that he and his colleagues will muster an answer at their meeting Tuesday.
"Whether that's moving forward with Dr. Paez, whether that's going with one of our candidates from our last search, which was pretty extensive, or restarting the search, I think we need to have some sort of clarity so we can move our district forward," Reimnitz said.
Restarting the process to find a new superintendent could prove costly. The district has already paid the headhunting firm HYA Executive Search $55,000 to seek out and vet candidates.
Despite what HYA called a "very extensive background check" the school board did not learn anything about the problems at Peck until they became public. HYA did not return calls for comment.
Paez is expected to meet with parents again Wednesday morning at the Fireroast Cafe on 37th Avenue South.
Your support matters.
You make MPR News possible. Individual donations are behind the clarity in coverage from our reporters across the state, stories that connect us, and conversations that provide perspectives. Help ensure MPR remains a resource that brings Minnesotans together.