St. John's Abbey releases files on 18 monks accused of abuse
Updated 4:35 p.m. | Posted 6:46 a.m.
St. John's Abbey on Tuesday made public the personnel files of 18 monks it says have been credibly accused of sexually abusing minors decades ago.
The release of the papers is the result of a lawsuit settled last spring. The pages number in the thousands. They include everything from the monks' birth and baptismal certificates to work assignments on the 2,700-acre campus.
Grow the Future of Public Media
MPR News is supported by Members. Gifts from individuals power everything you find here. Make a gift of any amount today to become a Member!
Explore the full investigation Clergy abuse, cover-up and crisis in the Twin Cities Catholic church
There are also many personal letters and emails, as well as psychosexual assessments from doctors.
Attorney Jeff Anderson had already made documents public on nine of the monks. Abbot John Klassen says the release of the rest is the abbey's latest step in reckoning with allegations of sex abuse.
"We look at this as a 30-year process of responding in a positive way to respond to survivors, secondly to make sure we hold offenders accountable, and thirdly to make sure that we're living in a safe environment."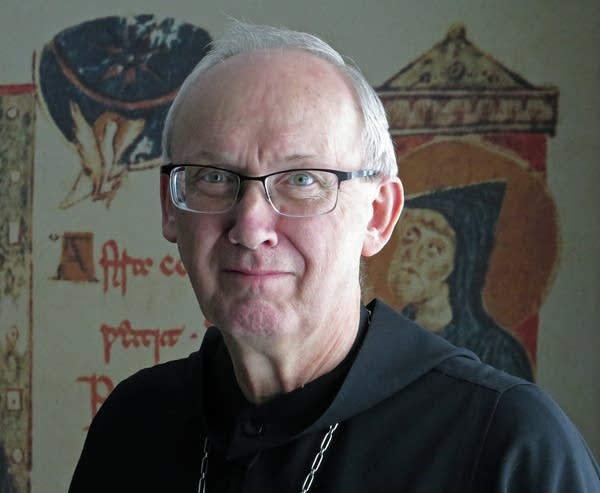 Of the 18 monks whose files are now public, eight are deceased and two have left the Benedictine Order. Seven still live on the Collegeville campus, which includes a monastery, a university, and a preparatory school for grades 6 through 12.
Klassen said accused monks must abide by a "safety plan" overseen by the abbey. They're not allowed any contact with university or prep school students and are banned from school buildings. He acknowledged that on occasion the safety plans were violated.
"We've had situations where either it was a misunderstanding or where an individual stepped beyond a boundary and we have acted quickly and promptly and decisively to make sure that it doesn't happen again," he said.
The released records include details of how the abbey has handled safety plan violations.
In one instance, documents show that in 2009 the Rev. Finian McDonald, one of the monks living under a safety plan, twice asked sexually inappropriate questions of a college student in the abbey's reception area.
Klassen sent him to a Maryland clergy treatment center for an evaluation.
Then in June of 2012, McDonald allegedly made advances toward a middle-aged abbey employee. Klassen changed McDonald's status to "high risk" to reoffend and sent him to live at the Vianney Renewal Center near St. Louis.
An abbey spokesman said McDonald now lives at a "secure facility in another state" and could not be reached for comment.
Troy Bramlage, a St. Cloud man who says he was abused by another St. John's priest while a prep school student in 1977, said incidents like these cause him concern for the safety of children on campus today.
"Every day, students have to walk by those pedophiles who are out there," he said. "They're not restricted to their quarters. They can go into town. They can go anywhere they want."
Bramlage, 52, said the abbey is releasing the documents not in a spirit of transparency, but only because of the lawsuit he brought.
"They have said in no uncertain terms that we have released all this stuff voluntarily," he added. "I think it'll be three or four times that we had to take them to court to get them to release files of a known pedophile."
Still, Anderson said holding the abbey accountable through lawsuits has made future incidents of sexual abuse far less likely.
"I have no doubt in my mind that it is safer than it was in the past, said Anderson, Bramlage's lawyer. "Is it as safe as it could be? Of course not. Because if it was, maybe our mission would be over, but it's not."
A 2013 Minnesota law temporarily extended the time victims have to sue over abuse they suffered as children. That three-year window closes May 25.
Anderson, who's brought dozens of abuse claims against the abbey over the years, said 15 more are in the works.