'Destination' unknown: Rochester wants more action on huge Mayo project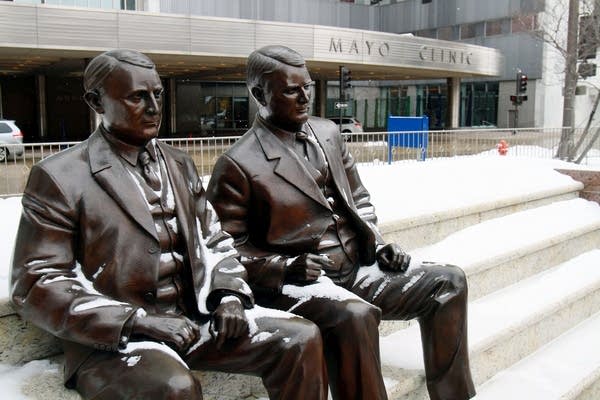 Sitting in the heart of downtown Rochester, there's an empty lot and three vacant buildings.
It's supposed to be the first piece of Mayo Clinic's Destination Medical Center, a massive 20-year project, funded partly by the Legislature, intended to remake the downtown, generate $5 billion in private investment and draw 32,000 new residents to the city.
City officials hope that project breaks ground soon. But nothing has happened here since developers unveiled plans for a 20-plus-story, mixed-used project on the site a few blocks away from Mayo Clinic headquarters. The storefront windows are covered with a thick layer of dust, a chain-link fence blocks off a portion of the parcel and Rochester residents are starting to ask aloud what's going on.
Nearly three years after the clinic won state funding, city leaders want shovels in the ground and acknowledge some expectations aren't being met yet.
Grow the Future of Public Media
MPR News is Member supported public media. Show your support today, donate, and ensure access to local news and in-depth conversations for everyone.
The developer, Rochester-based Titan Development and Investments, declined to be interviewed but has said it's close to finalizing major details on the project and expects to break ground on the project this spring.
Preliminary plans called for the building to add 150 rental apartments and up to 30,000 square feet of commercial office space. The building was also to feature a four-star hotel and retail space on the ground floor, including a grocery store and several restaurants.
Two blocks away, another potential multi-million-dollar project is also on hold.
Last summer, city officials gave a business belonging to the Abu Dhabi royal family a six-month period of exclusive negotiating rights for a two-block stretch of downtown. The site is also prime real estate, near the government center, city library and Mayo Civic Center.
Bloom Properties, a subsidiary of Abu Dhabi-based National Holding Company, has developed luxury residential and commercial properties in the United Arab Emirates, including the Abu Dhabi Marina. The umbrella company is owned by members of Abu Dhabi's royal family, who want to make a personal investment in a place they've been visiting for decades for medical treatment at Mayo Clinic.
But with no final development plan in sight, city officials recently extended the exclusive negotiating period for another six months. Tenants in the existing buildings, including attorney Jill Frieders, got more uncertainty as a result.
"Being a little bit in limbo is always frustrating," said Frieders, a partner at the O'Brien and Wolfe Law Firm. "Are they really going to refurbish the building? Will we have to move? These are issues that are in the back of our minds and we think about that. And we are looking at space in other buildings and other possibilities just to keep our options open."
Frieders said she's not entirely surprised by the pace of transforming downtown Rochester.
"I always assumed it was a long-term project and that a lot of planning would take place, a lot of organizing would have to be done, before we would see major changes," she said.
A third project for a Holiday Inn hotel across the street from Saint Marys was also delayed in December after the Destination Medical Center Board held off from voting on whether to grant the project special tax increment financing.
At the site of the first planned DMC project, though, it's hard for residents to see any movement.
"I think it is kind of stalling," said Beth Langreck, who works as a clerk at the U.S. Post Office a block away from the proposed development. "I would think that they would be getting some of that going though, since they've already closed some of the businesses in those buildings."
City officials say there's more going on than can be seen at street level.
But the Destination Medical Center's reality has been slow to start, City Council President Randy Staver acknowledged.
"There was a great deal of promise, or is a great deal of promise, in DMC in terms of the jobs that will be created and economic benefit that is being created," Staver said. "Everyone is waiting for that sort of proverbial other shoe to drop. When do we start to see that development occur?"
Staver points to two major projects that are underway — expansions to the Mayo Civic Center and Mayo's Saint Marys Hospital. The $84 million civic center expansion is nearly halfway done. And cranes tower over Mayo's Saint Mary's Hospital, where the clinic is adding four floors and investing $93 million in upgrades through 2017.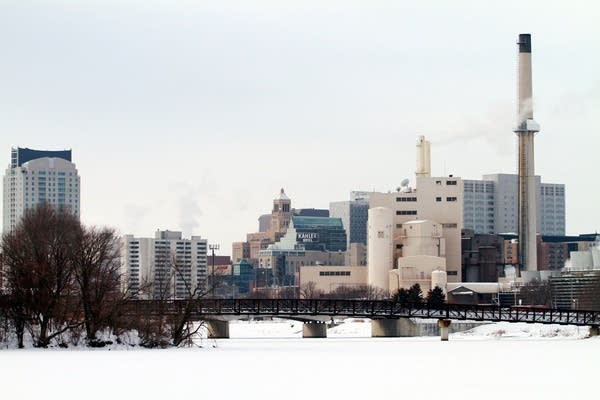 A slow start isn't necessarily a bad thing, said Jeff Bolton, chair of the DMC's Economic Development Agency, the Mayo's private entity responsible for watching over the project. He noted that a national search for a developer to work on the city's bio-business center — a big piece of the DMC plan known as Discovery Square — is expected this year and that it will be one of the engines to attract high-level jobs to the city.
There's a "healthy tension between moving quickly and moving purposely" with private development, he added. "I would be much more concerned if we saw projects popping up very quickly without intentional planning around them."