'Appreciate what is sacrificed for you,' mourners are told at Fargo cop's funeral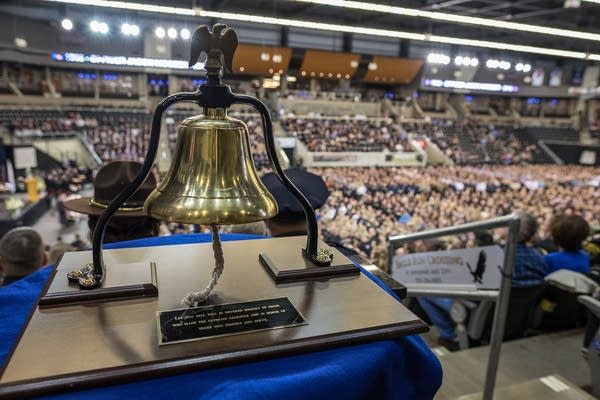 Updated: 5:45 p.m. | Posted: 6:05 a.m.
Thousands of mourners came together in a Fargo hockey arena Monday afternoon for the funeral of Jason Moszer, a police officer shot while responding to a call earlier this month.
Local residents joined 2,800 law enforcement officers from across the United States and Canada to honor Moszer, 33, who was remembered as "a cop's cop."
Grow the Future of Public Media
MPR's budget year comes to a close on June 30. Help us close the gap by becoming a Sustainer today. When you make a recurring monthly gift, your gift will be matched by the MPR Member Fund for a whole year!
Moszer also served in the Minnesota National Guard as a medic and was deployed to Bosnia and Iraq. He is survived by his wife, Rachel, and two stepchildren.
The Minnesota Police Pipe Band from St. Paul played as Moszer's flag-draped casket was carried into the arena. Fargo Police Chief Dave Todd told mourners there is now an empty seat at Fargo Police Department briefings. "And after today, Edward 143 will be a call sign that will never be assigned again," he said. "How do we fill that hole in our hearts?"
Police work was a calling for Moszer, Todd said.
"And despite the fact that sometimes it's dangerous, scary or difficult, you wouldn't choose to be anywhere else," Todd said. "That's who Jason Moszer was. Jason was a cop's cop."
Moszer worked as a Fargo police officer for six years.
He was hit by a single bullet when he responded to a domestic disturbance call Feb. 10. He died the next day. The suspected gunman also died during a standoff in which dozens of bullets were fired.
Fellow Officer Jacob Rued called Moszer a mentor and friend.
"Life is fragile," Rued told the crowd. "Appreciate your life and the life of people you love. Appreciate what is sacrificed for you to live in this society. It's not free and it's sure not easy."
Drew Schwan, who grew up with Moszer in Fargo and served with him in the Minnesota National Guard, talked about him as a jokester with a sometimes sarcastic wit. He said Moszer was more than a friend.
"Someone that would be there through the good and the bad," he said. "Someone that I knew I could count on, no matter what the reason, even if he would give me a hard time about it later. Jason, thank you for who you were and what you did every day." The Rev. Kevin Kloster, a former Fargo police chaplain, presided at the funeral. He recalled marrying Moszer and his wife Rachel.
"The only thing that comes easy today are tears," he said. Kloster urged officers at the funeral to let themselves cry: "Every time we let those tears flow it says, 'Jason, you matter to me. Jason, you were someone special to me.'"
Among the law enforcement officers who traveled long distances was Detective Mario Mora, who drove 12 hours from Goshen, Ind.
"It makes you very proud to be a part of law enforcement," Mora said. "For me that's what it means: that you know there are a lot of people that support us when we need supporting."
Lt. Tory Jacobson, who came from just across the Red River in Moorhead, Minn., said the show of support was important for local officers.
"Many officers that are here today are very much dealing with survivors' remorse," Jacobson said. "This is a very important day, and there's a lot of messages being sent.
"These officers that are here today are going to be responding to additional calls for service and emergency calls, and they're going to get scared and they're going to realize what they're risking. So this support is something that is going to be burned into their memory and something that's very dear to their heart."
The funeral ended with a radio status check of all Fargo officers. All checked in until Moszer's Edward 143 call sign.
After the funeral, a procession took Moszer's body along a 21-mile route, past the Fargo Police Department, the Moorhead National Guard Armory and the hospital where he died.