Record heat today, cooler Sunday
Our record high for today in the Twin Cities is 54 degrees. That could very well be topped this afternoon, with ample sunshine and almost no snow on the ground over southern Minnesota.
Highs will be very warm in southern and central Minnesota today:
I would not be surprised if a few spots in southern Minnesota touch 60 degrees! I expect to see some hearty Minnesotans in shorts and flip-flops this afternoon. Rumor has it that a few golf courses and driving ranges will be open today as well!
1pm update: The 1pm reading at Minneapolis/St. Paul International airport is 56 degrees, a new record for today! We may very well top 60 degrees before the afternoon is over.
Big changes on Sunday
It will feel like February again tomorrow.  A low pressure system moves through Minnesota, giving us a chance of rain/sleet/snow showers. 
MPR News is Reader Funded
Before you keep reading, take a moment to donate to MPR News. Your financial support ensures that factual and trusted news and context remain accessible to all.
Some spots in the arrowhead region of northeastern Minnesota could see 1 to 3 inches of snow on Sunday: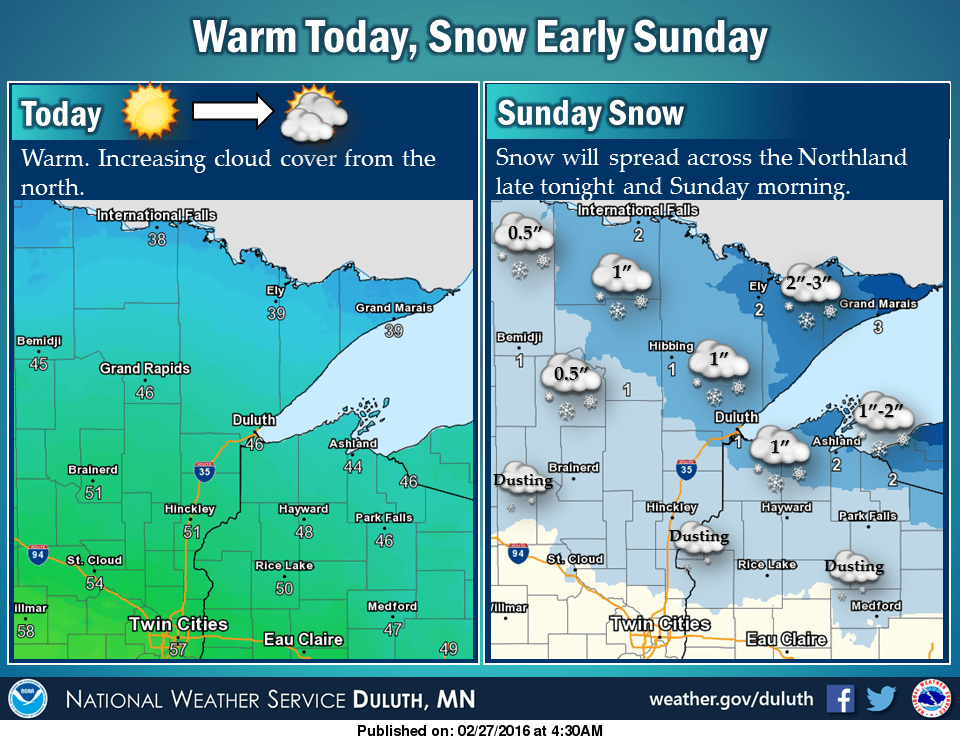 The occasional rain/sleet/snow showers over southern and central Minnesota should end by early Sunday afternoon, and some late afternoon sun is possible. Highs will be much cooler statewide:  
Highs will be cooler than normal on Tuesday, then right around normal on Wednesday and Thursday.
I hope that you enjoy your weekend!