High school dropouts try to get back in the game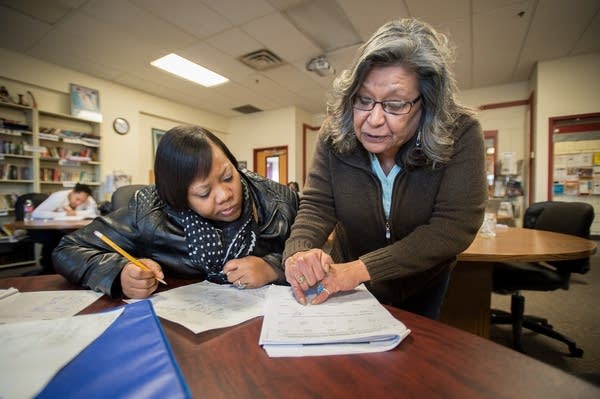 Punctuation matters, Pam Ampherer is telling her class.
Chuckling, she shows students a slide of a magazine cover, reading a headline: "She finds inspiration in cooking her family and her dog."
"What's missing there?" Ampherer asks.
Grow the Future of Public Media
MPR News is supported by Members. Gifts from individuals power everything you find here. Make a gift of any amount today to become a Member!
Full coverage: How did we get here? What's at stake? And what will it take to find a solution?
"Commas," comes the response from her attentive class of about a dozen.
Ampherer's students are high school dropouts trying to earn General Education Development certificates or the equivalent. For many, GED certificates are the ticket into the workforce or higher education that they didn't punch in high school. In this case, they are studying at the Ronald M. Hubbs Center for Lifelong Learning in St. Paul, one of dozens of sites around Minnesota that help adults earn GED diplomas.
Minnesota ranks near the bottom of states when it comes to the on-time graduation rates for students of color. And if you want to see the face of the gap in graduation rates between Minnesota students of color and their peers in other states, Hubbs is as good a place as any.
On any given weekday, in classrooms throughout the University Avenue center, dozens of people are studying English, history and other subjects, determined that a ninth-grade class they failed or a difficult family situation that led them to skip school must be overcome.
Down the hall from Ampherer's grammar session, Jasmine Lazo is listening closely to a math teacher. Like others at Hubbs, she had a rough transition from middle school to her freshman year at Johnson High School in St. Paul.
She had a falling-out with her dad, who had split up with her mother years earlier, during her freshman year at Johnson. After she failed to reconnect with her father, she lost motivation to concentrate on school. She started skipping classes.
"That was one of my big, big downfalls in school," she said. "It was because he told me never to contact him, never to talk to him again. My life went really negative after that."
Lazo failed English her freshman year and immediately fell behind. She said there were good counselors at Johnson, but she didn't like to ask for help. And catching up became more difficult: Lazo's mom moved the family from St. Paul to Minneapolis.
She dropped out after 11th grade.
Lazo, 18, is typical of students who drop out of high school in a number of ways. Many failed at least one class in ninth grade, fell behind and didn't catch up. They show how disproportionately students of color are represented among Minnesotans who don't finish high school on time.
Most high school dropouts in the state are white, reflecting the makeup of the state's student population, but the trends among students of color are especially troubling when compared to their peers throughout the nation.
By one measure, they didn't get much help. MPR News found Minnesota ranks dead last in the portion of education money that schools spend on counselors and other support staff who can intervene in the lives of failing students.
Identifying the red flags
Young people likely to drop out often show signs of trouble before reaching high school, said researcher Robert Balfanz, a leading scholar on graduation rates at Johns Hopkins University.
They might miss school or get in trouble in class or fail a course, he said. "Initially maybe it's one course, and soon it's a couple courses."
Balfanz said school staff should measure what he calls the ABCs: attendance, behavior and course failure. Schools can improve graduation rates by focusing on freshmen whose middle school records raise red flags in these areas, he said.
And while students of color, who are more likely to be poor, have a weaker record of graduating on time than white students, Balfanz said focusing only on race and poverty is not the answer.
The bottom line, he said, is that all students need to earn enough credits to graduate.
"And to earn credits, you have to pass your classes," Balfanz said. "And to pass your classes you have to be there. And you have to get your work done. And by focusing on those mechanisms we're focusing on the mechanisms that most directly impact whether you graduate or not."
The economics of dropping out
There's a lot riding on the future of Minnesota's high school freshmen.
The graduation gap is bad for students of color and bad for the state's future economy, said former Minneapolis mayor R.T. Rybak, executive director of Generation Next, a coalition of civic, education and business leaders focused on increasing educational achievement for Minnesota students.
"We're running out of workers," Rybak said. "And unless we solve this thing, our economy is going to grind to a halt."
And while the situation is bad for the state, it's even worse for dropouts.
The median annual income of a high school dropout in 2015 was less than half that of someone with a bachelor's degree, according to the Minnesota Department of Employment and Economic Development.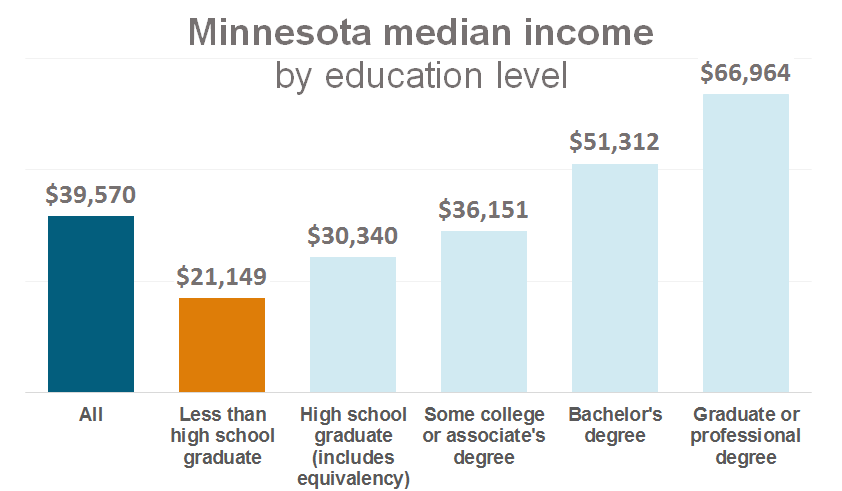 And the jobless rate for Minnesota high school dropouts is 9.2 percent, more than double the rate for people with a high school diploma and four times the rate for people with a college degree.
Lamin Ceesay fought those odds after dropping out of Brooklyn Center High School during his senior year. Taco Bell, Walmart and McDonald's turned him down when he applied for jobs.
"Everyone would put what their grades were on their resume and they'd get the job," he said. "But I couldn't do that because I had crap grades."
He eventually got his GED through a Job Corps program and, now 22, works in a call center for CSM Corp., a commercial and residential property manager. He makes $11.50 an hour and gets medical and dental benefits.
While Ceesay had trouble finding work without a diploma, other people who drop out of high school fall into more dire circumstances. Failing grades have also been linked to crime.
In 2009, researchers at Northeastern University in Boston dropped this statistical bombshell: 16- to 24-year-old male dropouts were getting locked up at a rate 63 times higher than the rate for young men with college degrees. The study also found that, on any given day, nearly a quarter of all young black male high school dropouts in that same age group are in jails, prisons or juvenile detention facilities. That is more than three times the rate for Asian, Hispanic and white dropouts.
That's expensive. A 2013 report from the Council on Black Minnesotans found that state taxpayers spend more than $48,000 per prison inmate per year, just less than a year of tuition at Carleton College, the highest tuition in the state.
The Hubbs Center is proof that even though hardships, bad decisions and lack of support can force many students of color to drop out, those conditions don't necessarily extinguish dreams.
Startrease Barnett, 21, is working on her GED at Hubbs, bringing her two children to the center's child care facility. She didn't finish high school with her classmates in 2012 for a number of reasons: She had bounced among a half-dozen schools, each move resulting in days of absences as her records transferred. She got into fights, and was suspended a few times.
And she got pregnant twice during her high school years. Each time, there were complications that kept her out of school.
But she's aiming high. "I want a career. I want to be a pediatric surgeon," she said.
Lazo said she wants a good job and to start a family. "I want things that I didn't get in life," she said. She wants a career and stability before having kids, the opposite of what her mother did. And to do that, she said, she knows she needs to get the diploma first.
And Ceesay doesn't want to stay in the call center at CSM. He talks about becoming a full-time EMT or having a career in real estate.
Each of them at some point made the mistake of thinking it wasn't a big deal to not learn punctuation or to fail a class in 9th grade or to skip a class here and there. And they weren't convinced otherwise until years later.
There are many reasons students of color in Minnesota don't finish high school in four years. Here are some of their stories.
A grandmother's death interrupts life: Jasmine Lazo
A series of hardships made it difficult for Jasmine Lazo to concentrate on learning during her high school years. Her parents split when she was very young. During her freshman year at Johnson High School in St. Paul, she had a falling-out with her dad.
"I started ditching school freshman year," said Lazo, now 18. "Started hanging out with the bad crowd. My life went really negative after that."
Lazo failed freshman-year English and fell behind. She said there were good counselors at Johnson, but she didn't like to ask for help. Catching up became more difficult as she and her siblings were shuffled among foster care, her grandmother's house and her mother's house.
Then, in 2013, her grandmother died.
"My grandmother was a big motivation in my life," Lazo said. "She always told us to do good. She always helped me with my homework. If it wasn't for her, I probably would have not gotten as far as I did. After she passed away, no one was there for me. It got really hard."
Lazo said her mother didn't do much to encourage her to stay in school. She herself had gotten pregnant and dropped out of school at 14 and never went back, Lazo said.
Lazo left her mother's house in 11th grade, after she dropped out of high school. She moved in with her boyfriend, who suggested she take GED classes. She took him up on it. She said she's found that process easier than high school was, partly because the students are more mature and motivated than her classmates in high school. She's working part-time at Taco Bell while she studies. Lazo said she'd encouraged her mother at one point to join her in GED classes, but her mother wasn't interested.
Now, Lazo said, she gets her motivation from being a role model for her younger siblings. "I don't want them to think it's OK to drop out of high school," she said.
Struggling with courses leaves her behind: Shaneikque Barker
Shaneikque Barker had a hard time learning at St. Paul's Central High School. She found her teachers' style of instruction hard to follow. Some tried to help her, but in a school with big classes, Barker said, they couldn't give her the attention she needed. It wasn't until the 11th grade when a counselor told her she wasn't on track to graduate with her classmates.
"I knew I was far behind, but I didn't think I was that far behind," she said. She continued to struggle with teachers. Barker said her world history teacher refused to give her a grade because she hadn't recorded her work in the right kind of notebook.
"It eventually came to the point where my mom requested that for the remaining years that I'm there, for me not to be in her class," she said.
Barker stayed at Central past her senior year to try to make up the credits she needed to graduate. By the time she turned 21, she had gotten too old to continue. She went to an adult education program in Roseville, then enrolled at the Hubbs Center in St. Paul, where she's taking the courses she needs to help her pass the GED tests.
"I hate school," Barker, now 22, said. "But I know I need school and all the education I can get in order to move forward and do what I want to do, which is psychology."
School gets harder after friend's death: Lamin Ceesay
"Skipping class, fighting kids after school — doing everything in my power to be as bad as possible," is how Lamin Ceesay remembers his behavior when he entered Brooklyn Center High School.
Ceesay said he had been a bully in middle school and entered high school with the same mentality. Eventually, at some point during his freshman year, he stopped acting out, but his attitude toward school remained sour.
He had trouble in classes, particularly math, and failed a course. Part of the problem, Ceesay said, is that when he didn't grasp something in class, teachers were reluctant to take the time to go back over the material. He said he went to see a counselor for help.
"When I went to ask the counselor about what I needed to do, she'd tell me. And I'd be like, 'OK,'" he said.
"[Then] I'd go to the teacher, [who would say,] 'You can't go back and do that. It's already incomplete. We already passed that unit. We can't go back.'"
Things got even harder in 11th grade, when a close friend and classmate killed himself.
"It was devastating," said Ceesay. "He was my friend since 7th grade."
A counselor sent an email to Ceesay's teachers to let them know he might be a little preoccupied or overwhelmed in the wake of his friend's death. But he said some teachers either didn't read the email or didn't seem to care.
Ceesay said many teachers didn't give him a break, but he admitted he was also starting to get lazy with his work. If a teacher would give him an extra week to complete an assignment, Ceesay said he still wouldn't finish it.
Sometime during his senior year, Ceesay was told he wasn't on track to graduate. School staff recommended tutoring. But Ceesay said he was done with school. He didn't want to stay back another year or go to an alternative school. So he started working. But it was hard to find a job without a high school diploma or GED certificate.
Ceesay, 22, was turned down for jobs at McDonald's, Walmart and Taco Bell. His luck got better after he entered the Job Corps program and earned a GED certificate. Ceesay now works in the call center for CSM, a Minnesota-based company that owns 40 hotels and 15 residential buildings. He likes the job, but has plans to get a business degree and perhaps work in real estate.
Lie leads to good job, fear of discovery: Xavier Simmons
Xavier Simmons could have kept earning a decent salary working for an oil company in the Gulf of Mexico, but he was keeping a secret he feared would get him fired: He didn't have a high school diploma or GED certificate.
"I lied about it," he said. "I never told my job that I didn't have it."
So Simmons, 27, quit the job and returned to Minnesota to finish what he'd started at Patrick Henry High School in north Minneapolis. He enrolled in adult diploma classes at the Hubbs Center in St. Paul.
Simmons hadn't always been on track to drop out of school.
He said he went from being an honor roll student in middle school to flunking four classes his first year of high school. Around that same time, his home life became stressful and unstable: His mother had developed health problems and couldn't work.
After his first year at Henry, Simmons' family moved to another part of the city. He wound up at North High School. He said he began to see school as a waste of time.
"I used to go to school, put my head down on the desk, go to sleep," he said. "Teacher never woke me up. Never said, 'Hey, pick your head up.'"
At 16, Simmons dropped out and got a job to help his mother.
Simmons said he doesn't blame anyone but himself for not finishing school the first time around.
"I wasn't really, as you would say, a good kid," he said. "I was running the streets, messing with drugs, smoking weed — doing a lot of things I shouldn't have been doing — and really messed up my chances."
Simmons said he didn't like to ask for help from anyone. But it would have been nice if more teachers had reached out to him, challenged him and made learning more fun.
"Those type of teachers I appreciate and I commend," he said. "If I had those throughout high school, I think I would have made it."
Still, Simmons has entrepreneurial aspirations. He said he wants to be a business owner by the time he reaches 35 — eight years from now. He hopes to earn an undergraduate business degree and then a Master's degree once he's completed his GED certificate.
The good news is that Simmons was recently hired as a manager in training at Domino's Pizza. Eventually, he'll manage his own store in St. Paul. The bad news? The hours he works often conflict with his courses at Hubbs. That means it will take him longer to get the diploma he's been working on for so long.
Heroin use, homelessness lead to GED classes: Alyssa Graves
Alyssa Graves' path to the GED program at the American Indian Opportunities Industrialization Center in Minneapolis started at Roosevelt High School and wound through several years of heroin use, school-hopping and homelessness.
The classes at Roosevelt felt too big to Graves. The school had counselors available, but Graves said she wasn't in the right frame of mind to concentrate on school. She soon fell behind. "It was just too much with the big classrooms," she said. "Once you missed one class, you fall behind. That's pretty much where it was. When you miss a day, you have to keep going. That's where my struggle was."
During her sophomore year, Graves left Roosevelt and started attending the American Indian OIC's alternative high school, Takoda Prep. She liked it and was doing well there because the classes were small and she got more individual attention. But Graves' family moved to another part of the city and she was forced to change schools — twice.
"I wish I would have stayed at OIC," she said. "I probably would have finished."
Graves dropped out of that last high school. Her heroin habit turned into a full-fledged addiction. Soon, she was also homeless.
She stopped using drugs three years ago, when she found out she was pregnant. After her son, Aden, was born, Graves decided it was time to go back to school and get her diploma. At 23, she's taking classes and studying for the GED tests.
Graves' parents never finished high school. Her mom got pregnant with her at 15. Graves' father was 18. He dropped out of school in order to find work and support the family; Graves is the oldest of four kids.
"Just like I'd seen my dad struggle with us, I don't want to have to go through that," said Graves. "I want to finish school, get a good job, so I can support my son. So he can have a good life."
After she gets her GED certificate, Graves wants to get a degree and work as a drug counselor. She wants to help young people who are experiencing the same problems she went through as a teenager.
"I want to be able to be a drug counselor because I know how it is. I know how it feels. I know it's hard," she said. "The first few times it's about getting high, but you get to the point where you need it to be normal. That's what it got to me for. And I'm just thankful I found out I was pregnant. He changed my life."
Stuck further behind after pregnancies: Startrease Barnett
Startrease Barnett, 21, was already behind in high school when she got pregnant during her senior year. By then she'd already attended nearly half a dozen schools in the Twin Cities area; she and her mom moved around a lot. With each move, Barnett would miss a week of school while her records were transferred. Sometimes she didn't get along with the other students at her new schools.
"I was unfocused," she said. "I had a couple of fights."
Barnett was suspended from school a few times, once for a full week. That made it hard to keep up, she said.
"I'm not learning. I was behind...I'm out of school, what else is there to do?"
Barnett said there were school counselors available, but she didn't reach out to them. They didn't reach out to her, either.
The suspensions and the transfers made it hard for her to stay on track to graduate in four years.
She tried, even while she was pregnant. But complications left her hospitalized and unable to attend school. After the baby was born, she tried again.
"I did try coming back for those couple of months. I had my mom watching my daughter. When I did come back, I did it again. I got pregnant."
Barnett said she pushed herself hard to go to school during her second pregnancy. She did a lot of walking when she couldn't find transportation to school. But she overdid it. More complications landed her in the hospital, again. Her second baby is fine now, but her time in the hospital put her even further behind in her studies.
A few years later, Barnett started taking GED classes at the Hubbs Center in St. Paul. She took her kids to a home-based day care while she studied. But then the woman who ran the day care got sick, and later died. Without a reliable childcare situation, Barnett stopped her schooling to stay home with her children. She returned to Hubbs when she found out she could drop her kids off at a day care inside the school.
Barnett said she's driven to earn her GED certificate. She wants to become a pediatric surgeon, a nurse or go into a similar career that involves helping children. She helps her mother take care of a 16-year-old brother with Down Syndrome and a 14-year-old brother with learning disabilities.
"I have a lot of family members with disabilities," Barnett said. "I want to be able to reach out and help."