Real ID in the fast lane at the Capitol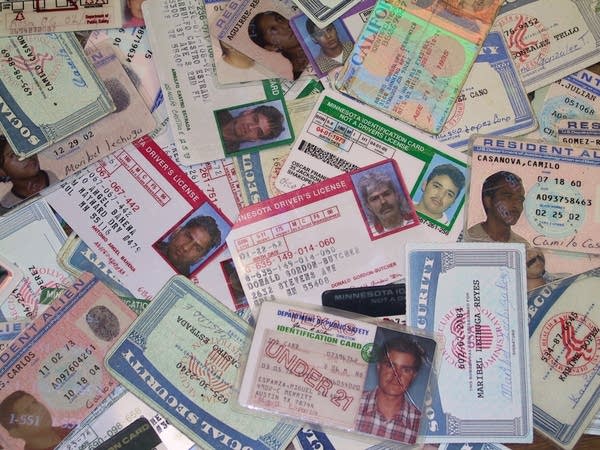 The Minnesota Legislature has banned state officials from doing anything to enact federal Real ID standards since 2009.
A Senate committee Wednesday sent a bill lifting that prohibition to the floor for a vote as soon as next week. The House is also preparing to pass the first of two measures paving the way for what's known as Real ID after beating back an effort to slow it down.
Under pressure from business groups and ordinary travelers, legislators are trying to head off complications in domestic air travel that could result from not making the change, which will affect about 4 million state drivers licenses and ID cards.
Last fall, the U.S Department of Homeland Security began requiring people who visit secure federal buildings and military bases to present enhanced licenses or passports. The agency gave states some breathing room on air travel, putting off enforcement of airport checkpoint rules until at least 2018.
Lawmakers shouldn't take that leniency as an invitation to put off the conversion, said Sen. Scott Dibble, DFL-Minneapolis.
"While the level of urgency isn't quite as acute as we thought it might be a few months ago, we still have a level of urgency," he said. "The Department of Public Safety needs to undertake a number of activities in order to start issuing these compliant IDs  if we actually want them to be issued in normal sequence on a four-year cycle the way we do now."
States have sole power to issue driver's licenses. But in 2005, Congress dictated minimum security features those cards must have for acceptance at airports and other federal property. It grew out of the post-Sept. 11 push to strengthen homeland security.
By wide margins in 2009, Minnesota lawmakers passed a law slamming the brakes on Real ID. They said then they had too many concerns about federal intrusion and not enough comfort about how citizen data might get used.
Sen. Warren Limmer, R- Maple Grove, has been a leading opponent of Real ID but said Wednesday he was comfortable with the Dibble bill to allow planning.
"It's measured. It's limited," he said. "We are kind of stuck between a rock and a hard spot because if we don't the federal government has claimed it will stop all air traffic for our people."
In the House, Rep. Carlos Mariani, DFL-St. Paul, tried to stall the bill's advance, saying the federal government can't be trusted to safeguard sensitive information collected by the states.
"In the last 10 years we have had huge, huge telling news about how far the federal government is willing to go in terms of digging into the information that you have the obligation to protect for your fellow citizens," he said.
The Senate bill requires the Department of Public Safety to report to the Legislature by March 31 on how it would roll out the new ID cards and how much it would cost the state and license holders to make the switch. Those plans would cover data security, training of driver's license agents and the ability for people who don't want the compliant ID cards to opt out.
That would put lawmakers in position to adopt a Real ID implementation bill by the end of session in May.
Rep. Dennis Smith, DFL-Maple Grove, said he's been working with his Senate counterparts to line up their bills to keep them on the fast track. He said it's important that the Department of Public Safety be in a position to begin issuing the new cards later this year.
"In a sense, no one will have to pay twice for their license to be compliant with the Real ID," he said.  "So it's very consumer friendly to try to get this done this session, so by Oct. 1 we can start to implement the new license, whatever that looks like."
That way, Smith says, people won't have to rush to get a new license before their normal renewal date.