From First Avenue to Paisley Park, a tour of Prince landmarks in Minnesota
Updated: 1:45 p.m. | Posted: 1 a.m.
Few things are more Minnesotan than hot dish, the accent — and Prince.
The Minneapolis native, who died this week at Paisley Park, put Minnesota on the world's map not only in terms of music but also in pop culture.
Grow the Future of Public Media
MPR News is Member supported public media. Show your support today, donate, and ensure access to local news and in-depth conversations for everyone.
And unlike other artists from the state, he remained a lifelong Minnesotan.
Planning a Prince pilgrimage? Here's a starter guide. (The Twin Cities' bike-sharing system Nice Ride has its own "Prince-For-A-Day" tour)
Bryant Junior High and Central High School
A young Prince Rogers Nelson attended school and played basketball at Minneapolis' Bryant Junior High and Central High School.
Neither school is still in existence today. Bryant, located at 3737 Third Ave. South, closed in 1978. Central, at 4th Avenue South and 34th Street East, shuttered in the early 1980s.
Bunker's Music Bar and Grill and the Dakota Jazz Club
Among the places the singer and songwriter was known to turn up.
Calhoun Square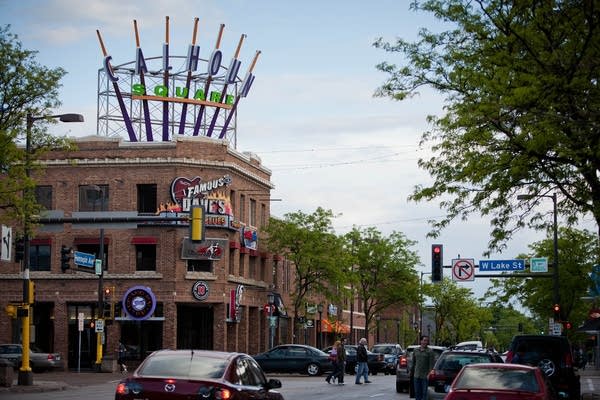 Meet us there if you dare.
Prince wrote a song named after the shopping and entertainment complex in Uptown Minneapolis. It was the third track on the second disc of his 20th album, "Crystal Ball."
Capri Theater
Prince played his first shows as a solo artist at this north Minneapolis venue on Jan. 5-6, 1979.
Advance tickets were a mere $4.
The Electric Fetus
Prince was a regular at this iconic Minneapolis record store. In fact, he stopped by on Saturday in support of Record Store Day.
He bought six CDs, according to the store's retail music manager.
First Avenue
Not only did the superstar regularly perform at the downtown Minneapolis music venue, he filmed "Purple Rain" there, as well.
The 1984 film, along with the album, transformed Prince into a mega pop icon.
And at 13 million copies, "Purple Rain" is the best-selling album to ever come out of Minnesota.
Glam Slam
Prince's old nightclub at 110 North 5th St. in downtown Minneapolis is now home to The Shout! House, a dueling pianos bar.
Graffiti Bridge
Prince made a sequel to "Purple Rain" in 1990 called "Graffiti Bridge."
At the time, there was actually a Graffiti Bridge in Eden Prairie but it has since been removed.
The house from 'Purple Rain'
Speaking of "Purple Rain," the house where Prince's character lives in the movie still sits in the Howe neighborhood in south Minneapolis. Find it at 34th Street and Snelling Avenue South.
According to property records, Prince's NPG Music Publishing company owns the two-story home.
Lake Minnetonka
In one of the most famous scenes from "Purple Rain," Prince-as-The-Kid tells Apollonia to purify herself in the waters of Lake Minnetonka.
Because it's Prince and you basically do what he says, she strips down and jumps into some nearby water. Except...
"That ain't Lake Minnetonka," Prince tells her.
It was actually the Minnesota River, according to the movie's location scout, though other reports say the scene was filmed at Cedar Lake.
Apollonia later revealed that she got hypothermia filming that scene — and that Prince held her and "saved" her with "his warmth and his love and compassion."
Paisley Park
Otherwise known as Prince HQ.
The massive recording complex in Chanhassen, about 20 miles southwest of Minneapolis, also served as Prince's occasional concert venue.
He was well-known for staging legendary all-night parties there, though fans had to do without their cellphones and alcohol (both prohibited).
CityPages once called it the "Best Place to Take Out-of-Town Guests."
Map: Prince landmarks