U police investigating alleged drug use, sales among wrestlers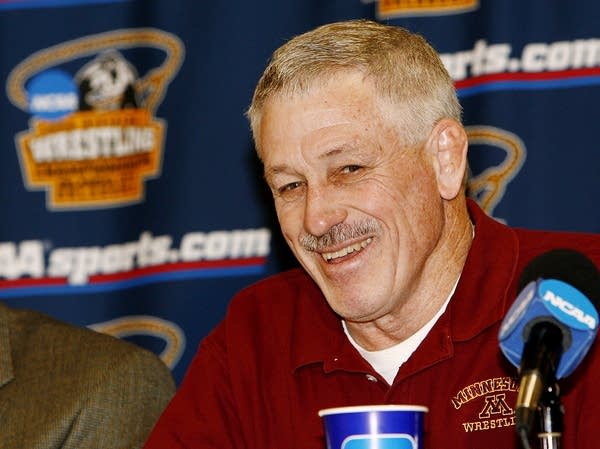 University of Minnesota wrestling coach J Robinson and several of his student-athletes are under investigation after allegations emerged around the possession and possible sales of a prescription drug.
News reports have cited sources that say multiple wrestlers were using Xanax, a prescription anti-anxiety drug, and four of them were selling it.
The reports say Robinson called out the wrestlers and demanded they bring him the pills so he could dispose of them. He then allegedly had the student-athletes take urine tests and write essays about what they'd done.
Robinson told the wrestlers they wouldn't get into trouble if they complied, the reports say.
The school's police department is investigating, and university President Eric Kaler said in a statement that if the allegations are true, the behavior won't be tolerated.
If Robinson broke the law, it's a violation of his contract. University officials say they're waiting for police to finish their investigation before conducting their own.
Joseph Lee, the medical director at Hazelden Betty Ford's Youth Continuum program, said Xanax can be effective in treating anxiety and panic attacks. But its effects can change when abused with other drugs or alcohol.
"Unfortunately, it can also lead to blackouts like alcohol," Lee said. "Disinhibition, a loss of coordination, and the withdrawal from benzodiazepines can be medically very complicated and sometimes life threatening because of seizures. So they're not chemicals to be taken lightly at all."
Lee said Xanax isn't performance enhancing — it's more of a party drug.
According to Chief Deputy Dakota County Attorney Philip Prokopowicz, Xanax is a schedule IV prescription drug. Possession without a prescription or sale is a fifth-degree controlled substance felony.
Prokopowicz did not speak directly about the case, but spoke generally about state law.
"Mere knowledge that a person is either in possession or selling Xanax is not a criminal offense, or would not typically be a criminal offense," he said.
Taking and getting rid of evidence would fall under aiding an offender, which would be a felony, he said.
Wrestling has been one of the U's most successful sports, and much of that success is due to Robinson.
He's a former wrestler and Olympian in his 30th season heading the program. Since he took over in 1986, the Gophers have won three national championships, had 14 individual national champions and 63 All-Americans.
The team has been part of one major NCAA infraction back in 1991. Among the violations, the U had a wrestling club which included prospective athletes. The club sometimes practiced with the team. The NCAA said it gave the team an unfair recruiting advantage.
The wrestling team's current situation will be one of several issues new athletics director Mark Coyle will take on when he starts after Memorial Day weekend.
Your support matters.
You make MPR News possible. Individual donations are behind the clarity in coverage from our reporters across the state, stories that connect us, and conversations that provide perspectives. Help ensure MPR remains a resource that brings Minnesotans together.