Concert series takes root under a tree in St. Paul
Minnesota musicians are discovering an intimate new performance venue in St. Paul that offers a laid-back setting, friendly audiences and a generous paycheck.
It's called the Grand Oak Opry, in honor of the enormous, centuries-old tree that dominates the performance space.
On a recent hot Saturday afternoon, Jazzland Wonderband performed some classic old tunes to a crowd of around 130 in the shade of the tree. It was Jazzland Wonderband's first appearance at the venue, and front man Cameron Kinghorn liked the intimate atmosphere.
"It almost feels like you're playing in your own backyard, which is really comfortable," he said. "It makes you feel really at home."
MPR News is Member Supported
What does that mean? The news, analysis and community conversation found here is funded by donations from individuals. Make a gift of any amount today to support this resource for everyone.
Kinghorn was playing not in his own backyard but in the backyard of Sean Kershaw and Tim Hawkins, in the West Seventh neighborhood of St. Paul. This is the third summer the two have offered up their property to local musicians to perform.
Their young daughter passed out Popsicles to keep people cool on this 90-plus-degree day. Families camped out on blankets or sat on benches. Off to the side, a couple danced, while little children wandered freely through the grass, bouncing to the music.
The Kershaw and Hawkins family has lived in the neighborhood for more than 20 years. They used to host big holiday parties, Kershaw said, but over time that got to be less fun.
"I sort of become a cleaning monster, and Tim doesn't," he explained. "And we did one party where, five minutes before everyone arrived, we weren't talking to each other."
Hawkins interjected, "It was hard to talk to each other when I was at the bar and he was home, cleaning."
Kershaw agreed. "He'd left, with five minutes to go, and went and got a drink," he recalled. "We thought there must be a better way to get people together."
Kershaw is the executive director of the Citizens League, Hawkins is a cigar monger. When Kershaw and Hawkins first met, it was their similar taste in music that sealed the deal. Hawkins always thought St. Paul should have its own version of Austin City Limits — so they decided to create their own.
They reached out to neighborhood businesses for sponsorships. A garden store provides potted flowers, another store donates bottled water. People are welcome to bring their own drinks and snacks.
People are asked for a $10 donation at the gate, but they aren't turned away for a lack of funds.
"Part of the reason that I think it works is that all of the money from the gate goes to the band," Kershaw said. "And the bands like it because it's relaxing and it's not a lot of pressure. The goal for us was to bring people into the neighborhood and support local musicians."
They started by reaching out to musicians they knew who lived nearby. Now bands are contacting them. They've hosted the Cactus Blossoms, Communist Daughter and the Roe Family Singers. This summer they'll have Martin Devaney and The Pines, among others. Some bands have drawn close to 300 people.
The neighbors don't seem to mind; in many ways, Hawkins said, the concert series is a neighborhood project.
"One of the neighbors designed the T-shirts from last year," he said. "The back neighbor was the photographer. And then we have a neighbor over here who brings benches, and then several other neighbors who are enlisted to greet."
One of those greeters is neighbor Peg Brown.
"Sean and Tim checked with everyone around them, and everybody was so excited about it," she said. "And this I kind of think of as our outreach for the neighborhood, so other people can come in and see just what a gem this is."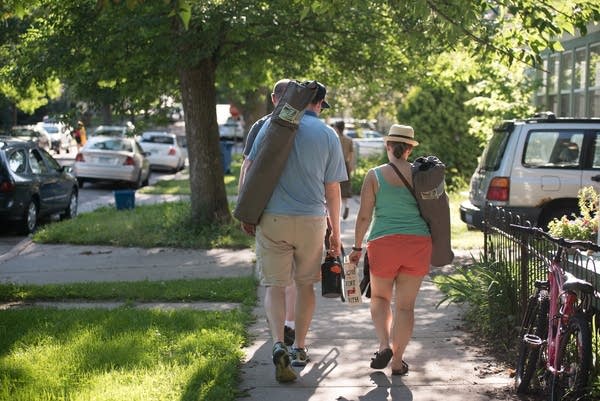 All of the concerts end at a decent time, Kershaw said.
"Many of the people who show up for this are people who are not going to the Turf Club for an 11 o'clock show," he said. "They may have kids, or they just may not want to go out. So I think the bands are realizing they're drawing new people."
Grand Oak Opry continues its summer music series this Saturday with a performance by Charlie Parr.