Afro Deli sues African Development Center in ownership dispute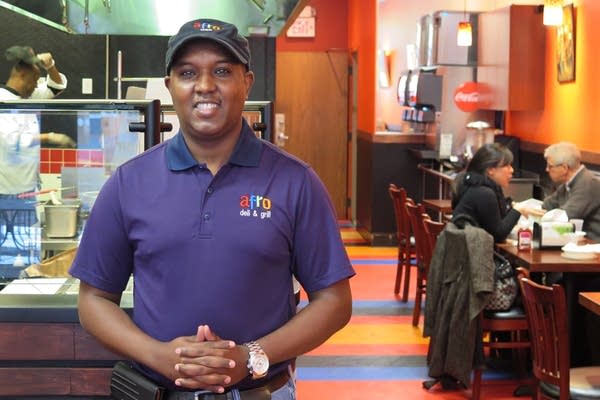 Afro Deli, a prominent immigrant-owned business in the Twin Cities, is suing landlord African Development Center days before its lease was set to expire.
Afro Deli's owner, Abdirahman Kahin claims the ADC wants to take over the restaurant and force him out once the lease expires Thursday, according to the lawsuit filed Monday in Hennepin County District Court.
In 2010, Afro Deli entered an agreement with ADC for five years after the nonprofit secured a $120,000 loan to build out space for the restaurant in the Cedar-Riverside neighborhood of Minneapolis.
As part of the agreement, Afro Deli paid a monthly rent of $2,500 from January 2011 through October 2015 and split the restaurant's gross profits with ADC. Throughout the term of the lease, ADC was required to provide business management to the restaurant. In return, ADC had access to all of the restaurant's records.
Grow the Future of Public Media
MPR News is supported by Members. Gifts from individuals power everything you find here. Make a gift of any amount today to become a Member!
"Unfortunately, the ADC only provided the Afro Deli with business management services for the first two years of the lease," the lawsuit said. It adds that the nonprofit struggled financially when its founder, Hussein Samatar, became ill, which affected his ability to lead the organization. Samatar died of complications arising from leukemia in 2013.
Court documents say Afro Deli owner Kahin started lending ADC $2,326.49 per month so it would not default on its loan with the city of Minneapolis. Kahin's loan, which continued from March 2013 to March 2016, totaled $85,655.84. The lawsuit alleges ADC has not repaid the money.
ADC named Nasibu Sareva executive director after Samatar died. When Afro Deli's lease expired in October 2015, Kahin tried to negotiate with Sareva.
"Despite numerous representations from Sareva that the parties would negotiate new lease terms, Nasibu continually provided Kahin excuses as to why the lease documents were not ready for the Afro Deli's review," the lawsuit said.
When reached for comment, Sareva said he would not be able to respond to the allegations until he consults with his lawyer.
In April 2016, the lawsuit said Sareva claimed that Kahin was a manager of Afro Deli, and not its owner. At the same time, Kahin stopped sharing profits with ADC and making the monthly loan payments.
"Nasibu also insisted that Kahin surrender the premises before June 30, 2016 so the ADC can step into Kahin's place and continue operating the Afro Deli without Kahin," according to the lawsuit.
"Kahin justifiably fears that if he leaves the premises, the ADC and ADC Commercial will simply take over the Afro Deli as their own," it added. The lawsuit alleges that ADC's move is damaging Afro Deli's business and reputation of its owner Kahin.
Afro Deli is seeking a court order to keep operating in its Minneapolis location with Kahin as owner.
"If injunctive relief is not granted, Kahin and the Afro Deli will suffer irreparable harm that cannot be compensated solely by monetary damages," the lawsuit said. "Additionally, Kahin and the Afro Deli do not have a plain, speedy and adequate remedy in the ordinary course of the law."
In a letter to ADC, a group of former African Development Center employees expressed concerns about ADC's strained relationship with Afro Deli.
"We raise these concerns because ADC, in our view, is attempting to address its current poor financial footing by taking over a profitable business that was painstakingly put together by Mr. Kahin," the letter said. "This, in our opinion, is a gross injustice towards Afro Deli and a slap in the face of Minnesota's African community, which has longed for a success story such as Afro Deli."