No criminal charges after drug investigation of U of M wrestlers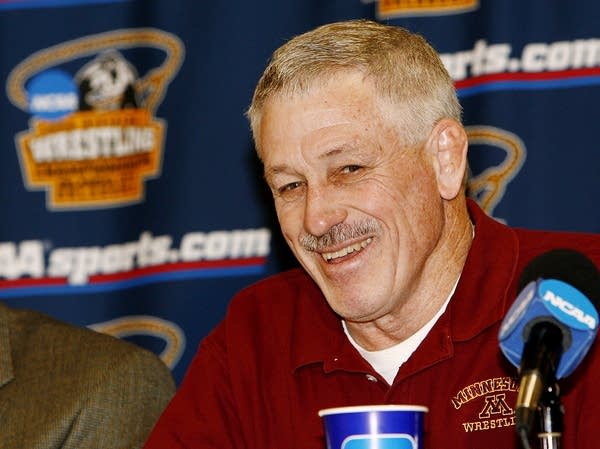 Updated 7 p.m. | Posted: 5:54 a.m.
No criminal charges will be filed in an investigation of University of Minnesota wrestlers suspected of selling and using the anti-anxiety drug Xanax.
"We've declined to charge at this time and we have no further comment," said Jean Heyer, a spokesperson for the Hennepin County Attorney's office.
A case report released by University of Minnesota Police Wednesday says Hennepin County declined the case due to "lack of evidence." It says the Minneapolis City Attorney's Office also declined to prosecute.
An anonymous source told the University through its confidential reporting tool, Ethics Point, that the source believed Head Wrestling Coach J Robinson had attempted to cover for about a dozen student athletes that were either selling or using Xanax.
Gain a Better Understanding of Today
MPR News is not just a listener supported source of information, it's a resource where listeners are supported. We take you beyond the headlines to the world we share in Minnesota. Become a sustainer today to fuel MPR News all year long.
Campus police had been conducting an investigation into the allegation. It said Robinson became aware of the allegations, had the athletes submit to drug testing, bring the drugs forward to be destroyed and told them if they cooperated and wrote a letter about what they'd done, they'd be granted amnesty.
Robinson's attorney, Ryan Kaess, said he was pleased with the decision.
"J Robinson did everything right," he said, saying Robinson told the U about the possible drug use in February and spoke with the wrestlers. "J Robinson said, "If you have a drug problem I want to help you, you shouldn't be using drugs. If you come to me and you're honest, we can get you into the [drug treatment] program. Fourteen students did and that's the end of the story."
"Frankly I think he should be getting a pat on the back instead of getting his name dragged through the mud," Kaess said.
Robinson was placed on paid leave on June 1. The university launched its own investigation last month.
University spokesman Evan Lapiska sent out a statement to media Thursday night, saying the internal investigation remains active.
"We are looking into the facts surrounding the allegations, including questions you raise around what was shared by whom and at what point was all of the pertinent information volunteered as it should have been," the statement reads. "We are aware that members of the media have received bits and pieces of information that raise understandable questions, but we are committed to reviewing all of the information available and it would be inappropriate to comment further or on specific details while the investigation is ongoing."
The heavily redacted police report reveals that Robinson was interviewed by investigators, but declined to answer some specific questions, saying it was a confidential matter and he was taking care of it internally. He said he'd talked to his players in confidence and assured them nothing they discussed would be divulged.
In a later interview, he told police he wanted to find resolution to the issue that doesn't result in "carnage" for his team.
The report includes some of the letters the student athletes submitted to Robinson.
"I would like to thank you for giving me and some of the other guys more chances than we deserve," according to one letter, with the name of the sender blacked out. It goes on to say, "I want you to trust me and I trust you with all my heart because you're currently putting your entire career on the line for a mistake that us wrestlers made."
Kaess said now Robinson is having to deal with the University of Minnesota's internal investigation that does not have a clear end date.
Marshall Tanick, a Twin Cities employment attorney, reviewed a section of Robinson's coaching contract for MPR News.
"It would be quite a stretch to interpret his contract in a way that would allow the University to terminate him based on the facts as we now know them," he said. "While there are some general good-citizen provisions, none of them would seem to apply here."
Kaess, Robinson's attorney, believes the U should reinstate the coach and close its investigation.
Asked if this means the criminal aspect of the issue is complete, Kaess said it should be, but it could still be reopened.
"At this time they're deciding not to prosecute because there is no evidence. He didn't do anything wrong," Kaess said. "Ostensibly, if something came up they could absolutely still prosecute him."
As Robinson continues on leave, four of his summer wrestling camp sessions were relocated from the University of Minnesota campus to River Falls, Wis.