Police back on Lynx duty following T-shirt flap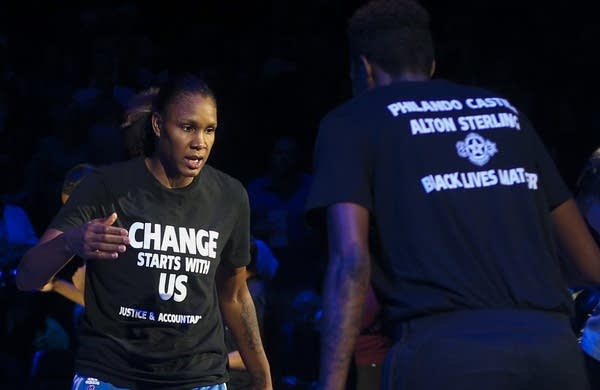 The police officers who work Minnesota Lynx games have ironed out their differences with the team and will provide security at Friday night's game, the head of the Minneapolis police union said.
Last week, Lynx stars Maya Moore, Lindsey Whalen, Rebekkah Brunson and Seimone Augustus wore matching T-shirts during pregame warmups that read, "Change Starts With Us" on the front and on the back had the names Philando Castile, Alton Sterling and a Dallas Police Department emblem. It also had the words "Black Lives Matter."
Moore urged the nation to "take a deep look at our ability to be compassionate and empathetic to those suffering from the problems that are deep within our society ... we need to speak out for change together."
However, the four officers who were working the game in an off-duty capacity took offense to the T-shirts and walked out after speaking with Lynx Coach Cheryl Reeve, said Minneapolis police union president Lt. Bob Kroll, who supported the walk-off and derided the team for its "pathetic" fan attendance.
That drew a rebuke from Minneapolis Police Chief Janee Harteau and Mayor Betsy Hodges, who called Kroll's comments jackass "remarks."
Kroll has since walked back those remarks and called his "pathetic" comment a "horrible selection of words." But the T-shirt incident and reaction is causing some to take action.
Before you keep reading ...
Did you know that MPR News is supported by Members? Gifts from individuals power the headlines, clarity and context found here. Give during the Fall Member Drive to become a Member today.
David Brauer, a former media reporter in the Twin Cities, encouraged people on social media to attend the July 22 Lynx game. Brauer himself has never been.
"It struck me that the thing I need to do to support the Lynx is actually support the Lynx," he said. "Buy tickets, make it clear that I'm buying tickets because of Kroll's comments but maybe more importantly, because the Lynx stuck their necks out, in a very considerate but cool way, and I needed to let them know I supported that."
Brauer will have company. Black Lives Matter Minneapolis is promoting an event by Minneapolis organizer Sol Ras, who's also planning a July 22 rally outside Target Center to support the three-time WNBA champions.
"The Lynx supported both fallen police officers and fallen black bodies and the police officers and police supporters' response was to walk out and to not support the Lynx," she said. "We wanted to do the exact opposite as black bodies. We wanted to show our appreciation and love for their support."
Reeve said Thursday she's proud of her team for speaking out and creating a dialogue. She hopes the Lynx will help bring people together during a painful time.
Kroll said he still disagrees with the T-shirts the team wore, saying professional athletes don't know about policing and that it's too early to draw conclusions about the Castile shooting. But he said he wishes the Lynx well.
The Friday night game against the New York Liberty will be the first home game since the T-shirt controversy.
"It boosted up the attendance for the Lynx, and now I hope they go ahead and sell out," Kroll said. "I've heard the ticket sales are going up substantially cause of this, and that's a good thing."