Welcomes, whispers greet ex-DFLer in GOP delegation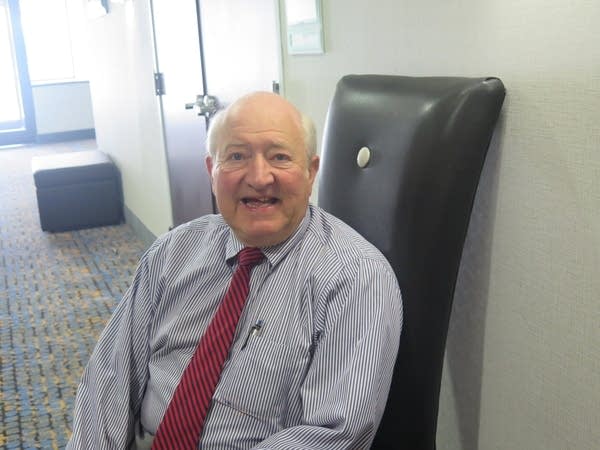 Steve Wenzel is something of a novelty among the 38 Minnesota delegates to the Republican National Convention. He spent almost three decades in political office _ as a Democrat.
The former Minnesota House member came to Cleveland as part of the Trump delegate slate, although he supported three other GOP presidential candidates earlier in the race and is only now coming around to the New York billionaire.
"I'm going to be a Trump voter," he said.
Wenzel said Trump could contend in a state like Minnesota if he puts in the effort, but still thinks a win there is a long-shot.
Grow the Future of Public Media
MPR News is supported by Members. Gifts from individuals power everything you find here. Make a gift of any amount today to become a Member!
Wenzel served in the Legislature from 1973 to 2001, representing the Little Falls area. He left after being appointed to a federal agriculture department post. And soon he ditched his Democratic Party home, too.
"As the years have gone by, even in 2000 and 2001, the party was going one way and I was going another," Wenzel said, citing his anti-abortion stance. "I didn't leave the Democratic Party, the Democratic Party left me when they adopted a platform that I consider extreme in so many areas."
Wenzel considers himself an independent Republican. He previously backed Republicans, including Sen. Norm Coleman, Gov. Tim Pawlenty and presidential nominees John McCain and Mitt Romney.
He still backs some Democrats, including Minnesota Attorney General Lori Swanson and 8th District U.S. Rep. Rick Nolan, whom he calls "an old dear friend."
In this presidential race, he initially backed former Florida Gov. Jeb Bush, whose brother President George W. Bush appointed Wenzel to the U.S. Department of Agriculture post in Minnesota. Then Wenzel migrated to Florida Sen. Marco Rubio and finally Ohio Gov. John Kasich. Trump was his ticket to the convention, but he wasn't necessarily enamored with him. That's changed, he said.
"He has a plan and a vision for America. He is a decision-maker," Wenzel said of Trump.
He's vehemently opposed to presumed Democratic nominee Hillary Clinton. He regards her as politically expedient, questions her character and doesn't embrace her foreign policy positions.
Wenzel's political conversion has turned heads. One delegate whispered to another about Wenzel's past as he spoke with MPR News on Tuesday.
At 69, Wenzel is 15 years removed from his time in the Minnesota House. He is a political science professor at Central Lakes College in Brainerd. Two members of the Minnesota contingent in Cleveland are former Wenzel students.
State Rep. Matt Dean, R-Dellwood, pulled up a chair next to Wenzel at the delegation's morning breakfast.
"He's a cool dude. He, I think, is a straight shooter. He calls them like he sees them," Dean said. "He sees where the state is going and he's not afraid to say 'I think we should be going in this direction.' And that's what people are looking for."