Read up: What books do Trump, Clinton need to read before becoming president?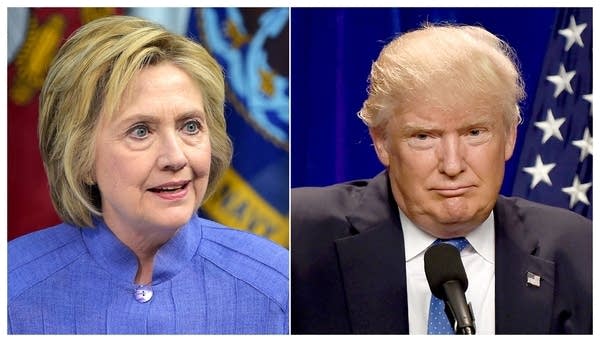 If you could recommend one book to this year's presidential candidates, what would it be? What book would help them understand the nation they want to lead?
Both Donald Trump and Hillary Clinton have packed schedules between now and November, but if they have time to crack one book, we've got recommendations on what it should be.
Historian Tim Walch and writer and literary journal editor Syreeta McFadden joined MPR News host Kerri Miller to build a reading list. Callers shared their recommendations as well.
Nonfiction, fiction, poetry — the responses include a little bit of everything.
Grow the Future of Public Media
MPR News is supported by Members. Gifts from individuals power everything you find here. Make a gift of any amount today to become a Member!
A work of history
As a historian and former director of the Herbert Hoover Presidential Library, Walch recommended titles that highlight the leaders of yesteryear: You can never go wrong with a presidential biography or memoir when looking for insight.
Reading about previous president's achievements can also help candidates focus on their own future legacies: What do they want to be remembered for?
McFadden agreed that the candidates should crack a history book, calling out Trump specifically.
"Given the kind of comments that we hear from that particular candidate, it's ahistorical, and out of context and dishonest. I would definitely recommend a historian," she said.
Staying grounded
Both Walch and McFadden stressed the importance of staying in touch with average Americans, even when steeped in the political world. McFadden suggested that candidates pick up George Saunders' biting, satirical short story collection, "In Persuasion Nation."
"There's something brilliantly wicked and smart and empathetic about the America he renders in those stories," she said.
Walch suggested the nominees read something outside their comfort zone: "We need people to have fresh ideas, to think a little differently than others. And to have the courage in their convictions to go forward."
Recommended reading for the presidential candidates
Syreeta McFadden's picks
• "The History of White People" and "Standing at Armageddon" by Nell Irvin Painter
• "The Fire Next Time, Nobody Knows My Name, Cross of Redemption" by James Baldwin
• "CivilWarLand in Bad Decline" and "Tenth of December" by George Saunders
• "Between the World and Me" by Ta-Nehisi Coates
• "The Unwinding" by George Saunders
• "The Warmth of Other Suns" by Isabella Wilkerson
• "The New Jim Crow" by Michelle Alexander
• "The Condemnation of Blackness" by Khalil Gibran Mohammed
• "Catalog of Unabashed Gratitude" by Ross Gay
• "Beloved" and "Song of Solomon" by Toni Morrison
• "Citizen" by Claudia Rankine
• "All the Single Ladies" by Rebecca Traister
• "The Half Has Never Been Told" by Ed Baptist
• "Unfamiliar Fishes" by Sarah Vowell
Tim Walch's picks
• "The Road to Character" by David Brooks
• "Bowling Alone" by Robert D. Putnam
• "Hamilton" by Ron Chernow
• "Redeployment" by Phil Klay
• "The Wright Brothers" by David McCullough
Listener suggestions
https://twitter.com/Bayathread/status/758307578791223296
"A March of Folly" by Barbara W. Tuchman
"It points out various incidents throughout history that in spite of everything ended up being self-destructive, good lessons." -Shelly
"Faith of the Fallen" by Terry Goodkind
"It is a fairly thinly veiled critique on overly zealous religiosity and how it can ruin a group of people." -Rick
"Demon Haunted World" by Carl Sagan
"It examines how we tend to choose a belief without thinking skeptically about it. It helps people use fact and reason to make their decisions." -David
"Micromégas" by Voltaire
"It's short, easy to read. It applauds the idea of looking for new answers rather than falling back on old ones." -Jerry
"The Price of Inequality" by Joseph Stiglitz
"Cuts through the philosophy of economics and gets at the historical perspective and scientific perspective. Politics is really about economics." -John