Ojibwe storyteller writes down tales to help us survive 'the dark hole'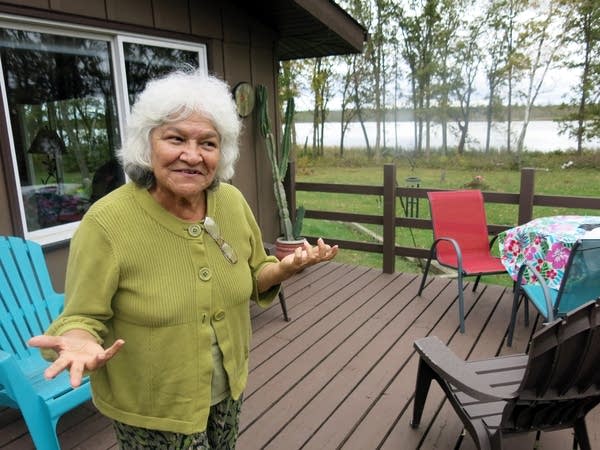 After a lifetime of telling stories on northern Minnesota reservations, Anne Dunn decided to write them down. The Leech Lake storyteller picked 75 of her best for the new collection "Fire in the Village".
Dunn was raised by storytellers. Her mother and grandmother told Ojibwe stories, old legends of bears and porcupine, and lost children in the woods.
"My dad told stories you maybe wouldn't want to tell to the neighbors," she said.
Her father wasn't around much, she said, but sometimes he'd walk up their driveway near the White Earth reservation, with money in his pockets and tales of lumber camps out West and the railroad bulls he dodged to get home.
Grow the Future of Public Media
MPR News is supported by Members. Gifts from individuals power everything you find here. Make a gift of any amount today to become a Member!
Dunn was a quiet child. She listened, and she remembered things.
She remembered the old stories, but she also remembered her mother stealing money from her father's pockets while he slept — saving it to buy food, so he wouldn't spend it on alcohol.
"Fire in the Village" is a collection of both types of story. There are Ojibwe legends. But many are also seasoned with the life Dunn lived.
But Dunn always had a knack for fiction. When she was young her best friend carried a Bible everywhere she went. She'd make Dunn put her hand on the book before talking. Otherwise, Dunn would spin wild stories and pass them off as fact.
Even now she says the line between truth and fiction is blurry.
"I think there is more truth in fiction than we actually realize," she said.
For a long time, Dunn would not write down her own stories.
"My mom used to tell me. She said, 'A story only lives while you're telling it. You are breathing your living breath and and somebody is receiving it in their living ears. And then the story is alive.' So I thought, a story in a book cannot be alive. But I am adjusting that."
When Dunn's mother turned 75 she began to forget her stories. Dunn had to help her through family legends — things she told and retold all her life.
This year Dunn is 75. She said her memory is as sharp as ever, but she doesn't know for how much longer. She has six grown children, and many grandchildren, but none of them has picked up the mantle of storyteller as she did.
A written story might not truly live, she said, but it never dies.
"And if our kids don't have their stories they're going to get lost on the journey. Lost," she said. "We should be passing them on to our young people so they'll have something to hold onto when they reach that dark hole. Because everybody's going to be there some time. There's a dark hole for all of us."
"Fire in the Village" is out this week. Dunn will speak Thursday at the Pequot Lakes Library at 4 p.m.