A year after Jamar Clark's death, life still a nightmare for his birth mom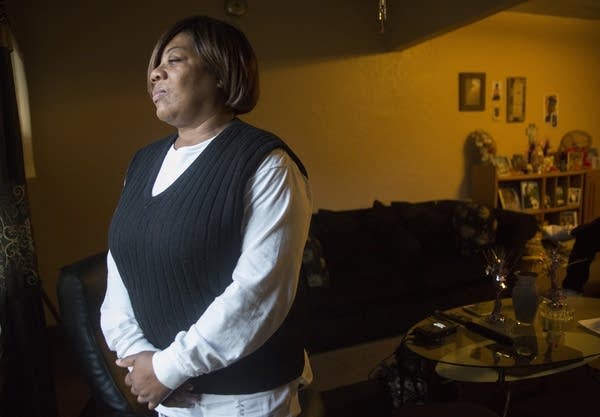 Speaking shortly before the first anniversary of her son's death, the birth mother of Jamar Clark said she still suffers terrible pain.
"I'm hurt. I'm torn up inside," said Irma Burns. "I'm standing by the grace of God. No mother should have to go through this — sleepless nights, pillows drenched in tears. Pain, oh God, you can't imagine."
It was a year ago today that 24-year-old Jamar Clark was shot and killed in a confrontation with two Minneapolis police officers.
During the incident officers shot Clark after reportedly trying to stop him from interfering with a paramedic crew treating a woman initially identified as his girlfriend outside a late-night party; he died the following day. The responding officers believed the woman was an assault victim and that Clark was a suspect.
MPR News is Member Supported
What does that mean? The news, analysis and community conversation found here is funded by donations from individuals. Make a gift of any amount today to support this resource for everyone.
The incident led to weeks of protests and the occupation of the 4th Precinct police station.
Activists and supporters claimed Clark was unarmed and handcuffed before the shooting. Multiple investigations, including at the federal, state and local level, cleared the officers of any criminal charges.
Burns, 55, is a school cafeteria worker and a motivational speaker at her church, where she talks to drug and alcohol addicts about her recovery. Sitting in her Minneapolis duplex, she told of growing up in Chicago in a close-knit family with two brothers and six sisters.
When Burns was 16, she was pregnant with her first child. That same year, her mother died from multiple illnesses.
"After that, I was fending for myself," she said. "So I started having kids young — looking for love, I guess, in all the wrong places. And when I did get married, it was to my last three kids' father."
She and Jamar's father were together for years before they got married. They came to Minneapolis in 1991, when Burns was pregnant with Jamar.
He was the baby in the family, the youngest of 10 children. He enjoyed Rollerblading, board games, oatmeal cookies. His favorite colors were red and black. And he loved rap, especially Tupac.
"I wasn't into the rap stuff," Burns said, "but he would try and tell me, 'Mom, you don't know these guys? ... You gotta listen to their lyrics, listen to what they're saying.'"
Looking back, she wishes she had done some things differently.
"Raising 10 kids is absurd to some people," she said. "Was I ready for it, 10 kids? Probably not, but I had 10 kids ... even though circumstances came up, to where I made some mistakes, getting involved with drugs and alcohol. But when you love, I guess, you sometimes don't think straight. ... I figured taking myself away, a lot of times, would be better for them. In reality it wasn't, I know. But yeah, getting involved in drugs and alcohol, and everything that came with it — they didn't deserve it."
During an hours-long interview, Burns said she'd been in and out of treatment centers, and eventually lost legal custody of her kids, including Jamar. He was raised by Wilma and James Clark, his adoptive parents from the age of 5 to 14. Burns said her son was then returned to her.
She said she'd lost an eye to domestic abuse, but had managed to put her life together in the last decade, thanks to her current husband, Johnie Johnson.
Johnson said Jamar, too, had been getting his life in order. He said he'd been working with his stepson on, among other things, "stability as a man."
"He was building himself up real nice," Johnson said. "And he was so proud to show his mom what he could do. He went to Wells Fargo, opened up an account. The three of us went into the bank one day. He was so proud to walk up to the ATM, stick his card in there and say, 'I got a deposit from my job. You need anything, Mom?' just to show us he's a man ... that he was working, taking care of himself. He was not a hoodlum in the street."
Before he was killed, Clark worked at both Copeland Trucking and at a car wash. But he had a criminal history, and spent time in prison for robbery. He also pleaded guilty to terroristic threats for trying to burn down a woman's apartment after their relationship ended.
"Not saying nobody's perfect, not painting him as an angel," Burns said, "but he was a good person, and he meant well. He wanted to prove that struggles in life can be overcome ... that life can be turned around from bad to good, and he set out to do that. And he did it, he accomplished that. He did it."
She misses his daily phone calls, and his visits to just chat about the everyday, the mundane. Jamar Clark didn't miss a single Mother's Day celebration. Burns said she'll never forget his telling her, "Mom, you're not bad. It's the alcohol and the drugs that are bad."
Since her son's death, life has been a nightmare, she said.
"The higher-ups in this community have failed," she said. "They failed. And they look at it as though he's an ant that's been stepped on, or a roach. That was my son, someone that was loved dearly. They took away his life, his plans in life. They took it away. I want these officers to be held accountable. Everybody needs to be held accountable because someone's not doing their job, for these officers to be doing what they're doing."
She said she's not anti-police, and in fact she and her husband have been block captains annually for National Night Out in Minneapolis.
"I'm not here to speak hatred, revenge, or anything of that nature," she said. "We want justice. Every black person, man, child, woman, we're not animals. I'm just saying, we've got to stop being profiled as the troublemakers, bad guys, whatever. I work every day. My husband is retired. And I feel like I paid for that officer to shoot my son.
"There's more like Jamar out there that can stand a chance of getting shot by the police, just because of the way they look."
Irma Burns said she'll continue to be the voice for her son. And she hasn't ruled out filing a civil lawsuit. For now, she simply wants to honor the memory of her son, and the man he was striving to become.