The Minnesota winter bucket list
Winter is a time for hibernation, right?
Not in the Land of 10,000 (Frozen) Lakes.
From skiing to skijoring and ice fishing to ice golfing, Minnesotans aren't ones to let a little thing called "the cold" stop them from enjoying the season to its fullest.
In no order, we present...
MPR News is Member Supported
What does that mean? The news, analysis and community conversation found here is funded by donations from individuals. Make a gift of any amount today to support this resource for everyone.
The Minnesota winter bucket list
1) Play or watch a game of pond hockey
This should be no surprise, considering Minnesota is the State of Hockey, where many puck enthusiasts learned to play the game outdoors during the coldest time of year.
For a true spectacle, check out the U.S. Pond Hockey Championships on Lake Nokomis in Minneapolis every January. It features 25 rinks and players from all over the country vying for the Golden Shovel (because that's what you use to clear the snow off a home rink, obviously).
2) See a frozen waterfall
A waterfall is pretty captivating in the summer but there's something pretty magical about them during winter.
Head northeast to the Canadian border to Grand Portage State Park to see the High Falls, aptly named because they are the highest in the state (120 feet). South of that, Tettegouche State Park has four sets of waterfalls. In the Twin Cities, Minneapolis' Minnehaha Falls features a 53-foot waterfall.
Just make sure that when you're visiting frozen waterfalls that you obey any "no trespassing" signs.
Find a list of state waterfalls here and here.
3) Go snowshoeing
Snowshoeing is allowed anywhere in Minnesota's state parks and recreation areas, except on trails specifically groomed for another activity.
Eight state parks offer groomed snowshoe trails; more than 30 offer snowshoe rentals.
P.S.: You can also snowshoe in the state's Scientific and Natural Areas.
4) Take a fat bike on the trails
Fat bikes have exploded in popularity recently in Minnesota, especially in the winter. The bikes' extra-wide tires with very low pressure are designed to float over a couple inches of snow.
But bikers can't just ride anywhere — many groomed snowmobile and ski trails aren't open for other uses because of safety concerns and because grooming costs are paid through user fees. The Department of Natural Resources recommends these trails.
5) A frozen fore
Who says you can't golf in the winter? You just do it on the ice in Minnesota.
Grab your favorite club, hockey stick, broom, whatever, and head to Lake Minnetonka for the Chilly Open or book a tee time at the BEAR'ly Open on White Bear Lake.
6) Eat a bowl of pho
You're missing out if you've never had a hot bowl of pho, a Vietnamese noodle soup that tastes like heaven. Brothy and flavorful, pho (pronounced "fuh") is especially satisfying on a cold winter's day — or when you've got a cold.
Hit up Eat Street in Minneapolis or Frogtown in St. Paul for some of the best pho in the Twin Cities.
7) Hit the winter festival circuit
International Falls — the Icebox of the Nation — hosts IceBox Days. Crowds greater than 10 times the population of Walker, Minn., routinely gather at Leech Lake for a festival named for a not-so-pretty bottom-dwelling fish, the eelpout. Meanwhile, Wabasha, Minn., has fully embraced 1993's "Grumpy Old Men" and its sequel, both starring Jack Lemmon and Walter Matthau as crabby Wabasha neighbors — it hosts the aptly named Grumpy Old Men Festival.
And then of course, there's the St. Paul Winter Carnival.
And that's just a sampling of Minnesota's winter festivals.
8) A dogsledding adventure
Northeastern Minnesota is home to the John Beargrease Sled Dog Marathon, the longest sled dog race in the lower 48 states.
Want to experience the activity for yourself?
The Ely Chamber of Commerce says there are more sled dog trip providers up there than anywhere else in the world.
9) Go cross-country skiing
Strap on a pair of skis and explore the trails at state parks or even just around your neighborhood. Find ski trails here.
Note: Anyone 16 or older must have a Great Minnesota Ski Pass to ski on groomed trails in state parks, state forests or on state or grant-in-aid trails (be sure to carry it with you). You don't need a ski pass if you're not using a groomed trail.
Meanwhile, Minneapolis has its own massive cross-country ski festival: The City of Lakes Loppet, though it also hosts other events as part of the festivities.
10) Walk on a frozen lake
Non-Minnesotans are perplexed by this one: But what if the ice breaks?
That's why we're stressing safety first — there is no such thing as 100 percent safe ice. The DNR recommends a 4-inch ice thickness for walkers, 5 inches for ATVs or snowmobiles, 8 to 12 inches for cars and small trucks and 12 to 15 inches for larger trucks.
To check thickness, measure the ice every few feet as you walk out onto the lake or check on conditions with a local bait shop or lakeside resort.
Also keep in mind that new ice is stronger than old ice. And if ice near the shore is cracked or mushy, do not go out on the lake.
Here's more on ice safety.
11) Go or watch snowkiting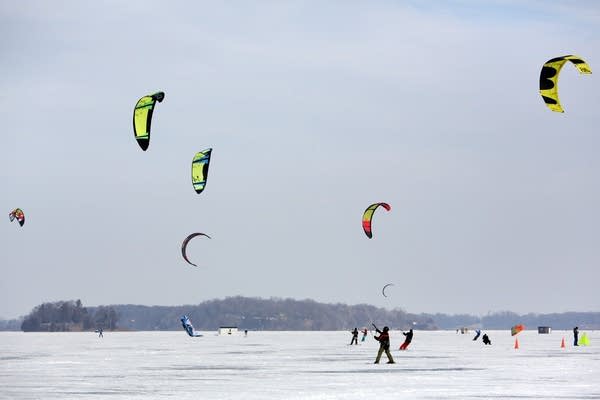 Kiteboarders connect themselves to a large kite and move by catching the wind. The kite is steered by a control bar that's harnessed to the rider. Depending on the surface, whether it's water or ice, the items riders wear on their feet can range from skis to ice skates to even a surfboard.
The state is home to a number of events featuring kiteboarding, including the Mille Lacs Kite Crossing and the Excelsior Brewing Company's Big Island and Back races.
12) Stay in a yurt
A what?
Yurts are insulated circular canvas tents featuring wood floors and woodstoves. For great views, there are also windows and a dome skylight.
Seven yurts are available for rental at three state parks and recreation areas — two at Afton State Park, three at Cuyuna Country State Recreation Area and two at Glendalough State Park — but you can also find a few through Airbnb or through local businesses up north.
In case you need any convincing, hear from two Minnesotans who lived in a yurt year-round.
13) Reel in some fish
Lakes turn into little villages of their own every winter, when ice anglers settle in for the season. Whether you're the type to simply drill a hole in the ice and sit down on a bucket or pull out the ice house, just make sure you're not that guy or girl who uses their ice fishing house as a garbage can.
Make sure you get all of the necessary permits and licenses needed. At least one weekend a winter, Minnesotans 16 or older can fish or dark-house spear without buying an angling or spearing license if they take a child younger than 16 fishing or spearing.
If you'd rather just watch, check out the Brainerd Jaycees $150,000 Ice Fishing Extravaganza, which regularly draws more than 10,000 anglers each year.
Speaking of ice houses...
14) Visit the Art Shanty Project
Drawing inspiration from the myriad ice fishing houses that dot the state's lakes each winter, the Art Shanty Projects is a monthlong festival on a frozen lake that is part art gallery, part artist residency and part social experiment.
The exhibition has been held on White Bear Lake the last several years.
15) Crashed Ice
There's no guarantee the Red Bull Crashed Ice downhill races will return to St. Paul each year, but they've become a wintertime regular in the capital city the last several years.
Billed as the fastest sport on skates, it features racers hurtling down a towering ice track filled with hairpin turns, vertical drops and other various obstacles.
The view of the track alone is Instagram-worthy — it begins in front of the imposing Cathedral of St. Paul.
16) Dogs + cross-country skiing
If you're a fan of cross-country skiing and dogs, then skijoring ("ski driving" in Norwegian) is the winter activity for you.
Watch dogs pull their owners (or race yourself) at the skijoring loppet that's part of the annual City of Lakes Loppet festival events every January or February.
Itasca State Park has seven miles of trails specifically designated for skijoring.
17) Winter by candlelight
See winter in a whole new light. Each year, the DNR hosts dozens of nighttime events allowing skiers, snowshoers or hikers to enjoy the great outdoors by the light of the moon — and luminaries.
18) Cut a figure eight
In the State of Hockey, plenty of outdoor and indoor rinks abound during the season.
If you want to go the distance, check out the outdoor Guidant John Rose Oval in Roseville, with its 110,000 square feet of ice. It's refrigerated, meaning you can skate all the way into 50 degrees.
If you'd rather skate through a park, try Maple Grove's skating loop, the first in the state. It's 20 feet wide and 810 feet long.
If you'd rather be indoors, downtown Minneapolis is home to the The Depot Rink. A one-time train shed, the Depot has been named one of the best places to ice skate by Fodor's Travel and more.
Or, flood your backyard and make your own rink.
19) Grab your broom for a bonspiel
In curling, teams alternate sliding heavy, polished granite stones down the ice, trying to stop them closest to the center of a target. Players sweep in front of the rock, which briefly heats up the ice and affects the rock's velocity and path.
The sport first originated in Scotland in the 16th century, played on frozen ponds and lochs. But it has a strong presence in the upper Midwest and in Minnesota, in particular. At the 2014 Olympics, nearly all of Team USA's curlers were from the state. And in 2015, Blaine's Four Seasons Curling Club was designated as an official U.S. Olympic training site.
The sport continues to grow in popularity. New facilities have sprung up in the last several years throughout the metro. Meanwhile, the St. Paul Curling Club, which dates back to 1912, and Chaska Curling Center both boast memberships of more than 1,000 — among the largest in the country.
20) Warm up with hot chocolate
After a day outdoors, curl up in your comfiest sweatshirt and indulge in a cup (or two) of hot chocolate. Try your hand at being the brew master with these recipes from The Splendid Table: The duke's hot chocolate, Bolognese hot chocolate and Mexican hot chocolate.
Food & Wine magazine has also singled out St. Paul's Kopplin Coffee for a superb cup of Rogue hot chocolate (but it's only available on a limited basis when they're able to get the chocolate).