Minnesota artists question state grant process
First of two articles.
A year ago, when she was pregnant, artist Melissa Loop applied for a grant from the Minnesota State Arts Board. Her paintings had been selling well, and she wanted to keep her momentum after the baby came.
"I asked for money to help with an assistant to help with some of this extra load and then also to help make some new work," she recalled recently as she sat on the floor of her south Minneapolis living room, entertaining her baby daughter. "To keep making ambitious work, so that I could keep on the trajectory that I've been on."
But when a review panel met to discuss Loop's application, the very thing she was trying to prepare for — the arrival of her baby — became a liability. Her pending motherhood was characterized as "a barrier."
Grow the Future of Public Media
MPR News is supported by Members. Gifts from individuals power everything you find here. Make a gift of any amount today to become a Member!
"One thing I'm worried about with her is she's going to have a baby in January, and she wants to do these like huge paintings," said a panel member during the discussion, according to a recording made by the Arts Board. "That's going to be difficult."
The panel didn't believe Loop could produce as much work as she planned to while dealing with a newborn. Her grant was denied.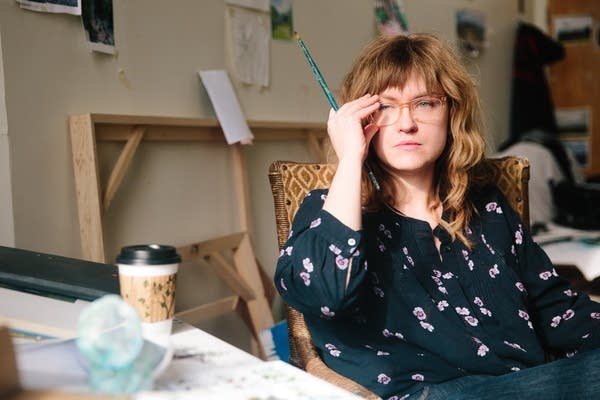 "It just makes your blood boil a little bit — that I wasn't being taken seriously as a professional artist because I was going to be a mother," she said.
The Minnesota State Arts Board is the primary distributor of state funds to artists and arts organizations. Each year it gives out several million dollars. But some artists say there are flaws in the board's review process — and it's not just individual artists who raise concerns.
Mu Performing Arts, which gets operating funds from the arts board, applied for a grant last year to help reach underserved Asian-Americans and create new cross-cultural experiences for its audiences. The grant was rejected. When Mu's artistic director, Randy Reyes, asked for feedback, he was told his organization didn't show enough connection to the Asian-American community.
"Because we didn't list any specific artists that we're working with," he recalled. "But we don't work with specific artists, necessarily, except for Mu artists. We work with community groups."
Mu doesn't contract with Asian-American artists because it doesn't need to; it's an Asian-American theater company. But in the grant application, there's no place to indicate that.
Reyes said the applications seem skewed toward mainstream organizations that need to make a special effort at diversity.
Artist Jenny Jenkins has served on State Arts Board grant panels three times. It's a volunteer position. Panels review approximately 26 grants in a day. That gives them about 15 minutes for each.
Jenkins said panels normally run smoothly, but last year, one volunteer on her panel was problematic.
"Several times things came up that that reviewer said, that showed that either he had not really read a proposal or looked at a resume, or he'd forgotten, and he also was not neutral," she said. "And it was unfortunate because it really took time away from the way that the review should have occurred."
That panelist, Jenkins believes, affected some artists' ability to get funding.
Executive Director Sue Gens said the Minnesota State Arts Board doesn't have the resources to thoroughly examine the more than 1,400 grant applications it receives in a year. It funds approximately 40 percent of those proposals. Gens said she believes, on the whole, the process is working.
"I understand for each of those individual applicants it's really vital. I understand that," she said. "And I also understand that for them, receiving a grant or not receiving a grant is really significant. We absolutely understand that ... when people fill out an application they're putting a lot of time and effort into it. And we never take that lightly. We hate having to say no to people."
Only a few people have publicly shared their concerns about the review process, but it's likely there are others who don't feel comfortable speaking up.
"It's very scary for an arts organization to tell a story that has criticism about an organization that gives them money," said Mu's Randy Reyes.
All the artists interviewed for this story say they are grateful for the board's work — they just want to improve it.
Next: Growing racial disparities in arts funding and efforts to reverse the trend.