Rochester eyes 'game changer' transit plan. Will public get on board?
Rochester has big plans to add 30,000 jobs over the next 20 years, driven by Mayo Clinic's expansion. That rapid growth, however, could make downtown a mess if city leaders don't figure out how to handle the traffic.
The city is spending $5 million now to craft an extreme transportation makeover. But even as developers plow ahead building new condos and hotels downtown, there's no consensus on how to remake the transit system. Solutions are likely to revolve around getting people out of their cars. That may not be an easy sell.
"We need a game changer," said RT Rybak, the former Minneapolis mayor who's now vice chair of Rochester's Destination Medical Center economic development board. "We have to be really smart about the way people move throughout Rochester. We can't do it by just doing more of what we're doing now because it would overwhelm the city with parking ramps and congestion."
Some 200 residents recently got a first look at four prospective plans to make Rochester easier to navigate for residents and visitors. The mix of potential solutions included better bike lanes, unmanned vehicles and wider sidewalks. Armed with green and red stickers, residents told planners what they liked and disliked.
Grow the Future of Public Media
MPR News is supported by Members. Gifts from individuals power everything you find here. Make a gift of any amount today to become a Member!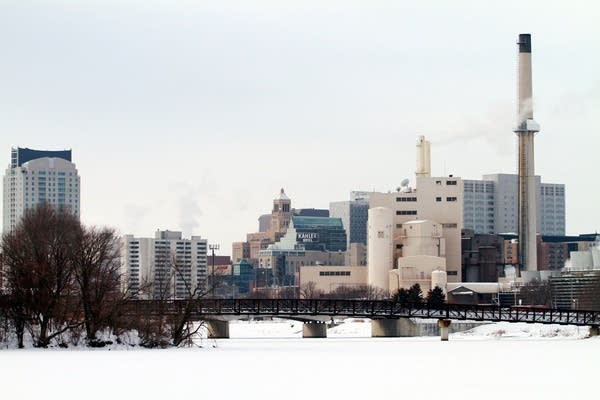 Jo Derouin put a green sticker on a picture of a bus equipped with a bike rack; an app to track bus arrivals also got her vote. But a picture of bike lane on the side of the road? Not so much. Derouin gave it a red sticker. She said she thinks they're dangerous.
"Sometimes they're between rows of cars, sometimes they are on the edge," said Derouin, who lives in the downtown area. "There's no continuity of what they do between different areas."
Derouin also said she wanted to see more downtown parking. But that traditional approach is getting a thumbs-down from decision makers. More parking is slated for downtown, but the number of spots won't grow in proportion to the growth of the city.
"A lot of the development patterns have really emphasized building at the edge of town, and it makes it difficult to run transit there in a way that's affordable where they can actually get to work and really rely on it and not lose their job for being late."
Kiepe's organization wants new bike lanes that extend Rochester's sprawling bike trails into the downtown area. It's also pressing for a big investment in the city's bus system so it runs earlier and later.
Rochester has taken some steps to improve its buses. On a snowy morning, Rochester transit and parking manager Tony Knauer showed off an extra-long "articulated" bus that's wheelchair accessible and can hold nearly 100 people.
The buses are a common sight in the Twin Cities but not yet in Rochester. They could more than double the number of people shuttled downtown from a local park-and-ride in one trip. Rochester leaders hope to double ridership in two decades
"We're running a fleet of 40 buses" currently, he said. "Can you imagine 80 buses during peak hour? So that's the magnitude. It's quite huge."
Adding more buses, though, could be the easy part. Getting them to actually take the bus to work could prove challenging.
"People will have to think differently about how to get into downtown Rochester," said Ken Holte a principal with SRF Consulting, the firm contracted by the city to come up with a transportation plan.
"The system we're looking to set up is to make it easy for people so it is attractive for them, and it's not meant to be a burden," he said, adding, "but it will be different."