Brighter on Tuesday; rain chance Wednesday afternoon
You can think of Monday's weather as a speed bump in our cruise through April.
The official high temp was 53 degrees at Minneapolis-St. Paul International Airport on Monday, but it occurred at 1 in the morning!
Twin Cities temps were in the 40s during the daylight hours of Monday, and temps dropped into the 30s by late afternoon. It was also a breezy day, with some scattered showers and drizzle at times.
That was quite a change from the 70s of this past weekend!
Overnight flakes   
Rain or a mix of rain and snow Monday evening is expected to change to mostly snow in east-central Minnesota overnight.
MPR News is Reader Funded
Before you keep reading, take a moment to donate to MPR News. Your financial support ensures that factual and trusted news and context remain accessible to all.
Grassy areas in east-central Minnesota and the Twin Cities could see some very light snow accumulations overnight Monday night.
_______________________________________________________________________________
10:30 p.m. update:
A quick changeover to snow Monday evening allowed 1 to 2 inches of snow to accumulate in parts of the northwest and north metro.
Some streets and roads could become slick as temps drop overnight.
Sunshine and warming temps will melt much of the snow Tuesday afternoon.
_______________________________________________________________________________
A lingering flurry is possible very early Tuesday morning in parts of eastern Minnesota, then skies are expected to brighten by late morning.
You might impress your friends with these snow facts:
1) We average 2.5 inches of snow during the month of April in the Twin Cities metro area.
2) April of 1983 was the snowiest April in Twin Cities weather records, with 21.8 inches of snow!
Any snow that accumulates overnight in the Twin Cities will melt on Tuesday.
Northwestern Wisconsin could see a couple of inches of snow and patchy freezing drizzle Monday night and early Tuesday
The National Weather Service has issued a winter weather advisory until 7 a.m. Tuesday for northwestern Wisconsin:
Some advisory details, from the NWS:
URGENT - WINTER WEATHER MESSAGE

National Weather Service Duluth MN

327 PM CDT Mon Apr 10 2017

...Wet snow and freezing rain likely over northwest Wisconsin

tonight and into Tuesday morning...

.An area of low pressure will continue to move through the

southern Great Lakes region for the rest of today and into the

central Great Lakes overnight. Precipitation is expected to build

into the region, along with colder air overnight. Precipitation

types will transition into a wintry mix, with freezing rain and

snow as the most likely forms. Much of northwest Wisconsin will

likely get snow accumulations between 1 to 3 inches, with ice

accumulations up to two-tenths of an inch possible.

WIZ001>004-006>008-110630-

/O.CON.KDLH.WW.Y.0016.000000T0000Z-170411T1200Z/

Douglas-Bayfield-Ashland-Iron-Burnett-Washburn-Sawyer-

Including the cities of Superior, Washburn, Bayfield, Ashland,

Hurley, Grantsburg, Spooner, and Hayward

327 PM CDT Mon Apr 10 2017

...WINTER WEATHER ADVISORY REMAINS IN EFFECT UNTIL 7 AM CDT

TUESDAY...

* LOCATIONS...Northwest Wisconsin, including Superior, Bayfield,

Ashland, Spooner, and Hayward.

* TIMING...through tonight.

* SNOW ACCUMULATIONS...up to 2 inches.

* ICE ACCUMULATION...up to 0.15".

* WINDS...Northeast 5 to 15 mph with gusts up to 25 mph.

* IMPACTS...Ice and snow accumulations may create slippery road

conditions and produce scattered power outages.

PRECAUTIONARY/PREPAREDNESS ACTIONS...

A winter weather advisory for mixed precipitation means a mixture

of snow and freezing rain is expected. Small accumulations of

snow and ice are expected on untreated roads and sidewalks.

Anyone with travel plans should be prepared for slippery roads

and reduced visibility. Slow down when driving and allow for

extra stopping distance because you may lose control of your

vehicle if you try to slow down or stop quickly.
Warming trend
Our afternoon temps will be warmer on Tuesday, with 50s returning to most of Minnesota:
Highs in the 40s are expected in part of northeastern Minnesota.
Wednesday's highs will trend upward again, with many spots touching 60: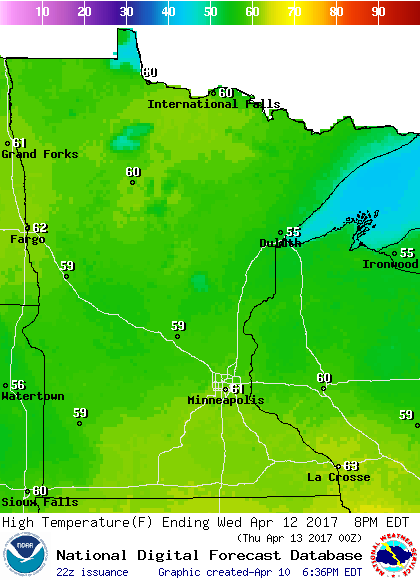 Twin Cities high temps are expected to be in the lower 60s Thursday, mid 60s Friday and upper 60s on Saturday.
Wednesday rain chance
Rain showers are expected to return to much of southern and central Minnesota Wednesday afternoon, and linger into Wednesday night.
The National Oceanic and Atmospheric Administration's Global Forecast System forecast model shows the potential rainfall pattern Wednesday afternoon and Wednesday night:
The color chart to the right of the loop refers to the potential precipitation rate, not the total amount of rainfall.
Minnesota could also see some showers and isolated thunderstorms Friday evening into Saturday morning.
Better satellite images
NOAA's newest weather satellite, GOES-16, is undergoing testing and it's sending us some very high resolution images:
GOES-16 provides us with higher resolution satellite pictures and more images per hour than previous weather satellites.
That's great news for weather forecasters, public safety agencies and anyone fascinated by weather.
NOAA has posted some details of the GOES-16 testing phase.