Paulsen joins Democrats' call for independent Russia probe after Comey firing
Breaking with most of his party, Republican Rep. Erik Paulsen on Wednesday called for an independent investigation into President Trump's abrupt firing of former FBI Director James Comey.
Comey's office was investigating whether people in Trump's campaign had ties to Russian interference in the 2016 election. Since the FBI director's termination Tuesday, most of Minnesota's congressional delegation has called for an independent commission, special prosecutor, or both, to examine the matter.
"For 10 months, the FBI has been investigating Russian interference in the 2016 election," Paulsen said in a statement. "The extraordinary decision to fire Director Comey definitely raises questions which must be answered.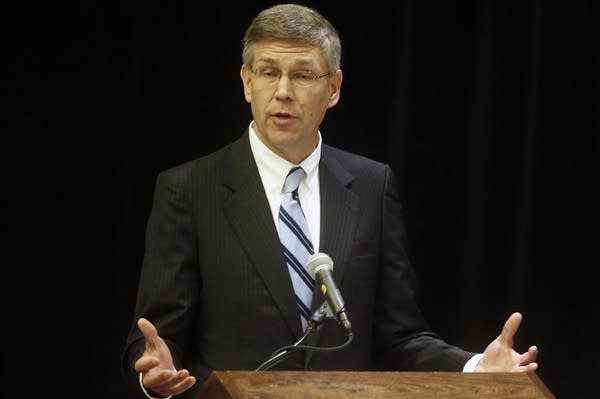 "I believe these circumstances call for an independent investigation that the American people can trust with confidence."
GOP U.S. Reps. Jason Lewis and Tom Emmer, as well as Democrat Collin Peterson, haven't made public statements on Comey's termination. Aside from Paulsen, the Minnesota members of Congress pushing for an additional Russia investigation are all Democrats.
Sen. Amy Klobuchar, a Democrat on the Senate Judiciary Committee, wants a special prosecutor to oversee the probe. She told MPR News that she went to law school with Comey and knew him well.
Comey has received accolades from Democrats and Republicans, Klobuchar said. Though she didn't like how he handled the investigation into Hillary Clinton's email practices, the senior Minnesota senator questioned the president's motives.
"Just because I disagreed with how he handled things didn't mean to me that he should be fired or leave his job," Klobuchar said. "The timing of this just smells."
Senate committees are also looking into the alleged Russian election interference. But U.S. Sen. Al Franken said those committees aren't staffed well enough to do a sufficient job.
Franken, who's also on the Senate Judiciary Committee, told MPR News he was shocked by Comey's ouster.
"My immediate reaction was, 'Really? ... He's actually doing this?'" the Minnesota Democrat said.
He wants a special prosecutor to investigate alleged Russian ties. But to get that or an independent committee probe, Franken said, minority Democrats will need Republican support.
So far, only a few Republicans are pushing an independent investigation. Most have stayed silent on Comey's firing.
"We have a president who has violated a lot of norms. But this I think is the most serious," Franken said. "This is really reminiscent of some of the history that we lived about 40 years ago."
Your support matters.
You make MPR News possible. Individual donations are behind the clarity in coverage from our reporters across the state, stories that connect us, and conversations that provide perspectives. Help ensure MPR remains a resource that brings Minnesotans together.