Judge hears final report on Community Action of Minneapolis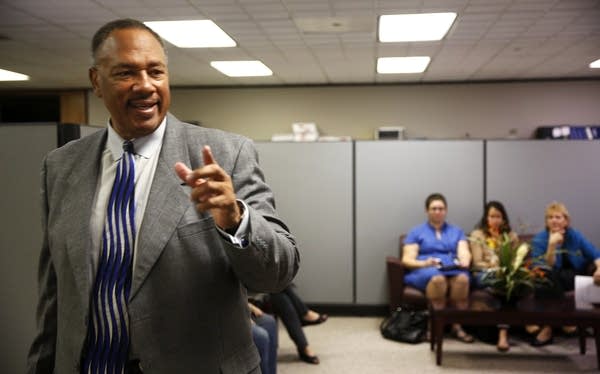 Community Action of Minneapolis, the low-income assistance program engulfed in scandal in 2014, is being dissolved.
A judge in St. Paul held a hearing on the final report of receiver Michael Knight Thursday. The report says real estate, cars, office equipment and other tangible assets belonging to Community Action, known as CAM, are sold and insurance claims against its former officers paid.
The non-profit shut down in 2014, following revelations that the former CEO, Bill Davis, had been embezzling from the agency. A federal indictment in 2015 said Davis had been using CAM funds for a Carribean cruise, a trip to the Bahamas, travel to a Democratic party gathering and to the inauguration of Barack Obama, and even upholstery upgrades to a car he bought with CAM funds, among other things.
Davis also had been paying his son, Jordan Davis, a salary for a no-show job at a Minneapolis ice cream shop CAM ran as a job training program. Jordan Davis, a Minneapolis police officer, was sentenced in January to two years in federal prison for his part in the scheme.
"The circumstances that led to receivership were obviously very concerning," Judge William Leary said at the hearing. "Public dollars intended to assist low income people were used for private profit."
The attorney for the receiver, Jeffrey Ansel, told Leary that the improper expenditures by Davis and his son amounted to more than $500,000. Ansel said that collection of accounts receivable, sale of CAM assets and an insurance payout left about $345,000 remaining.
The state Department of Commerce and Department of Human Services, which administered the federal grants that helped fund CAM, recommended turning the money over to CAM's successor, Community Action Partnership of Hennepin County.
Davis pleaded guilty to a 16-count indictment in June. He's been ordered to pay $387,000 on his own, as well as part of $150,000 improperly paid to his son.
Bill Davis is scheduled to be sentenced Friday. Prosecutors are asking for a nearly 6-year sentence. Davis's attorney has asked for a year.
Gain a Better Understanding of Today
MPR News is not just a listener supported source of information, it's a resource where listeners are supported. We take you beyond the headlines to the world we share in Minnesota. Become a sustainer today to fuel MPR News all year long.