Art Hounds: A big weekend for visual arts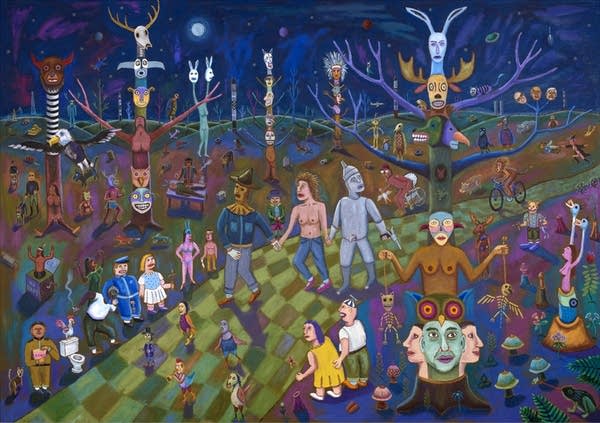 Three art shows take on the environment, consumerism and police brutality.
Painter and art professor Brian Frink has followed David Hamlow's work for years, and is looking forward to his new solo show at the Minnesota Museum of American Art in downtown St. Paul. Hamlow creates work using his post-consumer waste to draw attention to our own wasteful habits. "Mirror Stage" is a massive installation that includes found-object sculptures and geodesic structures made of paper and plastics donated by residents of the Pioneer Endicott building. His exhibition includes a "brick-making station" where people can make bricks out of cereal and cracker boxes, which he will then use in future works. On view May 25 through July 30.
Mia curator Robert Cozzolino is amazed by Jim Denomie's painting "Oz, the Emergence" now on display at Bockley Gallery in Minneapolis. The massive painting (it's more than 11 feet wide) is a riff on "The Wizard of Oz," but in this dark, beautifully colored work the characters are facing such contemporary issues as police brutality and political corruption. Denomie gives a talk at 6:30 p.m. today; the show runs through June 10.
Writer Ann Klefstad is headed to the AICHO gallery in downtown Duluth to see Ellen Sandbeck's new show of paper cuts. An avid environmentalist, Sandbeck creates paper cuts that feature everything from mating animals to environmental destruction to images of Gautama Buddha. The show, which opens Friday with a reception at 5 p.m., runs through June 19.