Hennepin, Ramsey counties get sales tax hike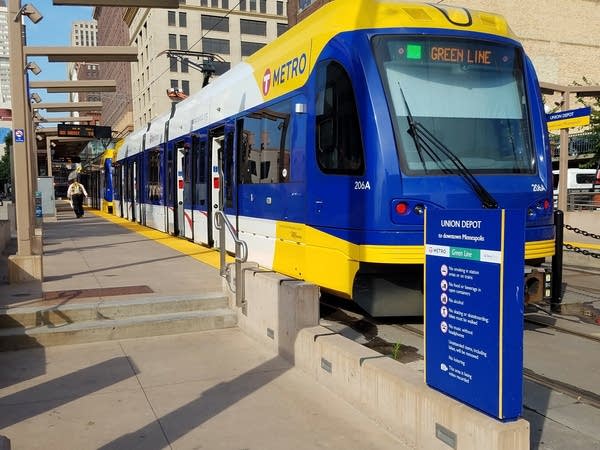 Many Twin Cities shoppers can expect to pay a bit more at the cash register this fall.
The Hennepin and Ramsey county boards each doubled their sales tax for public transit on Tuesday. The quarter cent increases are meant to replace state transit funding that the Republican-controlled Legislature declined to appropriate. 
In Hennepin County alone, it's expected to bring in an additional $65 million a year. 
Commissioner Peter McLaughlin said the money will help pay the local share of operating the existing Blue and Green light rail lines, plus future projects including the Green Line extension to Eden Prairie, the Bottineau light rail and a bus rapid transit service along Interstate 35W.
"The actions that we're taking today in their totality would allow us to move forward on this and overcome the serious problem of the state's unwillingness to come up with its 10 percent capital share of these projects," McLaughlin said.
Support for the new tax was not unanimous. 
Hennepin County Commissioner Jeff Johnson — a Republican who challenged DFLer Mark Dayton in the 2014 gubernatorial election — cast one of the two no votes. 
Johnson said light rail projects offer little return to taxpayers. 
"This is not a $65 million tax increase on transportation. It's a $65 million tax increase largely on light rail, and in particular on two lines," he said, "both of which are ridiculously expensive and will do almost nothing to relieve congestion." 
The new tax is set to take effect Oct. 1. It's allowed under state law only because a little-known government agency called the Counties Transit Improvement Board, or CTIB, is due to disband. 
CTIB has been collecting a quarter-cent sales tax in Hennepin, Ramsey, Anoka, Washington, and Dakota Counties since 2008. Its dissolution means those counties are free to double that tax.  
The Ramsey County Board also voted in a quarter-cent tax increase Tuesday. The money is expected cover part of the operating costs of the Green Line, plus future construction expenses. 
The county aims to set up bus rapid transit from downtown St. Paul to Woodbury and a transit line from Union Depot to the Mall of America. 
Ramsey County Commissioner Rafael Ortega said the taxes are necessary to build out a modern public transportation system as the region grows. 
"All of these lines just create access to jobs, employment, and health services. So they're really critical," he said. "It's not just for the sake of having a transit project."
However, the future of transit in the Twin Cities hinges on a big unknown — federal funding. 
Green Line extension planners are counting on $928.8 million from the federal government — half the project's total cost. 
But the latest Trump administration budget proposal doesn't include that money. 
It's uncertain exactly what all the new local sales tax money will be used for if federal dollars never come through, said Ramsey County Commissioner Janice Rettman.
Rettman said she supports public transit, but she cast the lone no vote this morning in St. Paul. Her biggest concern is how the tax will affect low-income residents. 
"My bottom line is we have to be stewards of people's money," she said. "We're asking people to say yes to a whole bunch of things. And the return on their investment has to be clearly identified at all times." 
Tax increases are not expected in Anoka, Washington, and Dakota counties, though they're also part of the soon-to-be-dissolved CTIB.
Those counties will continue to collect a quarter of a cent at the cash register.