6 Minn. state parks where the mosquitoes aren't so horrible
Welcome to summer, Minnesota — or as it's better known around these parts, mosquito season.
Unfortunately, that coincides with prime time at state parks, trails and lakes. But here's the good news — southeastern Minnesota is home to a handful of state parks where you're less likely to be terrorized by the biting insects.
Keep in mind, no state park is completely bug-free; these parks just have less.
You can thank the glaciers (or lack thereof) from millions of years ago for the respite.
MPR News is Member Supported
What does that mean? The news, analysis and community conversation found here is funded by donations from individuals. Make a gift of any amount today to support this resource for everyone.
"The last glaciers that came through Minnesota missed this area," said Sara Holger, interpretive naturalist at Whitewater State Park. "When the glaciers came through they left behind ice that turned into lakes. We don't have any of those glacial lakes — we have no natural lakes down here."
Here's why that's important: Mosquitoes need stagnant warm water to reproduce.
"We have cold spring-fed water and it moves," Holger said. "So because of the cold temperatures and the moving water, we're pretty lucky that we don't get many mosquitoes down here."
State parks with fewer bugs
First, a few tips on how to protect yourself from mosquito bites:
• Wear a repellent containing DEET.
• Wear light-colored clothes, and cover as much skin as possible.
• Avoid the outdoors at dusk and dawn when mosquitoes are most active.
• Don't leave places where water can collect near your home (buckets, tires, etc.) since that's where some mosquitoes may like to lay eggs.
And now here's that list we've promised:
1) Beaver Creek Valley State Park

2) Forestville/Mystery Cave State Park

4) Great River Bluffs State Park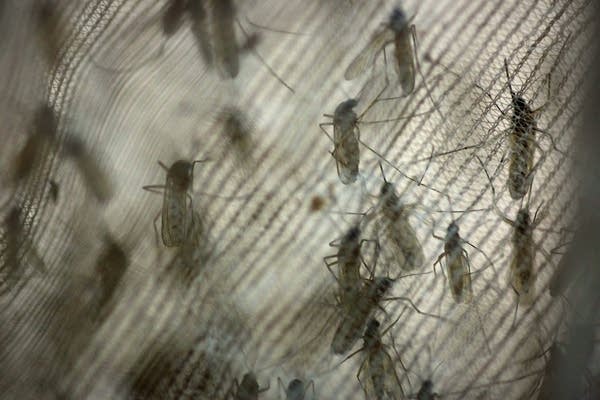 More about mosquitoes
Did you know there are more than 50 species of mosquitoes present in the state? Forty-five are found in the metro area.
Learn more about mosquitoes by clicking on these links:
• Brains On! podcast: What are mosquitoes good for?

• Tips: What's the best way to keep mosquitoes from biting?

• Why do mosquitoes like to bite you best? It's in your genes