Sewing volunteers mend clothes, hearts and the planet
For Michelle Ooley, charity has a point. A sharp, steel point.
The free mending service she helped launch is pledged to helping people get the most out their limited wardrobes — even if it's just fixing a tear in a pair of jeans. Known as the Mobile Menders, the group's motto is simple: sewing mends the soul. They make house calls, especially among those without a home.
On a recent visit to the Salvation Army's Hope Harbor, a housing complex for low-income and chronically homeless adults in Minneapolis, Ooley gave her sewing machine a workout. But for some repairs, all she needed was her needle and thread.
"I am working on a zipper hoodie that's got multiple little holes in it," said Ooley. "So I'm just going through and hand stitching them closed."
Grow the Future of Public Media
MPR News is supported by Members. Gifts from individuals power everything you find here. Make a gift of any amount today to become a Member!
A steady stream of Hope Harbor residents brought in pants, shirts, blankets and backpacks. There were buttons missing, broken zippers, holes to closed and waistbands to take in.
Bill Jones brought the volunteers plenty to mend.
"I brought in some pants for hemming. And zippers. Zipper on my backpack. Zipper on a pair of shorts. And a shirt that needs buttons," said Jones. "Because I like this stuff. It's worth saving, you know. If these ladies didn't come today, it would still be in my closet. Just waiting. Just waiting. Just waiting."
Jones tried on a pair of pants, while regaling the women with stories of growing up in West Los Angeles and his wayward youth. Other residents waited quietly, fingering the holes in their garments, perhaps wondering if their items could still be salvaged.
Some of the volunteers sew as a hobby. Others have professional experience. Carla Inderrieden makes bridesmaid dresses.
During a mending session at the Union Gospel Mission in St. Paul earlier this year, she patched a pair of canvas shoes and stitched a new headband on some headphones.
You can't replace the feeling of knowing you helped, Iderrieden said.
"I've had several experiences with people that fixing this garment or this shoe or the headphones was a very big deal to them," she said. "They couldn't afford another one. And they were going to be walking on it that way or wearing it that way."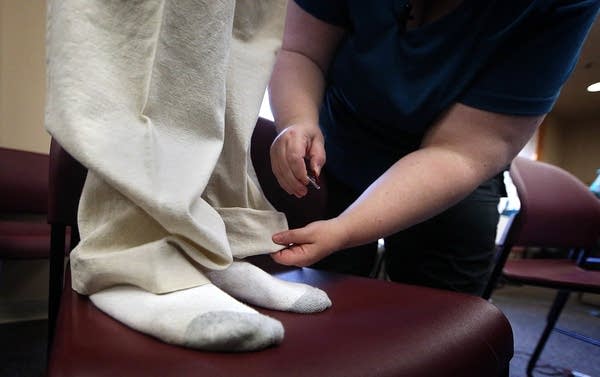 Inderrieden, Ooley and the rest of the sewing volunteers know each other from work at the Minnesota Pollution Control Agency in St. Paul.
That's where the program was born, as a volunteer project for the agency's annual Earth Day initiative. Some of the women in the group even outfitted a giant Paul Bunyan figure with thrift store cast offs and displayed it at the State Fair to call attention to textile waste.
Volunteer Cathy Jensen said an enormous amount of water, energy, and other resources go into making new clothing.
"Even if it's made in Vietnam or China or wherever," said Jensen. "Somewhere there are resources being used."
Jensen said buying quality clothes and repairing them, instead of tossing them, is good for the planet — not just the people that wear them.
"The idea of throw-away clothes is an anathema to us," she said. "So if we can make sure that somebody's favorite pair of pants stays in use, we're way ahead in terms of all those resources [being used]."
Jensen and her friends volunteer once a month at shelters and housing programs around the Twin Cities. They spend about half a day setting up, fixing what they can on the spot, and sometimes taking home projects that need special buttons, long zippers, or more work. The group is looking for volunteers.
You can learn more about the project at mobilemendersewing.com.
Gallery
14 of 14
1 of 14
2 of 14