Process for U.S. work visas suddenly gets harder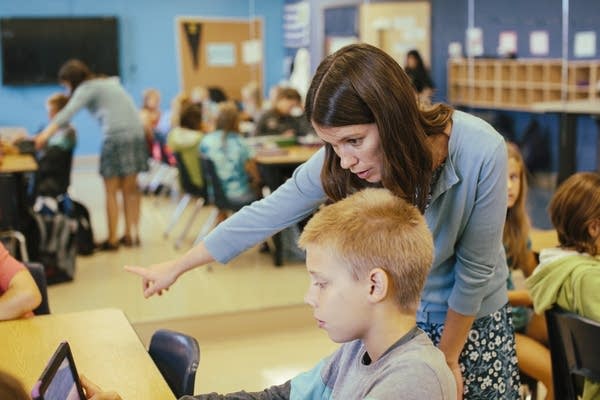 Five years ago, Cecilia Delbene decided to try out a study-based foreign exchange program that would allow her to teach Spanish in the United States.
The Spanish literature teacher from Uruguay ended up in Eden Prairie, Minn.
The experience was enriching for her and her students. But it wasn't long enough — just six months — so she decided to stay.
"We need it so badly. We need to start understanding each other," Delbene said. "The world is crazy right now. It feels like it's getting crazier and crazier, so we need these kids to step up tomorrow and change it."
Grow the Future of Public Media
MPR News is supported by Members. Gifts from individuals power everything you find here. Make a gift of any amount today to become a Member!
Delbene found an employer that would sponsor her H1B visa so she could stay and teach in Minnesota for a longer period of time.
The H1B program allows foreign nationals to work in the United States for a three-year time period, with a chance to renew once for a total of six years.
Delbene's first application went smoothly. But when it came time to renew in January, President Trump had taken office. Renewing her visa wasn't as easy.
Her visa was set to expire in June, about two months after Trump signed the "Buy American, Hire American" executive order.
"I'm not really sure what's going on with the system or where is the problem, but it seems like it's getting harder and harder," she said. "There is a lot of talk about illegal immigrants, but for those of us that are here legally, the process is quite complicated and it has a lot of bumps. And we want to do the things the right way, and we are, but it's tough."
Slowing down the process
Delbene got caught up in a new trend immigration lawyers say has been making the process of getting H1B visas more difficult than ever.
As part of the approval process, in some cases the U.S. Citizenship and Immigration Services, or USCIS, issues a request for evidence after an application has been filed. USCIS usually sends such requests when the officer processing the application believes the employer hasn't provided all the evidence necessary to meet the requirements of the H1B visa.
But lately, the requests have been inane and irrelevant, immigration attorneys say. Based on the paperwork sent by USCIS, the requests seem to be aimed at slowing down the process and creating additional hurdles rather than getting necessary evidence.
Employers and their attorneys have been asked to provide proof that jobs in medicine, architecture and engineering do, in fact, require bachelor's degrees. Another common request is for evidence that an entry-level wage is appropriate.
Delbene, a Spanish language and literature teacher at Lakes International Language Academy, or LILA, in Forest Lake, was asked to prove that her school was exempt from the annual cap on H1B visas. The federal government has set an annual limit of 85,000 visas, and allocates them to qualified applicants through a lottery.
LILA, a Spanish and Chinese immersion public charter school that has been using the H1B visa program for at least 10 years, is exempt from the annual cap. But this year, USCIS asked the school to prove that Delbene, and five other teachers, are in fact exempt from the lottery.
"They're not subject to the cap anyway," said Shannon Peterson, director of LILA. "It was very nerve-racking, and a very tense situation."
'Just turning the screws'
In Sandra Feist's downtown Minneapolis office, H1B visa case files have taken up half of her desk.
The immigration attorney has worked in the field since 2001. Over the past couple of months, she's seen a vast increase — about a 75 percent jump — in government requests for evidence, or RFEs.
Feist works with clients in research universities, technology companies and nonprofits.
"The petitions that I file are several inches thick, and they include detailed documentation and information about the company, or university or agency that is sponsoring," she said. "And we're receiving two-page or eight-page requests for additional evidence that make it clear that the government has not read or reviewed anything that we filed and is uniformly sending out these requests regardless of the type of case."
Among the piles of paperwork on her desk is an eight-page request that says nothing about her case or her client. The incomplete template says "the evidence you submitted is not sufficient" and goes on to say "(officer must insert the reasons why the evidence listed under this subsection is not sufficient to meet this requirement)."
"And I don't know what they want to know because they didn't bother to tell me," Feist said.
It's not uncommon for the government to send additional requests for evidence during the H1B petition process, and it's well within the law. But those filing the petitions say the sudden jump in RFEs, especially after President Trump signed the "Buy American, Hire American" executive order in April, signals a move toward scaling back on legal immigration to the United States.
"They're just turning the screws," said Mark Schneider, head of employment-based visas at the University of Minnesota's office of International Student and Scholar Services. "For many years, they haven't required these types of things. We haven't had any major violations here at the University of Minnesota."
In the last month, Schneider has received four requests for evidence, far more than in the past.
One request asks for proof of credentials of a Ph.D. The faculty member already has an H1B visa, works for another university in the United States, and has been offered a tenure-track job at the University of Minnesota. Now USCIS is asking the university to prove that the Ph.D. this faculty member has from overseas is valid.
"It seems a waste of a lot of people's time and energy," Schneider said. "We're bringing in the people that we need, that have the degrees that we need, especially at a place like the University of Minnesota. We're not hiring cheap people off the street. Ninety percent of our people are Ph.D.s doing research or teaching. And they're not going to be hired if they're not qualified."
USCIS did not respond to a request for an interview, but a spokesperson sent a statement saying that it's typical to have an increase in RFEs based on the number of petitions being processed, and that each petition is evaluated on a case-by-case basis.
"USCIS officers request further evidence when the preponderance standard has not been met," Tim Counts, a public affairs officer with USCIS, said in a statement. "USCIS is committed to protecting the interests of U.S. workers (as directed under the Buy American and Hire American Executive Order) and has received numerous valuable fraud tips since rolling out our new tip line."
Immigration lawyers recognize that the government wants to catch companies that may not necessarily need foreign workers and are taking advantage of the H1B visa process. But they say cracking down on jobs that are hard to fill with U.S. workers isn't the way to do it.
At Lakes International Language Academy, Delbene's fifth-period class is filled with sixth-graders sitting around tables, talking with each other as they fill out a Google Doc on their iPads. They're talking about school, what they like about school, favorite subjects, uniforms.
And it's all in Spanish.
The students are all fluent by this age. They've been in the Spanish immersion program since kindergarten.
Half the staff at the pre-K-12 LILA schools are from Spanish- and Chinese-speaking countries on H1B visas.
Because it's a charter school, it's tougher for LILA to find local licensed teachers who are fluent in the languages. District schools usually snatch them up.
But despite that, the schools have been growing. They started with 177 students in 2004 and are now up to 1,200.
And the directors credit the foreign visa programs for that.
"It will come back around," said Cameron Hedlund, executive director at Lakes International Language Academy. "You have to hear the anecdotal stories of our parents of a second-grade Chinese student interpreting in a taxi cab in China, or kindergartners helping their parents with menus in a South American restaurant. It's just phenomenal, the amount of language these kids get in a short period of time."
For the next three years, all six of the challenged teachers at LILA, including Delbene, can stay and teach. They've gotten their renewals after the school sent evidence that it is, in fact, exempt from the cap.
However, the hurdles they faced this year make them uncertain about the H1B program's future.
"I'm usually a very calm person, but with this whole visa process, it's stronger than me," Delbene said. "It's like you don't have absolutely any control of what's going to happen with your life at the end. You've done everything right, you've followed all the steps. However, at the end of the day there is nothing you can do about it."