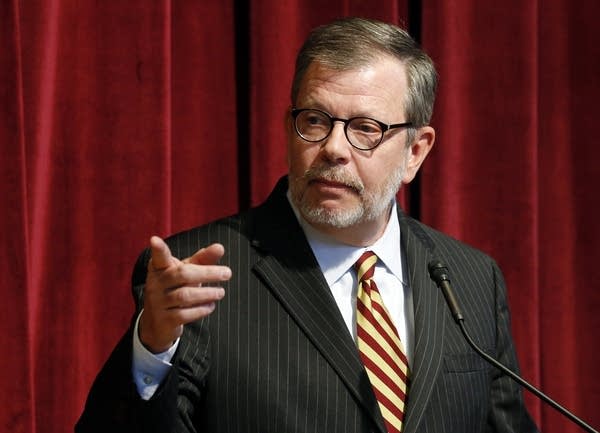 The University of Minnesota is considering raising tuition by 15 percent for non-resident, non-reciprocity students at its Twin Cities campus.
The proposal from university president Eric Kaler would raise tuition for these students from the current $24,986 to $28,734 for the 2019 school year. Students from Wisconsin, North and South Dakota, and Manitoba would not have to pay higher tuition.
Kaler said one reason for the increase is to boost revenues while funding from the state has remained flat. The increase could bring in an estimated $10 million.
"The value we bring, the ratio of what is given for what is paid, is remarkable here," Kaler said. "We rely on the state for that partnership. And when that partnership is frayed or unable to deliver, we do have to ask students and families to pay more, but they continue to get a great value."
The increase is part of a five-year plan brought to the Board of Regents in 2015 to increase non-resident, non-reciprocity, also known as NRNR, tuition to $35,000 by 2020.
Out-of-state tuition at the university has been among the lowest in the Big Ten. Part of that was by design. The university slashed NRNR tuition in 2007 in order to recruit more students.
During a meeting Thursday, most regents appeared to favor the measure, but also warned about the consequences.
"I do support the resolution, but I think we need to be thoughtful and judicious about it," said Regent Dean Johnson. "We best be careful because at some point in time, we're going to look and say, 'Where did they go? What happened to them?'"
Apoorva Malarvannan, a student representative to the Board of Regents, spoke against the proposal Thursday.
She said students who have to pay the highest tuition rate still choose the university primarily because of its relative affordability.
"This drives many talented out-of-state students to pick our institution over our competitors and makes our institution, community and state more diverse and vibrant," she said.
The board will vote on the proposal in December.
Correction (Oct. 13, 2017) An earlier version of this story misstated Apoorva Malarvannan's title. She is a student representative to the Board of Regents, not a student regent.