Vigil remembers those killed in 'Somalia's 9/11'
Dozens of people attended a vigil to honor the dead and missing in Mogadishu Monday night in Minneapolis, after a terrorist attack Saturday killed more than 300 people in Mogadishu's central business district.
Another 400 are injured and scores more missing.
Members of the Twin Cities Somali-American community called the truck bombing in Mogadishu on Saturday "Somalia's 9/11," and said it is a major setback in the country's recovery from decades of civil war.
Many Somali-Americans with family in Mogadishu have been busy texting, calling, and checking social media to ensure their loved ones are safe.
At the vigil in Minneapolis' Cedar-Riverside neighborhood, State Rep. Ilhan Omar said while her family members in east Africa are all safe, she's struggling with the images of the attack. She has been "trying to think about what mothers must be going through who have lost their children, what children like my children are going through who lost parents."
Among those who died was Ahmed Eyow of Bloomington. He was 50 years old, a citizen of the United States, a husband and a father of three. He'd been in Mogadishu just hours when the bomb went off.
Gain a Better Understanding of Today
MPR News is not just a listener supported source of information, it's a resource where listeners are supported. We take you beyond the headlines to the world we share in Minnesota. Become a sustainer today to fuel MPR News all year long.
Mohamed Omar, executive director of the Dar Al Farooq Islamic Center, said at a news conference Monday afternoon that Eyow was one of the congregation's most active members.
"His loss will be an empty space in our heart. The pain and the loss of this gentleman is very big and tremendous to his family," Mohamed Omar said.
The mosque has set up a GoFundMe campaign for the Eyow family.
Wider fundraising efforts are underway too. Yusuf Abdulle with the Humanitarian African Relief Organization (HARO) said the group needs money to cover the costs of its response to the bombing. Abdulle said HARO's aid workers began helping victims right away.
"HARO is prepared and already on the ground to help the people who are in need, and we have tapped into the resources that we have already."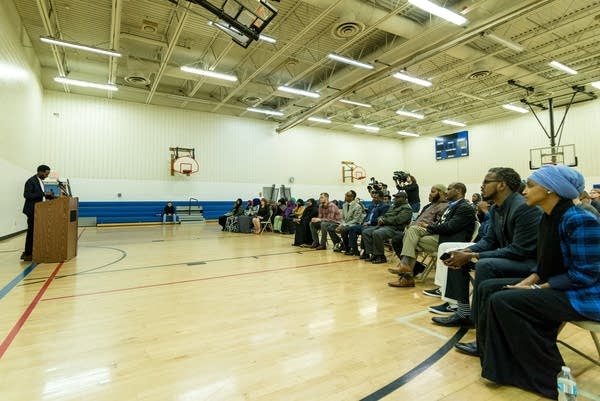 Somali-Americans who want to help friends and relatives directly have long faced obstacles. Since 2001, the U.S. government has tightly restricted the flow of wire transfers, called remittances, to Somalia. It's part of a longstanding effort to block the flow of funds to Islamic militant groups such as al-Shabab, which is suspected in Saturday's bombing.
Jaylani Hussein with the Council on American-Islamic Relations in Minnesota said that in addition, the Trump administration's travel restrictions are discouraging Somali-Americans from going to Mogadishu to provide hands-on help.
"We are concerned about the fact that the number of people who would have gone to Somalia for other reasons of supporting, going to visit loved ones, because of the fear of what the ban may mean to them, may not actually travel," he said.
Hussein criticized President Trump for saying nothing publicly about the worst terrorist attack ever to strike East Africa.
The White House did eventually condemn the attack on Monday. In a statement, press secretary Sarah Huckabee Sanders called it a "senseless mass murder that targeted innocent men, women, and children." She also said the U.S. "extends our deepest condolences and sympathy" to the victims and their families.