'Hard Bodies' exhibit glows with a love of lacquer
A new exhibition at the Minneapolis Institute of Art offers audiences a first look at Mia's collection of contemporary Japanese lacquer art.
Lacquer is traditionally used as a protective and decorative coating for boxes and plates. The artworks in this exhibition, "Hard Bodies," take the medium to new realms.
"This is the largest holding of its kind, and it's very exciting," said Mia Curator Andreas Marks.
Several Mia galleries are filled with sculptures — glossy obelisks that seem impossibly thin, two human bodies morphing into one another, a box with lifelike snails adorning its cover. The wide-ranging collection is the result of several years' work that Marks did with his former employer, the late collector and California rancher Bill Clark.
"When we collected it, we kept our mouths shut because we wanted to be sure to create the eminent collection — of course I'm not that objective now — we wanted to create the best collection possible," Marks said.
Clark gave his substantial art holdings to the Minneapolis Institute of Art in 2013. Andreas Marks came with them, and continued his work on the contemporary lacquer collection.
"So there were a couple of artworks that I had on my shopping list that I really wanted to get," he said. "And now we have it all together and we can lift the curtain and say, 'Look, this is what we have here.'"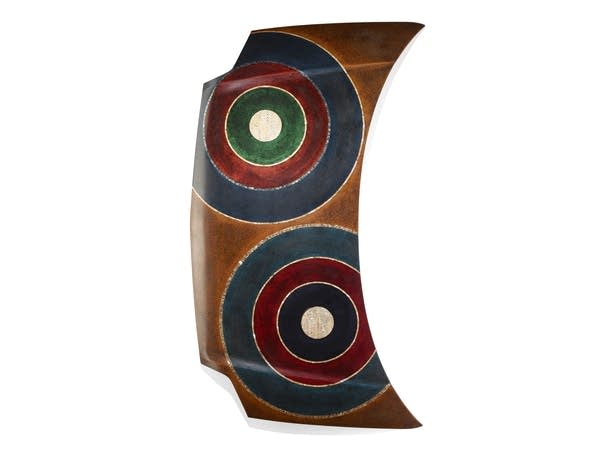 Lacquer has been used in East Asia for thousands of years to simultaneously protect and decorate boxes, plates, chopsticks and other utilitarian objects. It's made from the sap of the Urushi tree, and it dries slowly upon exposure to humid air.
It was only in the second half of the 20th century that Japanese artists started experimenting with lacquer as a medium for contemporary sculpture. Instead of putting it on the traditional wood or leather, they used things like polystyrene forms and car hoods. The results are both sensuous and surreal.
Earlier this month, artist Sakurako Matsushima came to Minnesota to conduct a workshop in decorative lacquer and to see her work in the "Hard Bodies" exhibition. Matsushima makes dramatic large-scale jewelry. She says she connected deeply with lacquer as an artistic medium.
"I began to feel a close bond with the natural materials and thousand-year-old techniques used with it," she said.
Matsushima is part of a small group of Japanese artists who are pioneering the use of lacquer in contemporary sculpture. But even in Japan, she says, their work is still relatively unknown.
"The challenge is that most people still think of lacquer as beautifully made boxes, or tableware seen in a museum," she explained. "That is why this 'Hard Bodies' exhibition is so important."
The Minneapolis Institute of Art already has an international reputation for its more traditional Asian art collection, featuring centuries-old ceramics and prints. Marks, the curator, said it's exciting to add an art form that is still being actively explored.
"This is also a very young art form," he said. "So what we've got here is an art form that's very much alive, with a lot of different facets."
And now that Marks has checked off his shopping list, he'd be more than happy if other collectors took advantage of what he says is a very good deal for contemporary lacquer.
"It is not that costly, simply because the market is not that huge," he said. "The market isn't there yet. So I'm serious, if you like this work, this is the time to buy. It's like with stocks, yeah?"
Or, if you're not in a buying mood, you can pay a visit to the world's foremost collection of Japanese contemporary lacquer sculpture, right here in Minnesota.
Your support matters.
You make MPR News possible. Individual donations are behind the clarity in coverage from our reporters across the state, stories that connect us, and conversations that provide perspectives. Help ensure MPR remains a resource that brings Minnesotans together.