Free nitrate tests meet farmer resistance in Brown County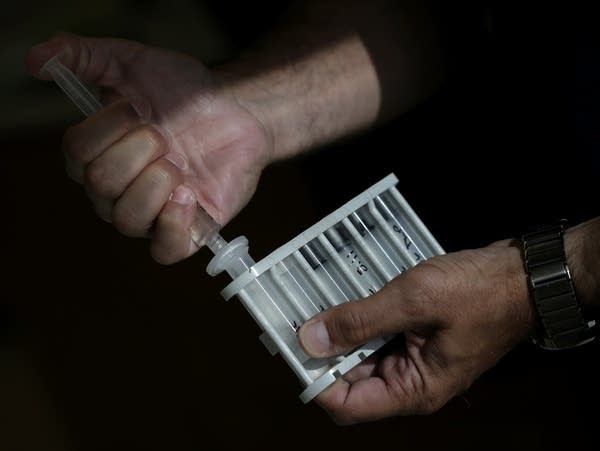 A program that would have offered free nitrate tests for homeowners with private wells has run into a roadblock in south central Minnesota.
Brown County recently became the first Minnesota county not to accept the Department of Agriculture program after citizens voiced concerns that the data could be used to target farmers for additional regulations.
The department launched the program in 2013 as a way to provide homeowners free information about their drinking water and to gather data about the condition of Minnesota's groundwater. It was targeted toward about 300 townships considered vulnerable to nitrate contamination due to farming and soil type.
"What we wanted to do was really start to target which agricultural areas of the state should we really start to take a good look at, and help citizens understand what they're drinking," said Bruce Montgomery, manager of the Minnesota Department of Agriculture's fertilizer nonpoint section.
While public drinking water sources are tested regularly for nitrates and other contaminants, private well owners are responsible for doing their own testing.
"What we know from past testing experience is most people on private wells have never tested it," Montgomery said.
MPR News is Reader Funded
Before you keep reading, take a moment to donate to MPR News. Your financial support ensures that factual and trusted news and context remain accessible to all.
It can be a hassle to take a water sample to a research lab. There's a cost ranging from around $17 to more than $100, depending on how many contaminants researchers test for.
High levels of nitrates pose health risks, including a life-threatening blood disorder known as blue baby syndrome.
Nitrates can come from failing septic systems or too much lawn fertilizer. In Minnesota, the biggest source is animal manure or commercial fertilizer used in agriculture.
Every home with a private well in the selected townships is offered a free nitrate test. Montgomery said if a well tests high, the department does more research to figure out if it's due to a faulty well or a larger groundwater issue.
"We're talking about within six to 12 months we have a pretty darn good idea do we have a nitrate problem in this township or not," he said.
The department tested 167 townships. Then in December, the Brown County board of commissioners declined to accept the program. Some at the meeting expressed concern that farmers were being unfairly targeted.
"The assumption is that all these nitrates come from farmers and from fertilizer when they're coming there naturally from the natural break down of organic matter in the soil," said Greg Bartz, president of the Brown County Farm Bureau and a Sleepy Eye farmer. "So, (we're) being blamed for something that is not our fault."
But Carrie Jennings of the Freshwater Society said there's solid science showing that nitrates from fertilizer can leach from the soil into the groundwater.
"There is industry pushback on changes to farm practices," Jennings said. "It's a scary thing, it's a scary thing, because from their point of view, this is a required nutrient."
Commissioner Dave Borchert said he's an environmentalist and lost a baby brother to blue baby syndrome in the 1950s. But he said there were too many unanswered questions about the state testing program and what would be done with the data.
"I just felt at that particular time I didn't have enough information to support it," Borchert said. "I'm certainly not against clean water."
Brown County officials point out they already offer free water testing for families with newborns.
But environmental groups are critical. Trevor Russell, program director for Friends of the Mississippi River, said 19 Minnesota counties agreed to participate in the program before Brown County became the first to turn it down.
"For a county to sort of deny its families the chance to find out if their drinking water is safe is certainly surprising and not the trend we've seen so far," Russell said.