MN agencies paid $709K since '15 to settle sex misconduct claims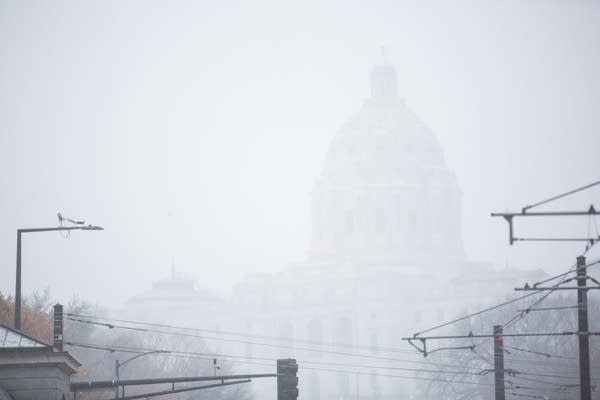 Updated 5:17 p.m. | Posted 11:14 a.m.
Minnesota state government agencies have paid out $709,000 in settlements since 2015 related to seven sexual harassment cases, according to data released Friday at the request of MPR News and other media.
That information also shows 266 sexual harassment complaints were filed within Minnesota state agencies between January 2012 and December 2017. Of those, 135 were substantiated. Nearly one-third of those substantiated complaints came from the Department of Corrections.
Grow the Future of Public Media
MPR News is supported by Members. Gifts from individuals power everything you find here. Make a gift of any amount today to become a Member!
Twelve cases are pending. Of those, one involves the state Department of Administration while six are connected to the Department of Human Services, one at the management and budget office, one at the Department of Public Safety and three at the Minnesota Department of Transportation.
BCA agent's sexual advances on informant
Many of these cases involve verbal advances or inappropriate remarks. But some hold very serious allegations of assault or coercion.
That includes a Department of Public Safety settlement.
In 2015, the agency paid $117,500 to a woman not identified in court papers over sexual assault and harassment she said she endured at the hands of a Minnesota Bureau of Criminal Apprehension special agent.
According to records, the woman's identity was withheld because she worked for the BCA under an assumed name as a confidential informant.
There was no admission of wrongdoing in the settlement, a common feature of the agreements reached by state agencies over harassment allegations.
In a federal lawsuit, the woman said she became an informant after a BCA drug raid in 2010. According to her complaint, she agreed to help with other cases the agency was working on, but the agent regularly invoked her immigration status and began making sexual advances toward her.
The woman said he sexually assaulted her and exchanged illicit text messages with her. The agent, in his own legal filings in the case, denied assaulting the woman. In the state investigation, he admitted to sending the text messages but said he was "role playing."
After an internal investigation over several department violations, the agent was suspended for 30 days without pay in 2015.
"I remain hopeful that this suspension will serve to show you how serious your actions are and that these actions must be corrected," the agent was told in a letter from BCA Superintendent Drew Evans handing down the punishment.
Responding to questions on Friday, the BCA said the agent is now a special agent in the agency's investigations unit and that he was demoted from senior special agent to special agent following his suspension and that he no longer works with confidential informants.
A Minnesota Management and Budget spokesperson said late Friday that the Ramsey County Sheriff's Office investigated the case at the request of the Public Safety Department. Findings were sent to the Hennepin County Attorney's Office, which declined to press charges.
The spokesperson added that a federal Justice Department office also conducted its own criminal and administrative investigations, "which concluded prior to the release of this investigation report."
'Sit on my lap'
Another big settlement involved the Minnesota Department of Veterans Affairs, which paid a former employee $150,000 in 2017.
A care assistant at the Minnesota Veterans Home in Fergus Falls had sued, claiming she had been physically and verbally harassed by a male coworker.
She said the man's actions escalated into stalking behavior and that he would punch walls, throw objects and yell profanities when she rejected his advances.
She accused the department of not adequately protecting her and said she had to obtain a restraining order against her coworker out of fear of harm. In her lawsuit, the woman said the agency didn't help enforce that order at the veterans home.
As part of the agreement, all employees, including management, were ordered to undergo new training in maintaining a respectful workplace. Managers were to receive new training in how to investigate and deal with harassment.
The woman agreed to leave her job in the deal, in which the agency did not admit wrongdoing.
Details about the woman's allegations weren't included in the records released Friday and there was no investigation file or disciplinary materials included in the documents released by the state on Friday.
According to depositions and extensive materials in a state court file reviewed by MPR News, veterans home officials insist they took the woman's concerns seriously.
They said they conducted two investigations but couldn't substantiate the allegations, and they concluded it could have been fallout from a consensual romantic relationship between the two. The man was placed on leave during one probe and later resigned his position. He admitted in a deposition to sending some messages to the woman that included slurs.
The agency had other instances of harassment that resulted in reprimand or suspensions at other facilities.
They included a nurse at the Minnesota Veterans Home in Minneapolis who was accused of making inappropriate comments toward female coworkers.
He told investigators that his invitation for one woman to "come sit on my lap" was a joke taken the wrong way. The man received a three-day suspension in 2015.
Zoo manager fired
Another settlement involved the Minnesota Zoo in Apple Valley.
In August 2015, the zoo fired a top manager at the vice president level for engaging in sexual communications with an employee who reported to him.
According to Minnesota Zoo documents released Friday, the former manager admitted to sending sexual text messages including inappropriate pictures of himself to the employee.
He passed it off to investigators as flirting.
Zoo management also said the manager failed to respond to reports of sexual harassment from another zoo employee.
New state office for sex harassment claims?
The complaints and settlements data release came on the same day Minnesota Management and Budget released a report recommending that Minnesota create an independent office to handle reports of sexual harassment in state government, conduct investigations and enforce policy across state agencies.
That report also calls for expanded training on sexual harassment prevention policies, the hiring of "more diverse senior leaders" and ensuring that state agency executives "support a more inclusive culture, act to prevent sexual harassment, and respond appropriately when it occurs."
Agency settlements
Here's a breakdown of the settlements that resulted in $709,000 in payouts since 2015:
• The Department of Administration paid one woman $180,000 in 2017 and another $68,000 the same year.
• The Minnesota Department of Veterans Affairs paid out $150,000 in 2017.
• The Department of Public Safety paid a $117,500 award in 2015 as well as a $70,000 settlement the same year.
• The Department of Corrections paid $120,000 over a complaint in 2015.
• The Department of Human Services agreed to a $4,000 payment in 2015.