Jury acquits Minneapolis cop who shot into car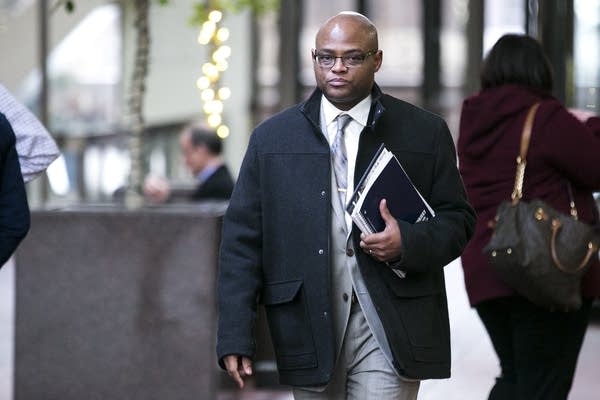 Updated: 5:45 p.m. | Posted: 12:23 p.m.
A jury on Tuesday found Minneapolis police officer Efrem Hamilton not guilty on all counts for firing his gun at a car full of people in November 2016.
The decision came after jurors asked to see the squad and body camera video again of the incident.
Grow the Future of Public Media
MPR News is supported by Members. Gifts from individuals power everything you find here. Make a gift of any amount today to become a Member!
They also asked Judge Fred Karasov to help clarify state law regarding reckless discharge of a firearm, one of the three felony charges Hamilton was accused of committing. Karasov said all he could do was to refer them to the jury instructions which contain definitions of state law.
According to the criminal complaint, Minneapolis police were called to a report of a fight with shots fired near 408 Third Ave. N. about 2:15 a.m. on Nov. 19, 2016.
Information indicated a gray four-door Cadillac might be involved and it was going the wrong down Third Avenue toward Washington Avenue.
Hamilton was working off duty at a downtown Minneapolis bar when he heard the shots fired call and drove to assist. He was in a squad car but never radioed that he was responding, according to the complaint.
As other responding officers were stopping the Cadillac, a gray-black BMW driven by a 23-year-old woman was following the instructions of the first officers to back her car down Third Avenue in order to leave the scene.
The woman inadvertently backed her car into Hamilton's squad car, causing minor damage; the airbags were not deployed.
Prosecutors say Hamilton overreacted and fired recklessly into the BMW within three seconds after jumping out of his squad. He gave no verbal commands before firing into the car filled with six people.
Hamilton testified during the trial that when he arrived on scene, he believed the car backing the wrong way down the street contained shooting suspects and feared the driver was going to get out and shoot him.
His lawyer said Hamilton, who served in combat in Iraq as a Marine and has served on the Minneapolis police force since 2007, did what he was trained to do.
Assistant Hennepin County Attorney Tara Ferguson-Lopez said during the trial that a reasonable officer would have known the BMW was not a threat.
Hamilton, she noted, didn't shout any commands at the car before he fired.
If the shooting suspects were trying to leave the scene, "they'd be driving as fast as they can," said Ferguson-Lopez. She pointed out there were no officers chasing after the car telling it to stop, nor was there any radio traffic signaling other officers to stop the BMW.
Hennepin County Attorney Mike Freeman said he's disappointed in the verdict. But he respects the process. Freeman said he still thinks his office did the right thing by charging Hamilton.
"I'm not an expert on police procedures," Freeman said. "I cannot believe that good police procedures support officer Hamilton's shooting in this case."
Following the verdict Tuesday, Hamilton's wife broke into tears. Hamilton later gave an emotional statement, thanking the juror and the judge.
The verdict comes at a time when Freeman's office is considering whether to file charges against another Minneapolis police officer, Mohamed Noor. Last summer Noor shot and killed Justine Ruszczyk near her home.
In that case, Freeman empaneled a grand jury which, according to police union officials has subpoenaed dozens of officers.
"We believe that a petit jury that will decide guilt or innocence if, in fact, I decide to charge in the officer Noor case, can separate themselves from whatever happened in this case."
Freeman did not indicate when that grand jury will wrap up its proceedings, or when he will make a charging decision.
Bruno, who is also representing Noor's partner, officer Matthew Harrity, said Harrity is scheduled to make another appearance in front of the grand jury Wednesday.
Hamilton, who has been on an administrative assignment, may soon go back to patrolling the streets. Bruno said police chief Medaria Arradondo has yet to rule on whether or not Hamilton violated any department procedures. However, the defense attorney said a police civilian panel unanimously recommended that Hamilton should face no discipline.