Charges: Minneapolis cop recklessly shot into car after fender bender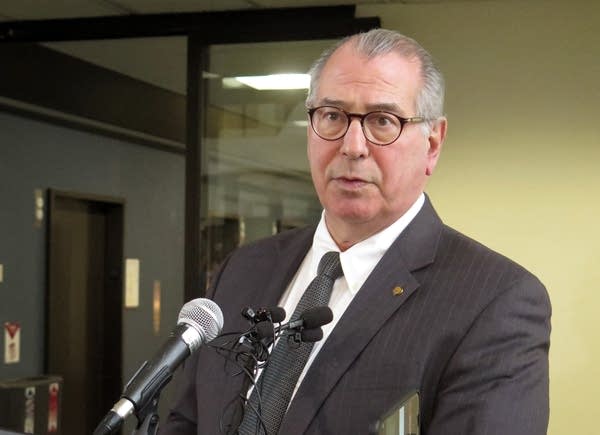 Updated: 4:35 p.m. | Posted: 3:10 p.m.
Hennepin County prosecutors on Tuesday charged a Minneapolis police officer with recklessly shooting into a car filled with people following a minor accident.
Officer Efrem Hamilton, 42, was charged with second-degree assault and intentional discharge of a firearm from the Nov. 19 incident in north Minneapolis.
According to the criminal complaint, Minneapolis police were called to a report of a fight with shots fired near 408 Third Ave. N. about 2:15 a.m. Information indicated a gray four-door Cadillac might be involved and it was going the wrong down Third Avenue toward Washington Avenue.
Hamilton was working off duty at a downtown Minneapolis bar when he heard the shots fired call and drove to assist. He was in a squad car but never radioed that he was responding, according to the complaint.
As other responding officers were stopping the Cadillac, a gray-black BMW driven by a 23-year-old woman was following the instructions of the first officers to back her car down Third Avenue in order to leave the scene. The woman inadvertently backed her car into Hamilton's squad car, causing minor damage; the airbags were not deployed.
Prosecutors, however, say Hamilton overreacted and fired into the BMW within three seconds after jumping out of his squad. He gave no verbal commands before firing into the car filled with six people.
No one was injured. But the "evidence shows this was inappropriate and illegal use of his service weapon," Hennepin County Attorney Mike Freeman told reporters. "He had no reason to fire" at the car.
Police officers have a difficult job but "Hamilton had no business shooting his gun" at that point and he endangered not only the people in the BMW but other officers down the street, Freeman added. "My guess is most cops would not approve" of Hamilton's alleged actions, he said.
The people in the BMW were not involved in the confrontation that led to the initial police call at 408 Third Ave. N. and were following the orders of other police officers, he added.
Hamilton, who's been on administrative leave, is expected to turn himself in.
Police union president Lt. Bob Kroll released a brief statement in response to the charges, saying Hamilton "has the full support of the Police Officers' Federation of Minneapolis during this trying time." Kroll also said the union would not comment further citing the criminal investigation.
In December, the Minneapolis Police Department said it would begin an internal investigation against an officer involved in the Nov. 19 shooting. But the department declined to say anything more about the probe.
"I am concerned and disappointed that a Minneapolis Police officer has been accused of criminal conduct and we do not take this matter lightly," said Minneapolis Chief of Police Janee Harteau in a statement. "We have created a culture of accountability and have demonstrated when incidents occur that do not meet those standards, action is taken to hold individuals accountable. We understand the community's desire for transparency and will provide as much information as possible once state law allows us to do so."
Your support matters.
You make MPR News possible. Individual donations are behind the clarity in coverage from our reporters across the state, stories that connect us, and conversations that provide perspectives. Help ensure MPR remains a resource that brings Minnesotans together.