Winter storm Friday night to the north; lighter snow amounts for the metro
The temperature reached 52 degrees Wednesday afternoon at Minneapolis-St. Paul International Airport.
We won't revisit the 50s anytime soon.
Temperature trends
Many parts of Minnesota will top out in the 30s this afternoon, with some lower 40s possible from the Twin Cities metro area into southeastern Minnesota.
Most of northern Minnesota will only reach the 20s on Friday, with some lower 40s in the south:
Highs in the 20s to lower 30s is the best that we'll be able to do on Saturday:
And it'll also be very windy on Saturday.
Twin Cities metro area highs are expected to be in the lower 30s on Saturday and middle 30s on Sunday.
Highs around 40 are on tap for early next week, a far cry from our average high of 50 degrees!
Snow chances overnight into early Friday
Some light snow will spread across northern and central Minnesota overnight, and it could move through parts of the Twin Cities metro area early on Friday.
The National Oceanic and Atmospheric Administration's North American Mesoscale forecast model shows the potential snow pattern overnight through Friday morning: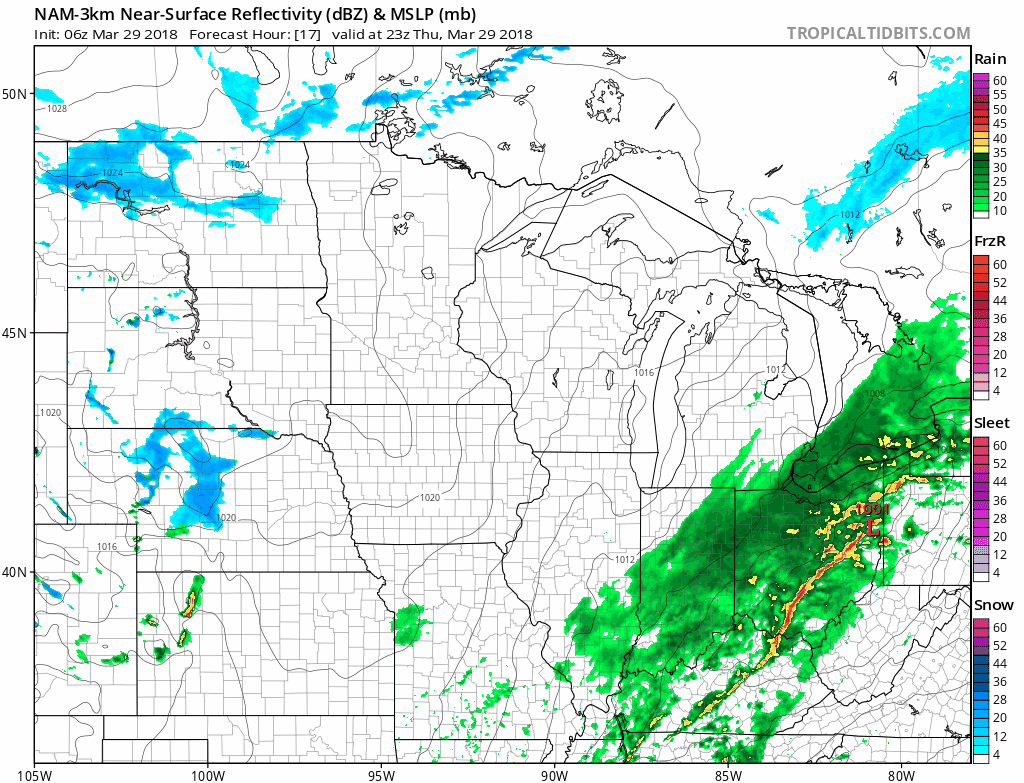 The color chart to the right of the loop refers to the strength of the signal that returns to the radar, not to the amount of snow.
The main event
A strong low pressure system is expected to track across Minnesota Friday night, with heavy snow to the north of the storm track.
NOAA's North American Mesoscale forecast model shows the potential precipitation pattern from Friday afternoon through Saturday morning:
A rain/snow mix is expected over much of southern Minnesota.
Some areas in central and northern Minnesota could see 5 or more inches of snow Friday night:
Most of the Twin Cities metro area will probably see one inch or less of snow, but the far north metro could get two to three inches.
Here are details of the winter storm watch in central Minnesota that runs from 7 p.m. Friday to 7 a.m. Saturday:
URGENT - WINTER WEATHER MESSAGE

National Weather Service Twin Cities/Chanhassen MN

259 AM CDT Thu Mar 29 2018

...PERIOD OF HEAVY SNOW AND BLOWING SNOW POSSIBLE FRIDAY NIGHT...

.A band of heavy snow will develop north of a low pressure system

expected to track eastward across central Minnesota and central or

northern Wisconsin. At this time, it appears the band will impact

portions of central Minnesota, including Douglas, Todd, Morrison,

Mille Lacs and Kanabec Counties. A Winter Storm Watch is in

effect Friday night for those counties. If the system shifts a bit

north, the risk of heavy snow will decrease and if it shifts a

bit south the risk will increase.

MNZ041>045-291800-

/O.NEW.KMPX.WS.A.0006.180331T0000Z-180331T1200Z/

Douglas-Todd-Morrison-Mille Lacs-Kanabec-

Including the cities of Alexandria, Long Prairie, Little Falls,

Princeton, and Mora

259 AM CDT Thu Mar 29 2018

...WINTER STORM WATCH IN EFFECT FROM FRIDAY EVENING THROUGH

SATURDAY MORNING...

* WHAT...Heavy snow possible. Total snow accumulations of around 6

inches are possible.

* WHERE...Douglas, Todd, Morrison, Mille Lacs and Kanabec

Counties.

* WHEN...From Friday evening through Saturday morning.

* ADDITIONAL DETAILS...Plan on difficult travel conditions.

Winds gusting as high as 35 mph could cause patchy blowing and

drifting snow.

PRECAUTIONARY/PREPAREDNESS ACTIONS...

A Winter Storm Watch means there is potential for significant

snow, sleet or ice accumulations that may impact travel. Continue

to monitor the latest forecasts.
Updated weather information can be heard on the Minnesota Public Radio Network, and you can also find updated weather information on the MPR news live weather blog.
Tornado anniversary
Today is the twenty-year anniversary of the tornadoes that hit Comfrey, St. Peter and Le Center in southern Minnesota.
A summary, from the NWS:
Multiple tornadoes tracked along a warm front in southern Minnesota during the late afternoon and early evening of March 29, 1998. With a total of 14 tornadoes, it was the largest March occurrence of tornadoes in Minnesota. In fact, prior to 1998, there were only 7 tornadoes known to have hit Minnesota in March. There was extreme and widespread damage to trees, homes, schools, and businesses. Massive hail accompanied the storm, with golf ball to baseball size hail common. The largest hail stone fell in Courtland and was 4.5 inches in diameter. The tornadoes tracked along a warm front draped across southern Minnesota. Sadly, two people were killed by the tornadoes: an 85 year old man near Lake Hanska, Louis Mosenden, and a 6 year old boy, Dustin Schneider, near St. Peter.
The NWS analysis included the tornado paths:
It's interesting that NOAA weather radio covered less than 50% of Minnesota in the late 1990's, according to the NWS:
In 1998, access to weather warnings via NOAA Weather Radio was limited to less than half of Minnesota. Within a few weeks of the tornado hitting Comfrey and other parts of Brown County, a resident named Kathy Schrupp wrote a letter asking how they could get a NOAA Weather Radio transmitter for their area. Around the same time, FEMA announced that mitigation funding could now be used as a 75% match for funding new NOAA Weather Radio stations, but local residents still had to raise about $20,000 to reach 25% of the cost. Kathy and her husband, Les, began this process and were successful in bringing a new station to New Ulm and the surrounding area. Others, such as Mark Roisen of Dawson, MN, also began raising funds to bring a new NOAA Weather Radio station to Appleton and that surrounding area. Other stations in southwest Minnesota also had funds raised for the 25% match. A year or two later, two bills passed by the Minnesota State Legislature and signed by Governor Ventura provided funds to cover the rest of the state. Ownership of the transmitters was turned over to NOAA, meaning that ongoing electricity, maintenance, and other costs would be covered by NOAA.
Coverage is much better now:
There's still a small area in northern Minnesota without coverage, according to the NOAA coverage map:
Don't be alarmed by the Wisconsin portion of the map, since the map shows NOAA weather radio coverage that's provided by transmitters based mostly in Minnesota.
Here's the Wisconsin coverage map:
Programming note
You can hear my live weather updates on Minnesota Public Radio at 7:49 a.m. Thursdays and Fridays, and at 7:35 a.m., 9:35 a.m. and 4:35 p.m. each Saturday and Sunday.
Your support matters.
You make MPR News possible. Individual donations are behind the clarity in coverage from our reporters across the state, stories that connect us, and conversations that provide perspectives. Help ensure MPR remains a resource that brings Minnesotans together.