Johnson, Murphy win party endorsements, but primary races loom ahead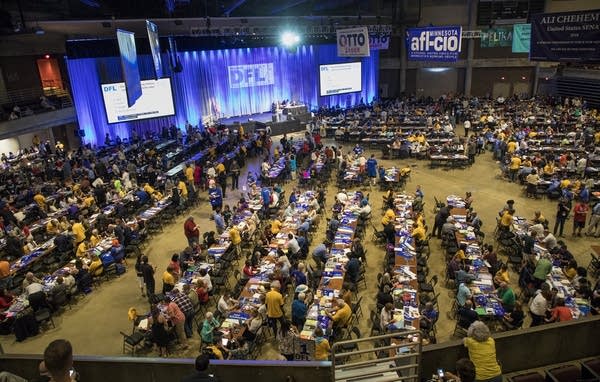 At political party gatherings on Saturday, Republican activists picked Hennepin County Commissioner Jeff Johnson to carry the party's banner in the governor's race, while Democrats rallied around St. Paul state Rep. Erin Murphy's campaign — but both candidates are facing organized, expensive primary races ahead in order to make it on the November ballot. 
The endorsements were cast by a group of roughly 2,000 Republican delegates in Duluth and 1,400 DFL activists in Rochester, who hope the party's resources and organizing will help push them to victory in an Aug. 14 primary. But on the Republican side of the race, former Gov. Tim Pawlenty already planned to head to a primary battle and didn't show up to the convention on Saturday. He's raised the most money in the field.
"We are going to get outspent by Pawlenty in a primary," said Johnson, who beat two candidates for the endorsement after three ballots, including Woodbury Mayor Mary Giuliani Stephens and activist Phillip Parrish. "But as long as I have enough to get a simple message out to Minnesotans we will win this race on August 14th."
U.S. Rep. Tim Walz, who was in second place to Murphy for the DFL endorsement during early rounds of balloting, said the convention was just "preseason" and said he's excited to bring the race to the broader group of Democrats who vote in the primary. After he left the endorsing contest, he rallied his supporters outside, who chanted "Tim, Tim, Tim!" and "yes we Flan," for his lieutenant governor candidate, state Rep. Peggy Flanagan. 
Grow the Future of Public Media
MPR News is supported by Members. Gifts from individuals power everything you find here. Make a gift of any amount today to become a Member!
"Let's be clear, Democrats will leave Rochester united in our values. But the robust debate on who can best deliver a progressive message and win in November will continue," Walz said. "The best news is that Rochester's Mayo Civic Center this weekend was full of the energy we need to win and we're excited for 500,000 DFLers to have their voices heard."
Murphy, who clinched the nomination after seven rounds of voting, stressed that the party needs to unify so Democrats can beat Pawlenty in the November election. "It is important that we come together, that we show our full and honest vision for the people of Minnesota," she said. "That we show our full heart that we must paint with love."
DFL Gov. Mark Dayton is stepping down after two terms, leaving the race wide open this fall, and there's a lot at stake for both parties. Democrats have come to appreciate the power of the governor's office, with Dayton acting as a spoil to Republican policies at plenty of points during his eight years in office.
Addressing the convention on Saturday, Dayton joked that he wasn't allowed on the convention floor eight years ago because he wasn't seeking the party's endorsement. He went on to beat DFL-endorsed candidate Margaret Anderson Kelliher in a primary. But this is different, he said, describing the 2018 election as "the most important election in my political lifetime."
"This is an election for the soul of Minnesota," said Dayton, who is ending a 40-year political career that included a stint as state auditor, a term in the U.S. Senate and two terms in the governor's office. "This last legislative session we saw what a Republican governor and a Republican Legislature would do in Minnesota if given the chance."
Republicans haven't won statewide office in Minnesota since 2006. But they currently control the Legislature, and if they can maintain that majority this fall and win the governor's office, it will mark the first time in the modern era of politics that they control all of state government.
Johnson said President Donald Trump's near-win of Minnesota in 2016 provides Republicans a roadmap to win a statewide race. "Donald Trump didn't win because he was angry. He won because he gave hope to all the forgotten Americans who thought no one cared about them in government anymore," Johnson said. "And there are a lot of forgotten Minnesotans, too."
Johnson wasn't mentioned much at the DFL convention, but Pawlenty was the source of many broadsides at both conventions, including in Duluth, where some of his campaign staffers watched on. 
Parrish, before he dropped out of the endorsement fight, delivered a stern warning about a potential Pawlenty governorship. "Do not forget where the Minnesota GOP ended up at the end of two terms with Tim Pawlenty: nearly bankrupt, a chair that nearly went to prison for financial issues and a debt that we're still trying to recover from."
Murphy mentioned Pawlenty repeatedly, even though Republicans endorsed Johnson at their convention. "I want us to march out together, to win this election, to defeat Tim Pawlenty," Murphy said after she was endorsed. "Together we will build a bright future for the people of Minnesota."
It was an emotionally draining day for delegates, particularly on the DFL side, where balloting stretched on longer and there was a move midday to leave the convention without an endorsement. Walz's campaign briefly teamed up with the campaign of State Auditor Rebecca Otto, the third candidate in the race who was dropped after failing to garner 10 percent of the vote on the second ballot. The two pushed their supporters to vote "no endorsement," an effort that garnered more than 40 percent of the vote for several ballots.
But at the end of the day, activists pushed to leave the convention with an endorsement after pleas from delegates and Party Chairman Ken Martin. He noted that without an endorsement, the party and its resources would have to sit out the race until after the August primary.
"We cannot wait until August 14 to start taking on Tim Pawlenty," he said. "Let's work through this, let's slog through this. Let's come out of this convention unified."
Ahead of the governor's contest, both parties held endorsing contests for other constitutional offices. The Republican Party backed its candidates for state auditor, attorney general and secretary of state. The candidates for all three are former legislators: Pam Myhra, Doug Wardlow and John Howe.
"I won't be auditing any of you. And the office won't be auditing any of you," Myhra, a former Republican legislator who is running for auditor in an open seat. "The office will be auditing for you."
On the DFL side, incumbent, three-term Attorney General Lori Swanson surprisingly dropped out of the race for the DFL endorsement after a strong first-ballot showing from newcomer and DFL activist Matt Pelikan.
He noted a past Swanson endorsement from the NRA and criticized her role in several key lawsuits, including her decision to drop the lawsuit against the Trump administration's travel ban. Pelikan said Swanson settled for too little in a state lawsuit against 3M, which netted $850 million.
"Progressive leadership means picking the fights that need fighting and sticking it out until the end," Pelikan said in his speech.
Swanson, who considered running for governor until earlier this year, didn't address the convention before balloting. But a number of her supporters approached the podium to nominate her, including former Attorney General Mike Hatch, who called her "the best attorney general in the nation." He criticized Pelikan for lack of experience. "You can't sit in the wading pool and think you can swim in the ocean," Hatch said.
Swanson is leaving the door open to running in a primary, or potentially jumping back into the race for governor, crowding the DFL primary field even more.
Reporters Brian Bakst, Tim Pugmire and Mark Zdechlik contributed reporting to this post