Flash flooding swamps parts of NE Minnesota, NW Wisconsin; some rivers still rising
Updated: 11 p.m. | Posted: 6 a.m.
Heavy rain late Saturday into early Sunday — in excess of a half-foot in places — led to flash flooding that washed out highways in parts of northeastern Minnesota and northwestern Wisconsin.
The flooding concerns continued Sunday as rivers kept rising from the storm runoff, and as more heavy rain fell later in the day — prompting a new round of flood warnings.
MPR News is Member Supported
What does that mean? The news, analysis and community conversation found here is funded by donations from individuals. Make a gift of any amount today to support this resource for everyone.
The Nemadji River that flows from Carlton County in Minnesota to Superior, Wis., reached its highest level on record, the National Weather Service reported.
According to river gauge data from the weather service, the Nemadji River near Superior rose from a stage of 8.45 feet at 1 a.m. Sunday to about 30 feet at 6 p.m. Sunday. The previous record crest for the river was 27.37 feet, in August 2011.
The rising water forced the closure of highways 2 and 53 at the river crossing on the east side of Superior — cutting off several neighborhoods from the rest of the community. A detour was put in place, but it was lengthy because so many other roads have been closed.
Superior Mayor Jim Paine said city officials were making plans Sunday night to station police and fire personnel in the isolated neighborhoods.
"Many of you are asking me the best way between Point A and B," he told residents on Facebook on Sunday night. "My advice: There isn't a best way right now. Please just stay where you are if you can. If you must travel, go slow, bring an emergency kit and charged phone, and don't drive through standing water."
The Wisconsin Department of Transportation reported that parts of State Highway 35 were closed in Douglas County, south of Superior.
Officials in Douglas County and Bayfield County in northwestern Wisconsin were advising no travel Sunday night, with each county reporting a lengthy list of roads that were covered with water or washed out:
Earlier Sunday, flash flooding in the upper part of the Nemadji River watershed washed out Minnesota Highway 23 in Carlton County. That's about 15 miles southwest of Duluth.
"We had an absolute deluge down south of Carlton area," said Chris Cheney, Minnesota Department of Transportation District 1 maintenance superintendent, at midday Sunday. "And on Highway 23 on the South Fork of the Nemadji River, the big box culvert there, bridge structure, was overtopped. And washed out, a few hundred feet of the roadway's gone."
The Carlton County Sheriff's Office reported that the county highway department and MnDOT were working on several washouts and flooded roads in the county, particularly in the Barnum, Mahtowa, Wrenshall and Holyoke areas.
To the east, the Bayfield County Sheriff's Office reported that U.S. Highway 2 was washed out about 10 miles west of Ashland, Wis., severing a major transportation route across northwestern Wisconsin. WisDOT reported that a detour was in place — but it was a lengthy one, using State Highway 13 across the Bayfield Peninsula.
U.S. Highway 63 was shut down by flooding in the Drummond, Wis., area, where a weather spotter reported more than 11 inches of rain overnight.
For a few hours early Sunday, the Weather Service issued warnings of "flash flood emergencies" for parts of southern Carlton and northern Pine counties in Minnesota, as well as parts of Douglas and Bayfield counties in Wisconsin. Many of those areas were affected by flash flooding in July 2016 that caused major damage to highways.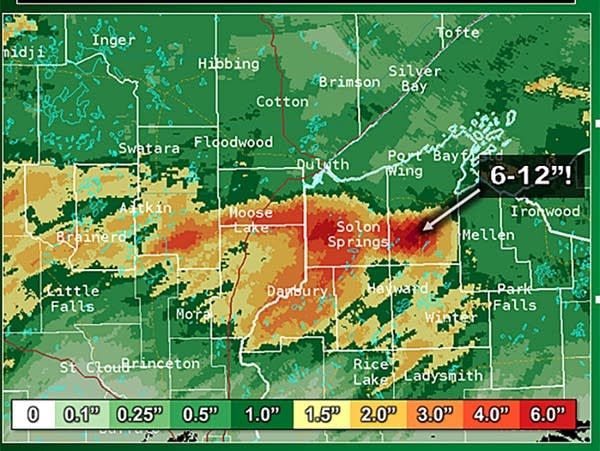 Flood warnings remain in place for most of northwestern Wisconsin and parts of Pine, Carlton and Aitkin counties in Minnesota.
Upper Peninsula flooding in Michigan
Parts of Michigan's Upper Peninsula also saw destructive flash flooding late Saturday and early Sunday, with the Houghton and Hancock areas particularly hard-hit.
The Michigan Department of Transportation reported that portions of U.S. Highway 41 and State Highway 26 have been closed by high water and washouts near Houghton and Hancock. Michigan Tech University in Houghton reported flooding on campus; officials said the campus would be closed Sunday.
Find more coverage of the U.P. flooding here.
If you have photos of flooding in northern Minnesota and northwestern Wisconsin and can safely share them, please email them to newsroom@mpr.org.