The price of success? Parking is getting more expensive in Mpls.
If you don't regularly park in downtown Minneapolis, you might be surprised by what you could pay for an hour or so — or a day — of parking. The city's parking prices are edging up and figure to ramp up more.
That irritates Tom Stangler of Minneapolis who recently parked at the IDS Center garage when he had some business to get done downtown.
"Maximum is $25 but you can hit the maximum in few hours," he laughed. "Why do they have to keep jacking the rates up? To me, it's just greed."
Or just supply and demand at work, perhaps. That's what a recent survey indicated.
Parking Property Advisors, a national parking consulting firm, says the Minneapolis downtown central business district has the sixth-highest average hourly parking rate in the country, at $10, and ninth-highest daily rate, $23. There are some spots downtown where you could pay $40 or more to park for the day.
Steve Cramer, president and CEO of the Minneapolis Downtown Council, said parking is an issue but not a crisis. There's a parking pinch because so many businesses and people want to be downtown, he said, that's why many surface parking lots have been developed for housing or office projects, contributing to the loss of thousands of parking spaces in recent years.
"Yeah I've certainly heard of cases of a little bit of sticker shock for folks that are not in and out of downtown on a regular basis," he said. "But in many ways, it's a sign of a successful, redeveloping downtown."
The parking decline will likely continue. The huge ramp near Minneapolis City Hall and the Hennepin County Building is coming down. That'll mean the loss of about 1,000 parking spaces. Other projects will add spaces, but the city is still looking at net reductions in parking in coming years.
A 2017 city survey found Minneapolis had about 60,000 parking spaces.
Parking has not been a top priority for the city. In fact, Minneapolis has wanted to nudge people away from driving cars and toward mass transit, biking and other options. And the city prefers that buildable lots downtown go to commercial buildings and housing projects instead of parking ramps.
"I wouldn't say that we have a war on cars, as much as we have a policy of encouraging other uses," said Jason Wittenberg, manager of land use, design and preservation for the City of Minneapolis.
He said the solution to tight parking isn't to provide more parking.
In fact, the city banned construction of above-ground, stand-alone ramps from 2006 to 2017. New ramps had to be underground or combined with a transit facility.
"The more parking you add, the more vehicles are going to be on downtown streets, and the more people will be sitting in traffic for longer periods of time," Wittenberg said.
He said the city is inclined to let the market decide what happens with parking. For instance, it's not necessarily going to mandate how many parking spaces a housing project must have.
"If somebody wants to build a new condominium tower or apartment building with a couple hundred units of housing and not provide a single parking space and their lender says that's OK, we say that's OK as well," he said.
The city has its eye on a future where there may be a lot fewer cars, as autonomous vehicles spread and more people shift to mass transit and other ways of getting around.
Minneapolis is encouraging new parking garages with parking decks that aren't inclined. That would permit the ramps to be more readily adapted to other uses.
To be sure, you can park for less if you shop around or are willing to park on the edge of downtown. And there are a bunch of smartphone apps that help drivers find parking and compare prices. With some, you can even reserve and pay for spaces in advance.
Some of the apps are regional in focus. Others, national or international. Some focus on things like airports or on-street parking.
"I'd say that in the U.S. alone there are maybe even more than 20," said Mark Braibanti, director of product marketing for Inrix, a transportation analytics company. "It's a very, very crowded market right now."
Inrix gathers data about parking prices and availability worldwide and supplies that information to car manufacturers, cities and other customers such as Waze for their navigation and parking apps.
Inrix has data on more than 65,000 garages and lots in the U.S., including more than 275 in downtown Minneapolis.
Inrix gets parking prices and other details from cities, parking providers and crews who regularly go out and get information first-hand.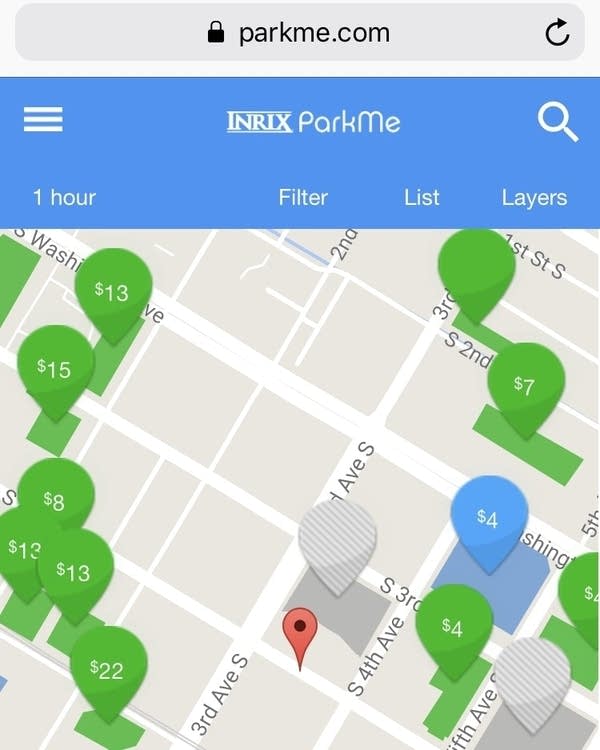 Braibanti says drivers don't want to just save money on parking. They want to save time, too.
"Thirty percent of urban congestion is actually caused by people searching for parking," he said. "People are more frustrated than ever so they're turning to applications like ParkMe."
That's Inrix's own parking app. In some locations, ParkMe even guides drivers to places where they have a shot at nabbing an on-street parking spot.
That guidance is now based on information Inrix gets from some 300 million cars, cellphones, delivery trucks, road sensors, parking meters and other sources. All that information is gathered — without capturing people's names or other personal information — and analyzed.
And Inrix is looking to get even smarter about finding parking. It is working on technology that can tap into the sensors in cars that help them self-park and detect nearby objects and vehicles. The idea is to use the same sensors to detect open parking spaces as vehicles drive by them.