Ruszczyk family sues Mpls. police department, officers and others in police shooting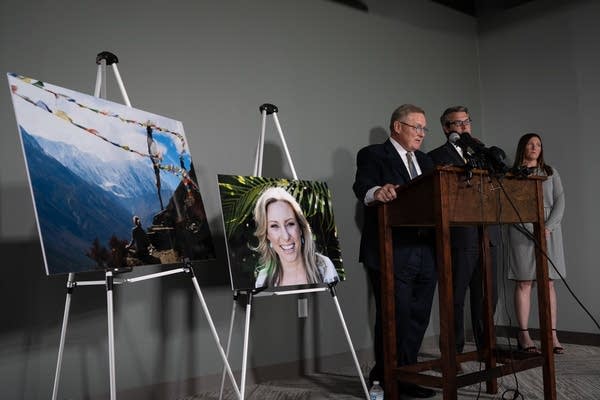 Updated: 2:15 p.m. | Posted: 5:40 a.m.
The family of Justine Ruszczyk filed a lawsuit in U.S. District Court Monday against the city of Minneapolis, police officials and the officers involved in her death. 
Ruszczyk was shot and killed by a Minneapolis police officer last July after calling 911 to report an assault that she thought might be happening near her home. Ruszczyk died of a single gunshot wound to her abdomen, according to the medical examiner's report.
Robert Bennett, attorney for the Ruszczyk family, opened by reading a statement from Justine's father, John Ruszczyk. 
"We want Minneapolis police culture to be reformed in such a way and to the extent necessary to stop such senseless acts from happening again and again," according to the statement.
"We haven't had any explanation [for why Justine was killed] so we're filing suit now," Bennett said.
The lawsuit argues that former officer Mohamed Noor violated Ruszczyk's constitutional rights and that she posed no threat to Noor or his partner Matthew Harrity. 
The suit alleges that Noor and Harrity conspired to cover up the shooting when they failed to activate their body cameras as department policy required. Neither officer had their body cameras — which are set up to start recording 30 seconds before they're activated — on at the time of the shooting. 
The lawsuit also criticizes the standards that the Minneapolis Police Department used to test whether officers were psychologically fit for service.
The lawsuit describes "a nightmare come to life, without the evidence the MPD ordered its officers to collect and where, as a consequence, those same officers are free to speak (or not speak) with impunity, furthering their own interests rather than the interests of justice."
Bennett compares the Ruszczyk case to the recent Efrem Hamilton case, where a jury found the Minneapolis officer not guilty on all counts for firing his gun at a car full of people in November 2016. Prosecutors claimed in that case that a "blue wall" prevents officers from holding other cops accountable when they do something wrong.
"We have evidence of the blue wall of silence," Bennett said. "I've never heard of a case where 35 officers would not cooperate with their own county attorney."
The Minnesota Bureau of Criminal Apprehension investigated Ruszczyk's death. Harrity spoke to investigators, but Noor declined to be interviewed.
Also named in the suit are former police chief Janee Harteau, current police chief Medaria Arradondo and the city of Minneapolis. The attorneys for Ruszczyk's family are seeking monetary damages. 
The Hennepin County Attorney's Office has charged Noor with third-degree murder and second-degree manslaughter in Ruszczyk's death. His next court appearance is scheduled for September.