Federal investigators blame valve failure for Husky refinery explosion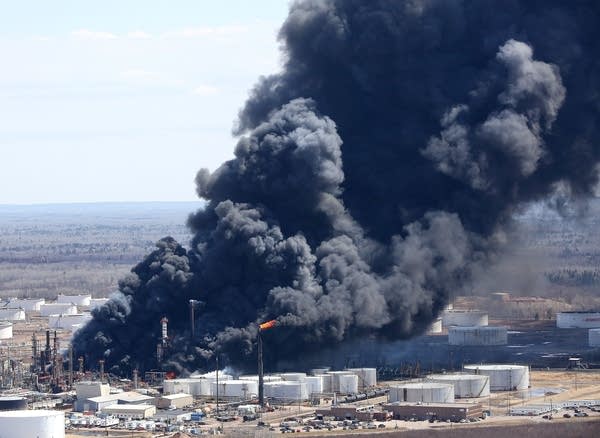 Federal investigators say a failed valve created conditions that led to an explosion and fire last April at the Husky refinery in Superior, Wisconsin.
The preliminary report released Thursday confirms that the incident started in a "fluid catalytic cracking unit," a piece of equipment that separates gasoline from crude oil. A "slide valve" in the unit was supposed to keep the gasoline from coming into contact with air, according to Mark Wingard, an investigator with the U.S. Chemical Safety Board.
"Obviously if you mix air and gasoline it's going to combust, that's why our cars work," Wingard said. "So in the FCC unit you don't want that combustion to occur, and so it's vitally important to keep those levels separate, you keep the air away from the hydrocarbons and vice versa."
The explosion in the FCC unit triggered a chain reaction, according to the board's report.
Debris from the explosion flew about 200 feet, and hit a large above-ground storage tank containing about 50,000 barrels of asphalt, puncturing the side of the steel tank. More than 15,000 barrels of hot asphalt spilled into the refinery, and two hours later ignited a large fire.
In all, 36 people sought medical attention. But most workers were on break in blast-resistant buildings, a factor that likely prevented serious injuries or fatalities.
Gain a Better Understanding of Today
MPR News is not just a listener supported source of information, it's a resource where listeners are supported. We take you beyond the headlines to the world we share in Minnesota. Become a sustainer today to fuel MPR News all year long.
The plumes of toxic asphalt smoke prompted an evacuation in the three miles directly around the refinery and ten miles to the south.
The board's investigation is ongoing and a full report likely won't be ready until 2019, at the earliest.
"We will be looking deeply to understand all the causes that led to this," said board member Kristen Kulinowski. "We look at all causes of the incident, not just the technical failures."
"Through it's 20-year history, the Chemical Safety Board has investigated over 100 incidents, and we've found that they're all preventable," Kulinowski said. "They may be preventable for different reasons. In some cases it's mechanical integrity, preventive maintenance, adherence to procedures, training."
Canada-based Husky Energy said in its second-quarter earnings statement last week that the refinery is not expected to restart until 2020.