Emmer, McCollum weigh in on opening forests near Boundary Waters to mining exploration
Two of Minnesota's congressional members are taking opposing views on the Trump administration clearing the way for mining exploration in the Superior National Forest, within the watershed of the Boundary Waters Canoe Area Wilderness.
On Thursday, the U.S. Department of Agriculture canceled a study on the potential environmental impact of mining in the region, putting an end to the proposed Obama-era ban on mining and exploration there.
The U.S. Forest Service had launched the study after the Obama administration proposed a "mineral withdrawal" — a 20-year mining ban — in the area in December 2016, based on concerns that mining activities in the Boundary Waters watershed "could lead to irreversible impacts upon natural resources."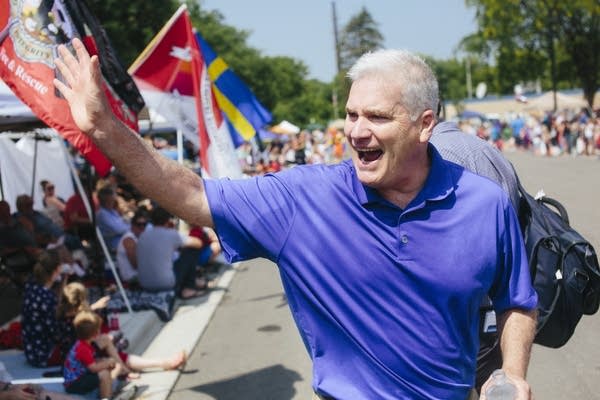 In an interview with MPR News, Sixth District U.S. Rep. Tom Emmer, a Republican, said the decision doesn't open up the Boundary Waters Canoe Area to mining.
"What it does is it allows Minnesotans to explore whether it is possible to mine the precious metals that exist in northern Minnesota, much like the iron ore, in an environmentally appropriate manner," Emmer said.
That was the original agreement between the federal and state governments when the Superior National Forest was created, he said. Any proposals for future mining would need to go through an environmental review, Emmer said.
The Superior National Forest near the Boundary Waters is home to one of the richest untapped deposits of copper, nickel and precious metals in the world, known as the Duluth Complex.
Mining companies have been exploring the region for decades, although no copper-nickel mine has yet opened. Supporters of copper-nickel mining say it would bring additional, much-needed, jobs and economic development to the region.
Environmental groups have accused the U.S. Department of Agriculture of not finishing the environmental study it had promised to complete.
Fourth District U.S. Rep. Betty McCollum, a Democrat, told MPR News that the Boundary Waters area is a unique and iconic wilderness area that attracts 150,000 visitors a year.
Sulfide pollution from copper-nickel mining could put recreation and tourism jobs at risk, along with possibly harming forests, she said.
McCollum said in making the announcement, U.S. Agriculture Secretary Sonny Perdue ignored more than 125,000 public comments to the U.S. Forest Service, with 96 percent in support of a 20-year ban on mining and letting the study go forward.
"If we make a mistake in the Boundary Waters and this toxic, heavy metals and acid leak into the water, it is generations and generations that will pay for our risky behavior to jump for quick profit," she said.
Your support matters.
You make MPR News possible. Individual donations are behind the clarity in coverage from our reporters across the state, stories that connect us, and conversations that provide perspectives. Help ensure MPR remains a resource that brings Minnesotans together.