As deportation wheels grind, Augsburg prof worries, waits
Mzenga Wanyama's monthly immigration check-ins were mostly low-key affairs: trek to the federal building in Bloomington, sign some paperwork, then head home to his life as an Augsburg University professor.
It had been that way for years. He'd come to the United States from Kenya in 1992 on a student visa to attend college. He sought asylum after his visa expired and though he'd been repeatedly turned down, he was still trying. He and his wife had been allowed to stay at the discretion of Immigration and Customs Enforcement.
But now he wasn't sure where he was headed. ICE agents had summoned Wanyama, 60, in March and told him to prepare to leave the country. Departure deadlines for April and July had come and gone and he was still here. This time, he was supposed to leave by Sept. 9.
This August check-in promised to be different. Attorneys were hoping that ICE would listen to the college's plea for an extension.
But ICE's prosecutorial discretion, which worked in his favor in the past, was now working against him. Under previous administrations, ICE didn't consider him a priority for deportation. Suddenly, he was.
Nervous but composed, he made his way through the metal detectors. He hadn't heard from the Board of Immigration Appeals about his request for an emergency stay of removal. ICE wasn't promising any extensions.
The meeting lasted less than five minutes.
"Really I don't know how it went," he said. "They just signed the paperwork."
Later, the BIA granted him an emergency stay of removal, which means ICE cannot deport him until he receives a final decision. Wanyama is still here, but still in limbo.
'Very frustrating for us'
Wanyama says his story highlights systemic issues faced by many other immigrants who haven't gotten the attention and the help he's received.
"There is a lot of suffering going on," he said. "When people are targeted by a body that is as powerful as ICE that apparently is not really accountable to anyone except themselves. That's a problem."
For now, the Board of Immigration Appeals' emergency stay allows him to teach his fall courses. He expects these recent events will come up in postcolonial fiction discussions.
Wanyama has been teaching with a one-year renewable work permit at Augsburg in Minneapolis for 13 years.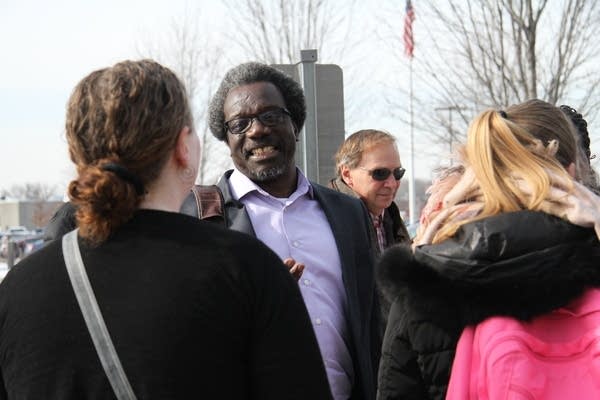 "These monthly check-ins that might lead to his deportation puts the university in a bad spot," said Bob Cowgill, chair of Augsburg's English department who'd come to the check-in to argue for a deportation delay until Dec. 31 so that Wanyama could get a visa to work at an an adjunct Augsburg campus in Namibia. Cowgill wasn't allowed in the meeting.
The Namibia option was important to Wanyama, an alternative to returning to Kenya, where Wanyama says he doesn't feel safe. It's on hold now.
"He [Cowgill] wasn't given a chance to make that argument and I think that's consistent," Wanyama said. ICE "will not allow you to make arguments that push them in a different direction than what they really want to do."
ICE did grant the professor a 30-day extension later, after his attorneys sent a written statement detailing the university's plans for the Namibia position.
Wanyama moved to the United States on a student visa in 1992. He studied at Howard University in Washington, D.C., before moving to Minnesota. He got his Ph.D. from the University of Minnesota in 2002.
He overstayed his visa, which is why he doesn't have legal status.
In 2010, a federal immigration judge granted him voluntary departure. He challenged the decision with the Board of Immigration Appeals. The BIA dismissed his appeal. Wanyama challenged that decision with the 8th Circuit Court of Appeals. He was denied once again.
"It was after that basically we didn't have an option," he said. "The only thing we knew is we didn't want to go where they wanted us to go because the fact that the judge ruled against us doesn't necessarily mean that we didn't have a case."
Wanyama declined to say more. But court records show he has previously argued that articles he wrote about the Kenyan government put him at risk. He argued that some of his family members were harassed and that they advised him not to return. He also said family members have died under "suspicious circumstances."
The courts didn't find his fear of persecution to be credible.
His attorney, Katheryn Wasylik, declined to discuss the case, citing safety concerns. Last week, she said attorneys plan to present new evidence supporting his asylum claim if the Board of Immigration Appeals agrees to take up the case.
"I think it's just frustrating that they won't listen to any arguments to extend that stay," Wasylik said of ICE. "They're waiting for the Board of Immigration Appeals. That's the only thing that will change their decisions to extend any stay. So until they have that they're continuing to move as they've said. So they're remaining consistent but that's very frustrating for us."
ICE spokesperson Shawn Neudauer would not comment on why the agency hasn't yet deported Wanyama despite several deadlines and orders to show travel documents.
Targeted because of race?
Wanyama's case has attracted a lot of media attention. He believes the community's support has played an important role in how his case has unfolded. Minnesota U.S. Sen. Amy Klobuchar's office is working on his case to try to find him a path to legalized status.
Klobuchar's office is pursuing applications with the United States Citizenship and Immigration Services and the State Department.
When Wanyama moved to the United States on a J-1 student visa, he was supposed to return to Kenya for two years when the visa expired. He didn't do that, and he didn't get a waiver for that requirement.
Now the senator's office has applied for a waiver in order for his J-1 waiver to be considered. He needs what's called an I-612 waiver for the waiver. That's the only way he could begin any efforts toward legalized status through employment or family sponsorship through his U.S. citizen son.
In April, Gov. Mark Dayton wrote to then-acting ICE director Thomas D. Homan urging him to let Wanyama stay. Dayton said the professor has dedicated himself to teaching young minds and that he doesn't have a criminal record.
But Wanyama says that's not the issue.
"I'm not indifferent to the fact that I'm a black immigrant being treated like this," he said.
Advocates say black African immigrants have been targeted for deportation and detention this year, including blacks from the West African nation of Mauritania. The country was the last to abolish slavery in 1981.
Wanyama said some of the work he teaches makes him wonder whether the U.S. has evolved since slavery.
"We can talk about making America great again, what students understand that to mean, because you can share that and you might actually have a very authentic interest in making America great," he said. "But do you understand what it refers to, what does 'again' mean? What time in the past are you referring to when America was great?"
It could take several months before he hears back from the BIA. If approved, he goes back to immigration court to make his asylum claim, again.
Your support matters.
You make MPR News possible. Individual donations are behind the clarity in coverage from our reporters across the state, stories that connect us, and conversations that provide perspectives. Help ensure MPR remains a resource that brings Minnesotans together.