One more chance to spot the northern lights Tuesday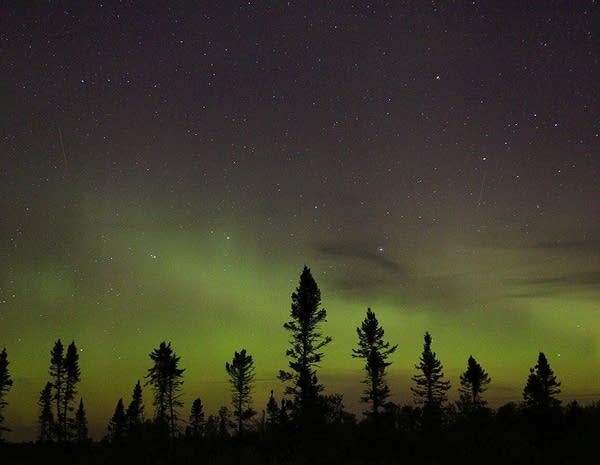 Couldn't stay up to catch the northern lights Monday? There's a chance to catch them again Tuesday night, but the conditions may not be as strong.
The Space Weather Prediction Center, a branch of the National Weather Service, said the moderate geomagnetic storm that helped increase the chance to see the aurora borealis Monday night will continue Tuesday, but won't last all night.
"There's a little bit of a chance tonight. If you can find a place that's dark with a good view to the north. But of course, you have to be up at midnight," said Rodney Viereck, director of research at the Space Weather Prediction Center.
The strength of the northern lights are largely dependent on the solar winds, said Don Hampton, research associate professor at the University of Alaska Fairbanks Geophysical Institute. The winds contain charged particles that create its own magnetic field, and when it collides with the Earth's magnetic field, creates the auroral lights. 
"The high speed stream came through the day before yesterday and really hit last night," Hampton said. "We can't predict exactly what the solar wind will do in the next 10 to 12 hours. But you could get another chance tonight."
You can monitor the chances of seeing the northern lights at the SWPC website.
You can also check a live stream of the night sky from the Alaskan geophysical institute. It's not quite the same as seeing them outdoors, but there is one benefit: watching the northern lights from the comfort of your bed.