Tornado count from southern Minnesota, western Wisconsin storms now at 16
The tornado count from last week's severe storms in southern Minnesota and west-central Wisconsin now stands at 16.
Fifteen of those tornadoes were in Minnesota, making the Sept. 20 storms the largest September tornado outbreak on record in the state, according to the National Weather Service.
Crews have been surveying the damage across several counties in the wake of the storms in an effort to identify where tornadoes touched down. They also reviewed satellite and radar imagery, spoke with local officials and storm spotters, and used drone and aerial footage.
"The difficulty with surveying this event was due in part to many potential tornado tracks amongst widespread wind damage," the Weather Service reported in an update on Friday. "Since the storms were racing east northeastward around 65 mph, many of the typical indicators for differentiating tornado versus straight line wind damage were not available, particularly across Rice County."
Grow the Future of Public Media
MPR News is supported by Members. Gifts from individuals power everything you find here. Make a gift of any amount today to become a Member!
Authorities said the strongest tornado appears to be one that destroyed several homes in Morristown and continued northeast toward the north side of Faribault, where it caused major damage to the Faribault Municipal Airport.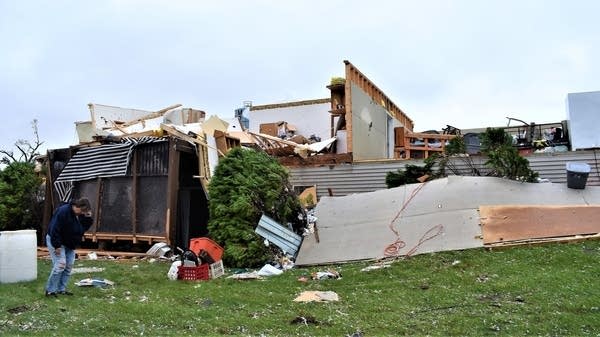 That tornado is rated an EF2 on the 0-5 Enhanced Fujita scale, with winds estimated at 120 to 130 mph. It was on the ground for about 20 minutes over a path of about 25 miles, the Weather Service reported, with a maximum width of about 1,000 yards.
Additional surveying may result in changes to the tornado count, but as of Friday here are the other tornadoes that touched down in southern Minnesota and west-central Wisconsin on the evening of Sept. 20:
Near Granada, Minn., EF0, 6.5-mile path

Near Lake Elysian, Minn., EF1, 6.8-mile path

Near Janesville, Minn., EF0, 0.8-mile path

From near Waldorf to Owatonna, Minn., EF1, 27-mile path

Waterville, Minn., EF1, 7.7-mile path

From Waseca through Medford to near Nerstrand, Minn., EF1, 27.8-mile path

West and north of Faribault, EF1, 7.7-mile path

South of Dundas to near Dennison, Minn., EF1, 14.3-mile path

Near Dundas, EF0, 3.8-mile path

Near Northfield, Minn., to near Lake Byllesby, EF1, 8.9-mile path

Near Wanamingo to near Bellechester, Minn., EF0, 19.4-mile path

South of Cannon Falls, Minn., EF1, 1.7-mile path

North of Cannon Falls, EF0, 3.5-mile path

Prairie Island, Minn., to Diamond Bluff, Wis., EF0, 3.9-mile path

Near Ellsworth, Wis., EF0, 1.7-mile path

The tornadoes damaged or destroyed dozens of structures, but there were no reports of injuries. There had been forecasts noting the potential for strong storms and tornadoes well ahead of the severe weather, and then warnings as storms developed.

Tammy Winter, one of the owners of the Red Barn Farm, surveys the damage to the popular venue for weddings and pizza nights, following severe storms in Northfield, Minn., on Friday, Sept. 21, 2018. The storms swept across the region Thursday night, producing several tornadoes.

David Joles | Star Tribune via AP

"Survey teams received numerous accounts of survivors seeking shelter immediately after receiving the tornado warning via a wireless emergency alert notification," the Weather Service noted. "Some of these people later had their house or other structure significantly damaged or destroyed. It is of the opinion of the surveyors that this was one big factor for the lack of fatalities or injuries."

The 15 tornadoes is the largest September outbreak on record in Minnesota, surpassing the eight tornadoes that touched down in the state on Sept. 20, 2017.